Becker is a well-known brand among accountants who want to pursue CPA in the US.
Becker discontinued its CMA review course in 2006, but 3 years ago the company relaunched a new self-study course and live classes through international partners.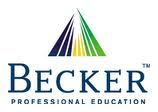 Based on the limited information on their site, I have the following preliminary analysis on Becker vs Gleim vs Hock for CMA exam preparation:
| | | | | |
| --- | --- | --- | --- | --- |
| | Becker CMA | Gleim CMA | Wiley CMAexcel | Hock CMA |
| IMA Licensed / Strategic Partner | | | | |
| Video/Audio-Visual | | | | |
| # Practice Questions | 1,000+ | 2,900+ | 1,850+ | 2,245 |
| Performance Tracking | Likely yes | | | |
| Audio Review | | | | |
| Customer Service | Technical support only | Personal counselor | Technical support only | Technical support only |
| Free Trial | (14 days) | (Unit 1) | (14 days) | |
| Access Time-limit | 24 months | 18 months or until you pass* | 12 or 24 months | Unlimited |
| Money-Back Guarantee | | | | Re-registration Guarantee |
| Pricing (2-parts) | $1,290 | $1,124 (w coupon) | $1,795 | $1,099 |
| Pricing (single-part) | $795 | $750 | $1,255 | $649 |
| | | | | |
| Recommendation & Analysis | | Gleim CMA analysis | Wiley CMA analysis | Hock CMA analysis |
Becker CMA: The Pros
1. There is a Free Trial
The encouraging news is that Becker CMA finally introduces a 14-day free trial. If you are interested or that your employer is willing to sponsor the Becker CMA course for you, it's good to take a look and compare the offering with the competitors. Gleim and Wiley also have free trials that you can sign up without strings attached.
2. Longer Access
Becker CMA does have one of the longest access period for the online practice questions — 24 months.
3. Live Classes Available in Selected Countries
One thing that's special about Becker is that they run live classes. For now, live classes are run in selected countries with their international partners:
Palestine (with Dr. Fadi Kattan)
India (through 
Korea (through AIFA)
The Cons
1. Becker Licenses this Course from Power Resources
From what I know, Becker CMA Review is not a product of Becker. Instead, it is simply a reseller of a product developed by Power Resources.
Have you heard of this company? I have, but only because I have been covering this industry for 5 years. During this period I have exactly one reader who tried one of their products. I don't see why I have to risk taking this course vs the other established ones.
2. Limited Offering
There is no video instruction, substantially fewer practice questions (1,000 vs 2,000 to 3,000), no audit review and no money-back guarantee.
3. It's Expensive
Given the limited offering, it is surprising that Becker CMA is now priced at a higher level than the premium Gleim CMA Review System.
I understand the Becker is always priced at a big premium for their CPA product, but that's different because of the history and reputation. It just doesn't seem to make sense why I have to pay more for a seemingly inferior product for the CMA exam.
4. My Experience with Their Customer Service So Far
In 2014, I sent an email to Becker, hoping they will shed some light on their product offering. I specifically mentioned that I am a blogger of a CMA exam prep site and would like to get this info on behalf of my readers.
Three days later, the representative replied with the exact information on their website. After I brought this to her attention, here is the reply:
Hi Stephanie,

Thanks for contacting Becker Professional Education. You submitted your email as a Blogger. Becker only allows authorized Becker agents to promote Becker products. Therefore, the only information I can provide is the information listed on our website. If students are looking to register and submit these questions directly asking for specific information I can and will provide a direct answer to their questions. If you would like for me to submit your information to our marketing team for the approval to promote our CMA course on your website, I will be glad to do so.

Thanks for you understanding, and I do apologize that my first email did not clearly state the above.
The lady is courteous, but I don't appreciate that I need an approval from Becker to talk about their product on my blog, and their assumption that I wanted to promote their product.
This was 3 years ago. They finally have a product description on their website and offer a free trial, so things seem to have improved.  In terms of customer service however, I haven't got or heard anything that would change my mind of their institutional (impersonal, inflexible and unhelpful) style.
My Conclusion, For Now
The product and customer service hasn't been impressive. For now I do not list Becker on my major CMA review course page.
If you are new to the CMA exam, there are several well established, family-run and caring review courses out there, as shown in the chart above.
You can visit the official Becker's page here, or check out my comparison page on major CMA course providers.
Can I be More Helpful?
If you are about to start your CMA journey, I am happy to help you out! Feel free to subscribe to my free mini course, to be delivered to your email for 7 days. You may also want to get the details of this mini e-course here.