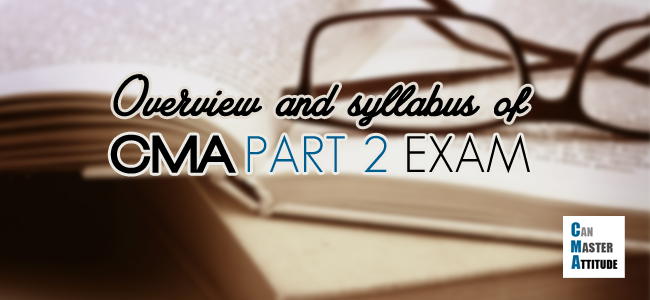 Following the article on CMA Exam Part 1, here is the same explanation for CMA Exam Part 2 in terms of syllabus and pass rate.
There have been changes since January 2015, but it is not significant when compared to Part 1.
CMA Exam Part 2 Topic Areas
Part 2 is all about financial analysis and decision making. There are six sections: financial statement analysis representing 25%, corporate finance at 20%, decision analysis at 20%, risk management at 10%, investment decisions at 15% and professional ethics at 10%.
A. Financial Statement Analysis
This is the biggest section representing 25% of Part 2. Major topics include financial ratios, performance utilizing multiple ratios, market value vs book value, profitability analysis, effects of changing prices and inflation, off-balance sheet financing, and special issues such as foreign currency fluctuations, fair value accounting, and US GAAP vs IFRS.
The coverage is similar to Section A of Part 1 on financial accounting, but the focus is more on analysis and comparison using key financial data and ratios. In other words, Section A part 1 is more on understanding past performance using financial statement, while Section A in Part 2 focuses on evaluating future prospect.
CMA exam candidates should be very familiar with these ratios and analytical tools. I suggest that you memorize the formulas of all key ratios. You will also need to know the applications, and understand how external investors use them to evaluate the company's financial health.
B. Corporate Finance
Corporate finance is another important topic. Candidates should know the types of risk including the key concept of risk and return, capital instruments for financing, initial and secondary public offerings, dividend policy, cost of capital, working capital management, raising capital, mergers and acquisitions and international finance.
We should understand the short-term and long-term financial management, as well as the benefits and limitations of major financial instruments.
Candidates will see a mix of conceptual and computational questions. The variety of questions can be very broad, but the calculations are likely quite basic.
C. Decision Analysis
In this section candidates are tested on how management accountants provide data and perform analysis for the decision-making process.
Exam content includes relevant data concepts, cost volume profit analysis, marginal analysis, make vs buy decisions, income tax implication for operational decision analysis, and pricing methodologies.
Risk management is also part of decision analysis but we will go through this topic in Section D.
D. Risk Management
This section covers the types of risk, including business, hazard, financial, operational and legal risks; risk mitigation, risk management, risk analysis and enterprise risk management (ERM).
Organizational managers need to identify, assess and respond to risks in order for the organization to achieve its goal. In the CMA exam, the focus on ERM model. You are most likely to get conceptual questions in this section.
E. Investment Decisions
This section covers how management accountants help make important decisions whether to proceed with an investment, or to choose between investment alternatives. Topics include cash flow estimates, discounted cash flow concepts, net present value, internal rate of return, discounted payback, as well as risk analysis and real options.
F. Professional Ethics
The exam content is based on the IMA Statement of Ethical Standards. Topics include ethical considerations for management accounting professionals, and for the organization as a whole.
The principles and standards are concise and easy to understand. Candidates should memorize the names of the 4 standards, and more importantly, to know how they are applied in real business situations.
Content Overlap in Other Professional Exams
Good news if you have recently taken another accounting or finance exam:
CFA Exam
There are some overlaps in Section A (financial analysis) under CFA FRA section, together with the entire section on Corporate Finance. There is also a big coverage on Ethics in CFA Level 1. The Codes and Standards are different, but the underlying concept as well as how the questions are formatted is quite similar.
CPA Exam
It's hard to match the overlapping syllabus by section, bu you'll see quite a few FAR and BEC questions in CMA Part 2. It is definitely an advantage if you've taken these two exams recently.
CIA Exam
Unlike CMA Part 1, Part 2 has little overlap with the Internal Auditor exam except that they also cover professional ethics.
CMA Exam Part 2 Pass Rate
The historical pass rate of Part 2 is around 42%. While it is higher than that in Part 1, it's hard to pinpoint the reason. But since more candidates seem to take Part 1 before Part 2, they are typically more prepared when they reach the second part of the exam.
If you are committed to the exam, pick the right review course and study using an effective strategy, your chance of passing success is a lot higher.
Finally, CMA Part 2 Tips from My Bloggers
Finally…
Here is a summary for those who prefer the video format.
Reference Reading