Did you ever have the impression that the CMA exam is easy (or easier)? Well, if you look at these CMA exam pass rates, you may be surprised!
The exam is divided into two parts:
Financial Planning, Performance and Control
Financial Decision Making
Latest Statistics (May 2012 – Feb 2013)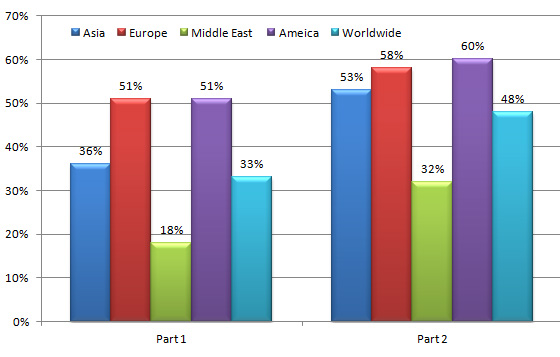 Source: IMA
Here is the latest passing rates covering the latest testing window. You can see that while there are some ups and downs in different regions, the macro picture is pretty much the same. You can still rely on the analysis I wrote below a few months ago.
CMA Exam Pass Rate: Part 1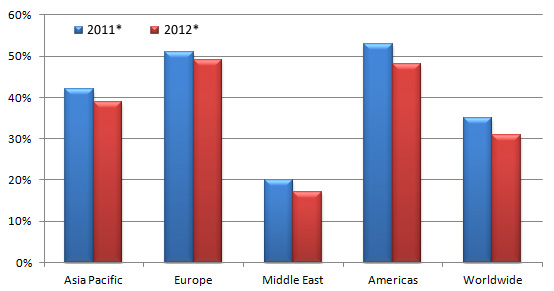 Note: 2011 covers the nine-month period from Sep 2010 to Jun 2011; 2012 covers the nine-month period from Sep 2011 to Jun 2012.
The worldwide pass rate is a spine-chilling 35% in 2011 and 31% in 2012, but if you exclude Middle East, the statistics will look much better. It is quite obvious from the above that if your native language is English or you have a chance to learn English in your country (notably Europe, and to a lesser extent, Asia), you have a much higher chance to pass.
One of the reasons is that the CMA exam comprises not only multiple choice questions but also an essay section that are graded off-line. International candidates should therefore work on practicing English writing as part of the exam preparation.
CMA Exam Pass Rate – Part 2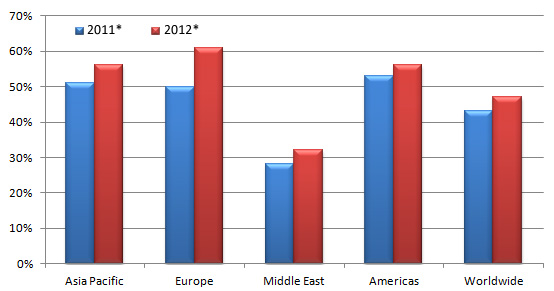 The data reveals that the pass rate of Part 2 is essentially the same as Part 1 for English-speaking population, but for non-native speakers of English, Part 2 seems to be more manageable. The most significant difference is Middle East with a 15% point jump in 2012.
Candidates also did considerably better in 2012 for Part 2. I haven't figured out the reason but if you have any ideas, please drop a note in the comment section.
CMA Exam Pass Rate – Part T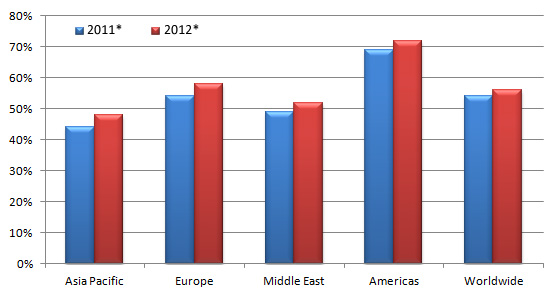 Part T is the "Transition Test" applicable to those who passed Part 2 and 3 of the old exam format before June 30, 2011. You can learn more about the new CMA exam (effective Feb 2010) here. In practice very few candidates will take this exam in 2013.
What We Can Learn From These Passing Rate Statistics
Before these pathetic pass  rates scare you away, let me try to explain how we can analyze the data.
First, while CMA exam welcomes candidates from all over the world, the exam format is US-centric. Candidates outside of the US may not be familiar with how the multiple choice questions are written and also, if their native language is not English, it is pretty hard to score well in the essay section.
Second, IMA (the exam administrator) makes it very easy for anyone with a bachelor degree to apply, unlike, for example, the CPA exam where candidates must take a substantial number of accounting courses.
What Does It Tell Us?
If you have a good command of English and you know management accounting through coursework or experience, your chance to pass the CMA exam is much higher than this average statistics.
Your Next Step
Any Questions?
For more information on the CMA exam as well as tips on study tactics, please consider signing up to my e-course which is completely free. You can learn about the mini e-course here or sign up directly below.