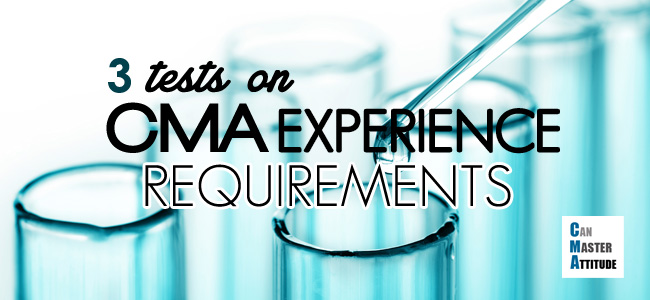 Many of you have questions on the CMA experience requirements, and whether your own job is deemed eligible for the certification.
I will start by highlighting the official guidance from IMA, followed by stories and anecdotes shared by readers. I will also list out different ways for you to confirm with IMA before the application process.
3 Tests on CMA Experience Requirements
The standard requirement is 2 consecutive years of relevant experience.
Test 1: Is Your Work Relevant?

Here is a direct quote from the CMA Candidate Handbook (p.5):
Qualifying experience consists of positions requiring judgments regularly made employing the principles of management accounting and financial management. Such employment includes:

Preparation of financial statements
Financial planning and analysis
Monthly, quarterly and year end close
Auditing (external or internal)
Budget preparation and reporting
Manage general ledger and balance sheets
Forecasting
Company investment decision making
Costing analysis
Risk evaluation
As you can see, the definition is quite broad.
It can be in the capacity of external/internal audit or financial analysis in a corporation. As long as you are dealing with analyzing the financial statement and its impact on the company, or analysis and reporting that will help in the management and decision making of investments, your experience can be counted.
Test 2: Does Your Work Involve Analysis?
If you are working on repetitive tasks such as preparing and uploading journal entries, I don't think this is considered as it does not involve analysis.
Also, if it is not accounting related, such as sales, marketing, HR and clerical work, it can't be counted either.
Test 3: Are You a Permanent Hire?
Whether you are considered a permanent employee in your company is important in the eyes of IMA as well. For example, internships and trainee programs are not considered, and experience has to be two consecutive years.
Part-time is okay as long as it is at least 20 hours per week. Two years of part-time work is equivalent to one year of full time.
Is IMA Strict in Approving CMA Experience Requirements?
From sharing of readers, I find the IMA among the most flexible administrator in terms of approving work experience requirements.
First, the definition of relevance is broad. Other niche accounting qualifications such as Certified Internal Auditors (CIA) and Certified Information System Analysts (CISA) require applicants to accumulate work in internal audit and IT auditor specifically.
Second, there isn't a restriction as to what you need to do within your role in the organization. In comparison, for the CFA work experience requirements state that one must spend 50% of work in investment decision making.
Third, there is little restriction on the verifier. This person's background is not considered as long as he or she is your supervisor. In comparison, for the CPA licensing, most state board requires that the verifier to be your supervisor AND an active CPA licensee.
Special Cases
The IMA is even quite flexible in handling special cases. For example, I have a reader who has been running her company for 16 years. She sent in her job description and IMA approved her experience as relevant.
I encourage that you check with the IMA directly if you aren't sure whether your experience can be counted.
More Questions on CMA Experience Requirements?
There is a work verification form you have to fill out and email to IMA.
You can also email them at ima[@]imanet.org, or call at 800-638-4427 and ask to speak to the exam certification assistant and she can help you with any info you need.
Common Questions on Experience
a) Is there a "deadline" when I need to fulfill the experience? How about experience gained before the exam?
This requirement may be completed prior to or within seven years after completing the examination. There is no such limitation on experience gained before the exam. Teaching experience can be counted as well.
b) Is part-time work counted?
For part-timers (minimum 20 hours per week), each 2 years of part-time experience can be used to substitute for 1 year of full-time experience.
c) How about internships and trainee programs?
I am afraid they cannot be counted.
d) I work in an accounting firm but have a supporting / administrative role. Can it be counted?
Non-technical positions in sales & marketing, IT, HR and administration is not be considered relevant. If you have multiple roles, e.g. a manager with both administrative and also technical job responsibilities, focus on your technical side in your work verification form.
Let me Walk You Through the Process Again with This Video
For Your Further Reading
Need More Information?
Please consider signing up to my e-course which is completely free! You can learn about the mini e-course here or sign up directly below:
Join us if you want to get tips on how to plan,
study and pass your CMA exam… on your first attempt!