One of the benefits of becoming a Certified Management Accountants is the enhanced earning power.
Specifically, how much can you earn as a CMA? Does the premium apply in your home country? The latest CMA salary survey by the IMA reveals the answer.
CMA vs Non-CMA Salary
The IMA salary survey includes a useful comparison of salary between Certified Management Accountants and non certificate holders. US and Europe's level is the highest, averaging US$115K for basic salary. Asia's level is the lowest at around US$30K.
The difference is a combination of different standard of living, macroeconomics and the fact that IMA members in Asia are much younger: they are on average 35 years old vs the the global average of 43.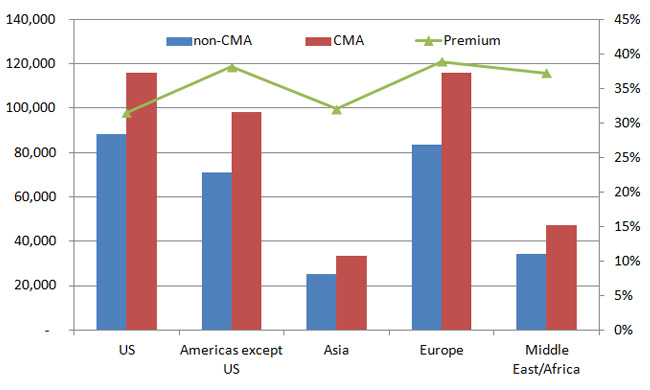 The CMA Premium as a Percentage is Surprisingly Consistent
Although the range is big in terms of absolute dollar, the premium of salary for CMAs to that for non-holders is surprisingly consistent across the globe. If you are a certified management accountant working anywhere in the world, you can expect, on average, to earn 1/3 more than your peers without the certification.
This is significant given the impact is cumulative and will last throughout your career.
CMA vs Non-CMA Total Compensation
Similar results can be seen for total compensation. This is defined as basic salary plus benefits including bonus, profit sharing, medical coverage, insurance, rental reimbursement, company car and so on.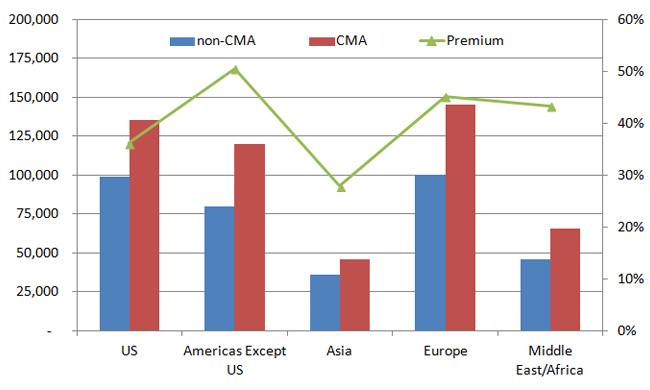 For all regions except Asia, they earn around 50% premium in terms of total compensation. One possibility is that CMAs are more likely higher-level managers who tend to have more attractive benefits packages.
Further Analysis by Age
Here is a graph that group CMAs by age instead of by region.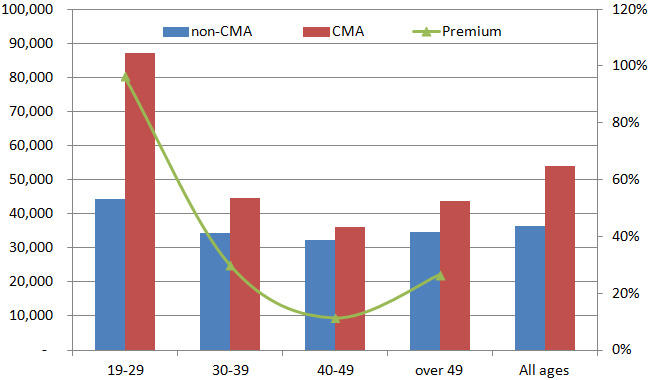 Source: Global IMA salary survey 2013 (published in June 2014)
Interestingly, young CMAs are paid more than their older colleagues according to the survey. For those age between 19-29, CMAs earn 96% more than their uncertified peers. The premium drops to 30% in the 30-39 age group, and to 11% in 40-49 age group. The premium slightly increases to 27% for those over 49.
This observation may be explained by higher entry-level salaries being paid to these young professionals due to high demand of their skill set at their age.
Qualitative Measures
There are other benefits to be a Certified Management Accountant. For example, CMAs around the world say the certification strengthens their negotiating position with their employers: 79% from Middle East/Africa region and 78% from the Americas agree.
In addition, almost 80% agree that the CMA certificate creates career opportunities for them. Please refer to the IMA Global survey for details.
Cost Benefit Analysis of CMA Certification
It costs around $2,000 to obtain a CMA certification, and several hundred dollars to maintain the title every year.
In return, you can expect to get 1/3 more in salary on an annual basis. It is clear that benefits far exceed costs in becoming a Certified Management Accountant.
Conclusion
There is clear benefit to become a certified management accountant anywhere in the world, and at all age level. If you have a choice, it is best to get the certification early because:
The impact is cumulative;
The salary premium is highest in the youngest age group;
The CMA certification strengthens your position in salary negotiation; and
The CMA certification increases your chance to move across business.
Here is a Summary in Video Format
For Your Further Reading
CMA salary analysis for specific countries
If you find this site helpful, please consider signing up to my mini-course which is completely free. You can learn more about this mini e-course here.
Join us if you want to get tips on how to plan,
study and pass your CMA exam… on your first attempt!