IMA partnered with John Wiley & Sons (publisher of #1 CPA exam review books) to co-brand and enhance CMA Learning System. For the 2013 version, Wiley's role is mostly on printing logistics and distribution and has yet contributed to the content. However, I expect a marked improvement in this product  if Wiley is to get involved in revising the test bank in the future.  Details on the partnership can be found here.
Check out my updated evaluation of
Wiley CMA Product Offering Here

Summary of the New CMA Learning System
Wiley publishes the best-selling Wiley CPA exam review for many years. You can get the CMA Learning System on their official website. Remember to use the 10% off discount code in this link: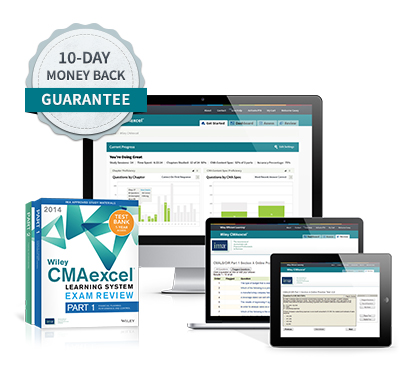 The following is the original evaluation of CMALS / IMA Materials for your reference.
The Original CMA Learning System (CMALS)
CMALS is provided via the IMA Learning Center, which also provides ongoing training to CMAs with CPE courses and webinars.
The CMALS pack includes a textbook (in hard copy),  online review course, online MCQ practice tests, essay Q&As as well as some reference materials.  A full self-study version and an intensive review versions are available.
Textbook
Part 1. ~ 500 pages following the ICMA content specifications for the CMA exam, 78 exam-type Q&As, 21 retired sample essay Q&As, bonus tips on exam preparation, and reference bibliography
Part 2. ~ 600 pages with 98 MCQs and 19 retired sample essay Q&As
Online Practice Test
Lots of multiple choice questions with explanations (800+ for Part 1, 1100+ for Part 2)
6 separate tests—one for each section and one that emulates the full Part 1 exam
Essay questions with sample answers
Test questions are randomized to provide a different presentation for each test you take
In other words, the offering is more or less the same as the basic package from other CMA review providers. Let's move on and evaluate the quality of the offering.
Pros
Helpful Notes. The notes in the textbook is brief and focuses on what you need to know. If you have a solid knowledge in accounting, this is probably enough especially if you have accounting reference books that you can refer to.
Cons
1. No advantage despite being an "IMA" official guide. While some of you may think that CMALS may have special advantage in providing review courses, the reality is that the CMA exam is administrated by an affiliate called ICMA (instead of IMA). In other words, the IMA has no special advantage in creating their CMA Learning System than any other company.
2. Online Practice Test Not as Good. Some people find the questions too repetitive, while others believe the explanations are not written with enough detail. In any case, most candidates find it necessary to supplement the study with a good test prep software. For professional exam such as the CMA exam, testing skills are as important (if not more) than knowledge on the topics. Some people may find it easier to learn by working on practice questions instead of read and re-read the notes.
3. Not Enough Explanation. CMALS notes are generally good as a summary but if you rely them on understand a concept, the notes are not comprehensive enough.
4. Subscription Valid for 1 Year Only. The subscription expires after one year which is restrictive compared to most other CMA review providers.
Conclusion
I think it is safe to say that CMALS is good but not great in all major aspects. The fact that it is provided by IMA doesn't give this review course an edge. Please click on the link for comparison of this and other CMA Review Courses.