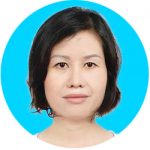 Yen is from Vietnam and joins our blogger community after completing her CMA exam in Sep 2015. Yen reflects on her journey with blog posts every Monday.
Hello everybody,
Today, I'd like to share with you about my experience on exam day.
1. Don't Worry Too Much about your Performance
I went to coffee shop with my friends in the evening before exam day. I came back home and went to bed early. I was confident because I have been prepared carefully before. I didn't worry about my exam performance. I thought that if the very bad situation happen, maybe I fail the exam, it is not the end of the world, I am totally prepared to restart and take the next chance.
Before you get into the test room, you have to eat enough and do not drink so much water. You have to spend 4 hours for the exam. There is no time for rest. I drank so much water when I was waiting outside the test room. The consequence was I felt a little uncomfortable right after I finished 100 multiple choice questions.
2. Manage Your Time Well
I have two classmates who are very good in studying and they are very hard working too. Before the exam day, they practiced multiple choice questions very well. Their scored around ninety percent most of the time. Unfortunately, both failed. I talked with them and I knew that they got confused and spent so much time for several questions.
Remember you have 180 minutes to finish 100 multiple choice questions. This means you have less than 2 minutes for each question on average. If there are some questions you are not sure, mark them and you can return later.
When I was in learning process, I tried to take 100 multiple choice questions several times. At the first try, I couldn't finish 100 questions in time. This help me know that I had to practice more and found out the way to answer the question faster. Hope that you all learning well to be confident on your exam day and get your achievements.
Thank you for your reading. See you later.
Note from Stephanie
Yen, thanks again for the sharing! From my many interactions with different readers, if they told me they were pretty relaxed the day before the exam day, I am quite sure they pass.
So what's the secret?
The common traits is confidence. Obviously, people can't make it up — the confidence comes from the fact that the candidates prepare well physically (in terms of proper studying) and mentally.
I am glad you pointed out that staying calm during the actual exam is very important too. As experienced by your two friends, don't spend too much time on a few questions. For multiple choice section, you can always flag the tough ones and go back later.
To my readers: time management takes practice, so make sure you work on questions in exam mode (vs study mode) as your actual exam approaches. Good luck everyone!
The following two tabs change content below.
Yen
Hello, I am Yen and I took a 2-year journey to study and complete the CMA exam. After some struggle with local coaching classes, I decided to self-study using Wiley CMA books. In this blog I want to share with you how I did it with my limited command in English. I passed the two parts on my first attempt.