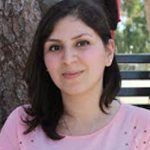 Amani is one of our CMA exam bloggers. She writes for us every Tuesday.
A managerial accountant knows that the first step to do something valuable, whether business related or personal, is to plan ahead. When studying for the CMA exam, the same rule applies. Planning is the best tool to achieve goals. Without a plan you will not know where you are headed to.
Dealing with Distractions with Planning… and More
So the first step to take after choosing your study material and deciding on your exam window, you should put a clear timetable of what will you study and when, it seems easy and applicable but so many times you fall off track, and this happened with me (discussed in my earlier post), but I found that the following ideas helped me better stay on track.
First of all, get yourself a small calendar or notepad to track your daily progress and goals. When the day ends, cross it off and write down what you studied that day. It doesn't have to be something fancy, just a piece of paper with the days written on it would be enough. This will give you a sense of accomplishment.
For the accountability of the days you skipped, write down why you couldn't study at the time, knowing the reasons that lead to it would help you tackle this in the coming weeks.
Secondly, if you are part of a close family as I am or have a significant other that takes most of your time, you need to sit down with them and explain the importance of this certificate to you and your career, and that most of your time throughout the week will be designated for studying. When you choose your exam date tell them, let them know that you will be mostly busy until that date passes and hopefully you do too.
Thirdly, find a study partner or a close one who already went through something similar, even if it's another certificate or not in the accounting field, you can discuss your progress with them, s/he can encourage you and keep you on track and lastly you can share your thoughts and fears regarding the exam with them.
But you know what, all of this will not work if you weren't determined and committed enough to be able to sit down for four to six hours at a time and just study, and if you didn't have the right attitude towards all of this, be positive, stay focused and give it your best.
Note from Stephanie
Certainly a common challenge among candidates, and fellow blogger Gavin shares his view here as well.
I can't agree with you more on looping your family in, so they can be supportive instead of the other way round. I also like the idea of noting down the reason whenever we go off track.
The following two tabs change content below.
Amani
Hello, I am from Jordan and a recent graduate. I have passed Part 1 on my first try after 4 months of studying. I accepted a teaching position for a CMA review course and therefore have to postpone my Part 2 to 2016.