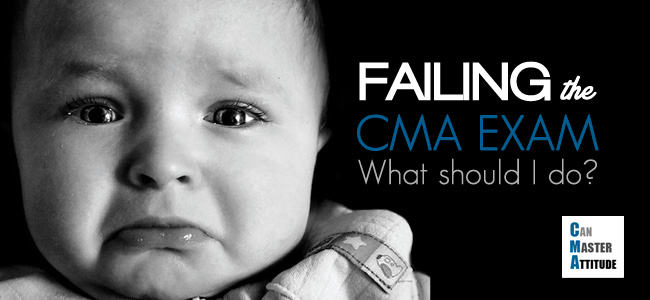 Did you just get the bad news? I know it is devastating to fail CMA exam when you have made the big investment in terms of time, money and effort.
If you are serious about getting it done, let me help you evaluate what went wrong and more importantly, how you can get passed in your next attempt.
4 Most Common Reasons Why You Fail CMA Exam
I have to say almost all candidates fail CMA exam because of these four reasons:
Not enough time to study
Not enough effort
Not able to grasp the concept
Not able to complete the exam within the 4 hour period
Here is a video originally created for the CPA exam, but the lessons learned and thought process apply to the CMA exam as well:
Here is the same information for those who prefer to read the text.
1. Not Enough Time To Study
Unless you pursue your CMA exam right after graduation or even before graduation, chances are that you have to juggle your schedule between work and study. For some candidates, it could be extra time for family and dependents as well.
Let me ask you — did you manage to study all the topics in the review course? Or did you finish but kind of skim through the materials without going into the details?
If the answer is yes, then congratulate yourself — you have found the reason of your CMA exam failure.
I would suggest that you do the following:
Complete the coursework. Continue to study where you left off, and work on the practice questions to make sure the concepts have sunk in.
Find your weak areas using the diagnostic tools. Most of the CMA exam test prep software has a built-in diagnostic page where you can easily identify your weaker areas. These sections should be your top priority and make sure you redo the wrong ones and don't stop until you get it right for the right reason.
Utilize Your Idle Time. Have you tried waking up an hour earlier for the study? If you have a long commute, may be you can make sure of the idle time reviewing the materials using flashcards, lecture notes in pdf files and audio lectures on ipod.
Create A More Efficient Study Mode. Sometimes it is hard to study at home where all the temptations (TV, bed, fridge…) or when the kids are around. I know quite a few candidates go straight to the library after work and have a quality study time for 1-2 hours. Have you tried that?
2. Not Enough Effort
Serious, have you put enough effort in your study? Please ask yourself whether you really understand the materials and the concepts behind them, or you kind of read through the text half-heartedly and forget half of the stuff the next day?
Another example: for the 2 hours that you have allocated for the study, did you dive straight into the test prep software, or kind of first check your email, grab a coffee, and *gasp* log into Facebook and then reluctantly work on a few problems in the last 15 minutes?
Again, don't let these temptations stop you from getting the CMA qualification and all the benefits that you are going to enjoy for the rest of your career!
To get you motivated, here are my treasured motivational quotes I put in a video clip:
Here are more motivational quotes to drive you succeed in your exam, career and life.
3. Not Able to Grasp the Materials
You know you have spent enough time and effort on the CMA exam and you still failed. So the next possible reason is that you didn't manage to understand the concepts afterall. Is the CPA review materials too general, or is it too complicated to understand?
My earlier suggestion was to go back to your text book and read, but I realize this doesn't work too well among my readers. Passive studying (reviewing and reading) can only take you to a certain level. To really understand the concepts AND able to apply concepts in practice, you need active studying — working on practice questions many times until the concepts naturally come to you when you read a question.
This means that you can work on the weaker areas in your existing practice questions. If you believe you need a different set, I recommend Exammatrix as their adaptive learning technology. It is especially useful for those who look for supplement instead of another full review course.
4. Not Able to Complete the Exam
It looks like more candidates actually fall in this category then the first 3. Indeed, time management is crucial for you to pass this particular CMA exam.
The best way to solve this problem is to work on as many practice questions (in the computerized format) as you can so you can get used to read, think and answer the questions online. You will also get familiar with the type and style of questions you are going to encounter again on the exam.
With that I would highly recommend Gleim CMA Review. Gleim has the most comprehensive CMA exam questions covering the broadest area. To learn about how their team can achieve this for you, please click on the link.
Conclusion
Don't worry — CMA exam is the type of exam that everyone can pass with the right knowledge and right tactics. Please feel free to share your story below and I'll try my best to help.
Sharing from My Bloggers on Their Previous Failures
Sign Up for My Special Retaker Series!
*NEW* I have this special 10-day mini course for those who need a retake of the CMA exam. It's absolutely free and you can unsubscribe any time: