Vinoth is one of our CMA exam bloggers. After a hiatus for a few months, he is back again to blog for us.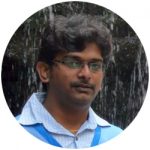 Hello everyone! After long time with no post from me… you should expect something after a long silent… Finally I have made it and cleared my part 2 examination and become a CMA now.
This is my proud movement to say that I am certified management accountant.  I would like to thank my family members and friends, especially people who have helped me in difficult situations like Stephanie because when ever I am down or not progressing my study plans, I will send email to Stephanie to get some motivational and inspirational quotes. This makes me to come back and make progress again and prepare well for it. Also, the level of commitment and support she is giving to her readers are awesome.  So thank you so much Stephanie for all your support and guidance.
I am not going to talk much on this blog.  I will tell you the key things to keep in mind while doing the CMA course:
1. Determination
Keep your mind prepared and determined to face any kind of situations mostly worst situations. Whatever happened, you should not give up and lose your goal. This is applicable to your life goals as well.
2. Clear Understanding of Concepts
Once you have the determination then you have concentrate on how to make the concepts clear on subjects. Without this it will be very difficult to reach the goal.
3. Practice
Once you have accomplished the above, don't waste any more time, and keep on practicing the problems.  The more you practice the better chance you'll pass. The level of practice determines your ability to manage your time and stay comfortable during the actual exam.
So friends, that's all for now.  Just in case if I find anything to share, I will do that and ask Stephanie to post it for me.
Now, stop reading. Don't waste time please start doing practice practice practice…..
Note from Stephanie
Vinoth, it's very sweet of your thank you note. I've known you for a year now, and I am so glad to be a part of your success!
The following two tabs change content below.
Vinoth
Dear readers, I am from India and currently studying for the CMA exam from my home country. I chose CMA (vs other qualifications) as I work in a multinational corporation that values this global certification. After passing Part 1 exam in the Sep/Oct 2014 testing window, I had to postpone Part 2 until Sep 2015 due to heavy commitment in work and family. Finally got the good news in Nov. Thanks for reading!