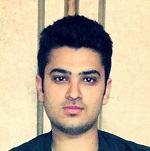 Waqar is our first blogger from Pakistan. He writes for us every Friday.
I am not perfect as no one in this earth is perfect. That's why we make mistakes and I want to discuss the common mistakes we make during our prep for the CMA exam.
Don't practice until you get it right, practice until you can't get it wrong"
1. How to use the Review Material
One important point I want to share with my fellow readers is that whatever material (books) you use for the preparation, don't try to cram. It will never help you in real exam such as the CMA exam. Instead, check your concept level at level C, for example, to learn a concept and then apply the concept on the different scenario.
2. Sessions Timing
I call three hour of question practice as a complete session as it prepares you for the final exam.
I am not saying it's totally wrong to work with small chunks of questions or that it does not help; but try to make time for long sessions to ultimately prepare for the final exam.
I want to share my personal experience here. During the first time I sat for the CMA part 1 exam, I did questions in chunks (30-35 at a time) when I was preparing for the exam. On the exam day, it was hard for me to face 100 questions altogether. Also, I was not used to long sitting e.g to sit on the same chair for four hours, and it was really difficult for me to complete the exam comfortably. At the end, I did finish the multiple choice questions just in time but I was not able to allocate extra time to the essay questions.
I heard this quote like thousand times but it works like a new dose every time:
Practice makes a man perfect"
Practice, Practice and Practice! I heard a great quote somewhere that :
Knowledge is of no value unless you put it into practice"
If you get this quote and relate it to the our CMA exam,  we can conclude that only book knowledge is not enough, you need to practice the questions as many times as possible (conceptually, not cramming as I said before). Just clear your concepts by practicing more and more questions.
I really hope this post helps CMA candidates to better prepare for the CMA exam and save them from these common mistakes. It helped me and I hope it helps my fellow readers and my friends. Lastly I want to share these two beautiful quotes. I hope you will find them inspirational.
Practice isn't the thing you do once you are good, its the thing you do that makes you good"

You can only fight the way you practice"
Regards,
Waqar Akmal
Note from Stephanie
Thank you for the sharing of your first-hand experience! I totally agree that mock exam is very important to get us physically and mentally prepared for the actual exam. And yes, no cramming. It really doesn't work.
I really like this quote of yours:
Don't practice until you get it right, practice until you can't get it wrong"
If we can achieve this level of comfort in practice questions, I am sure we can all pass this exam.
The following two tabs change content below.
Waqar Akmal
Howdy guys, I am Waqar Akmal, would love to call my self latest in the community. I have recently completed bachelors of arts from Financial Training Center. I didn't pass my Part 1 at first, but gave it a try using a different strategy and passed. My Part 2 was done on my first attempt.
Latest posts by Waqar Akmal (see all)