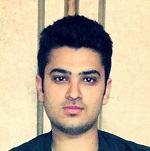 Waqar is our blogger from Pakistan. He writes for us every Friday.
I hope your preparation for the CMA exam is going well and everybody is going for September/October window. I wish all the best to all candidates. I hope my posts are helpful as I share my personal experiences that got me certified.
Let's move on to today's important topic. It is going to be a 3-part series for the CMA candidates on how to stay motivated for the exam, together with other exam related information.
But first, if you know me well, I never start without a beautiful quote:
Take pride in how far you have come and have faith in how far you can go."
I must say one of the best ways to stay motivated is to read these excellent quotes. They energize you into a new person. You need fresh air while preparing for the CMA exam because the process can be long, hard and frustrating.
Here are several ways to keep yourself motivated:
1. Set Your Goals
You should try to set daily or weekly goals. A checklist works as well. I find it extremely helpful while preparing for the exam because it motivated me and I knew how much to read in each week.
2. Speed Up as Your Progress
I wanted to talk about this for a long time. Everybody is different. We have our own pace and learn in different ways. For your exam preparation, I recommend you start with small doses: you can't study for 5 to 8 hours straight. You have to start with small steps in order to get comfortable with the process.
3. Reward Yourself
This is my favorite part! After completing the long sessions for CMA exam you need something to motivates you to continue the process. Give yourself any kind of treat or something that you love.
To be Continued…
I will be back next week with Part 2 of this series, with more motivations for you to pass this exam. Till then, work hard and hope for the best. I'll end this post with a beautiful quote:
Enthusiasm + Passion = Success."
Regards,
Waqar Akmal
Notes from Stephanie
Waqar, I especially like your second point on starting slow in the CMA exam preparation. I got so many confused, overwhelmed readers emailing me how to study, even though they have all the right learning tools. Getting ready mentally is very important. We need to accept that studying can get really slow at first, but as we plough through the practice questions, our knowledge builds up and our productivity improves.
In other words, it's perfectly fine to take it slowly and one study unit as a time. Things will only get better!
The following two tabs change content below.
Waqar Akmal
Howdy guys, I am Waqar Akmal, would love to call my self latest in the community. I have recently completed bachelors of arts from Financial Training Center. I didn't pass my Part 1 at first, but gave it a try using a different strategy and passed. My Part 2 was done on my first attempt.
Latest posts by Waqar Akmal (see all)