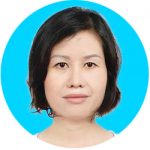 Yen is from Vietnam and joins our blogger community after completing her CMA exam in Sep 2015. Yen reflects on her journey with blog posts every Monday.
Hello everyone again,
My name is Yen. I come back to continue sharing my experiences in my education process. Last time, I told you that I was pretty stressed looking at the Willey book. For students who are not good in English or don't have a background in accounting and finance, the financial terms in that book could be overwhelming.
I got over this situation by working hard, using all materials I could find. I'd like to share with you the following web pages:
• http://www.investopedia.com/terms/s/sunkcost.asp
• http://www.accountingcoach.com/blog/what-are-conversion-costs
These web pages explain financial terms very well. They are very useful to me. By the way, I'd like to thank the person who created them.
Practicing Multiple Choice Questions
I read Willey book step by step, topic by topic, section by section. I practiced multiple choice questions right after I finished reading one topic to make sure I understand and remember what I have just read. When I finished one section, I practiced multiple choice as the whole section.
Sometimes I finished one section such as section A and scored well in the multiple choice in that section. I continued to another section such as B, finished section B. Then I recognized that I forgot many things in section A. In case you also get into this situation, don't be upset. I bet after practicing again about 20 questions in Section A, you will remember all. I'd like to say, practicing multiple choice questions is the most important for every one to pass the CMA exam. Please remember that you must review frequently. I used to practice multiple choice questions again and again.
Keep on trying — achievements do not come easy! If you have any questions, please feel free to write down your comment. I am willing to help.
Wishing you all a nice week. See you again.
Note from Stephanie
Thanks for sharing this very realistic situation where we felt good about a section, only to find that we forget most of the concepts a few days later. I also find that with practice on a regular basis, concepts start to sink in.
It's better to study on a regular basis. It could be once a day, every other day, or even once a week — doesn't matter much as long as it is regular. Some candidates like to wait until the very end and then take two weeks off to study around the click. Somehow, it doesn't seem to work too well according to the experience of my readers.
What are your study strategies? I'd love to hear from all of you!
The following two tabs change content below.
Yen
Hello, I am Yen and I took a 2-year journey to study and complete the CMA exam. After some struggle with local coaching classes, I decided to self-study using Wiley CMA books. In this blog I want to share with you how I did it with my limited command in English. I passed the two parts on my first attempt.