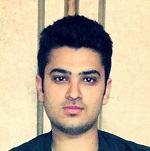 Waqar is our first blogger from Pakistan. He writes for us every Friday.
I want to make this a special post and a contribution from me to fellow CMA exam candidates. I can't share with you my exact exam questions and essay questions because its against IMA's disclosure policy. But surely I can tell you guys how you can tackle and prepare for it.
This quote defines what I'm going to and can give:
Do what you can, where you are with what you have"
I have something for you guys which I am going to give away without breaching the disclosure rule. I am dividing this post in part 1 and part 2. The first point is…
1. Able to Put Definitions in Writing
No need to memorize, but you need to understand them and be able to describe them in writing. I can guarantee that it will help you in the exam.
I know a lot of people who can and do understand a concept yet they can't explain them in words. If they get the questions to define X and you know what X is but don't know how to write is, it's a great problem. The solution is to understand each and every definition (relevant to the part you are taking currently in Part 1 or 2) and try to write these definitions in your own word. It will really help you.
It always seems impossible until its done"
2. Are there Something Extra in the CMA Exam Content?
I don't think so. Please erase this word from your mind. This is because CMA is not like other academic studies where we have choice of topics we don't prepare as we can get through without them! Many candidates made this mistake. When they went for the exam, they were surprised by questions which they have not prepared for. You need to learn and devour this point that nothing is "extra" in the CMA exam.
I can give you a real example and that is me 🙂 I went for the exam for Part 1 and I was weak in Internal Control. Guess what — I got tons of questions from this topic even in the essay type.
3. Cover the Entire Syllabus
I'm going to add another point, that no one gets the same exam combinations. For example, if I was tested on A.C.D but next time it could be B.D.E. The same happened to my friends. Therefore, you can't take any risk. Simply understand the whole syllabus, because the passing score of 360 out of 500 is a high level to achieve.
Lastly I can only relate this quote to those people who still don't understand what I said in this post. Shortcuts are only for short term. They don't sustain for long term.
You can't help a person who isn't willing to help himself"
I hope you don't get bored from my quotes Stephanie hahaha 🙂
I have another for you:
Help others achieve their dreams and you will achieve yours"
I really hope one day you can achieve your dreams.
Hope this helps and do read the part 2 of the secrets I'm sharing with you secretly.
Regards
Waqar Akmal
Note from Stephanie
Thanks for your sharing again! Your post answers some of the common questions (and complaints) from readers. I especially agree that we should stop worrying whether there are any extra topics beyond what is supposed to cover in the syllabus. If we make the effort in understanding thorougly the major topics covered, we should be able to answer any questions related to these topics even if they are not exactly mentioned in the review materials.
And no, I am not bored with the quotes. Keep 'em coming!
The following two tabs change content below.
Waqar Akmal
Howdy guys, I am Waqar Akmal, would love to call my self latest in the community. I have recently completed bachelors of arts from Financial Training Center. I didn't pass my Part 1 at first, but gave it a try using a different strategy and passed. My Part 2 was done on my first attempt.
Latest posts by Waqar Akmal (see all)