Yen is from Vietnam and joins our blogger community after completing her CMA exam in Sep 2015. Yen reflects on her journey with blog posts every Monday.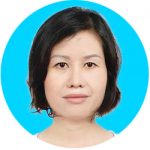 Hello all,
This time, I come back to share with you some techniques that I picked up when I practiced multiple choice questions.
1.How to deal with long multiple choice questions
Many multiple choice questions present a detailed scenario. A lot of information is given which make you confused. Remember you only have less than 2 minutes to answer one question. Don't try to read the whole scenario. Go to the end , and read the question only. After that, return to the scenario and pick up necessary information. This way, you don't waste your time in useless information.
2. Review questions that you did wrong previously
When I practice multiple choice questions, I always read carefully the answer whenever I am wrong. I want to find out why I am wrong and the right way to get the correct answer. When I complete the 20-40 practice questions each time, I return to questions that I did wrong and solved them again.
3. Note taking is very useful
I have a small notebook to keep all the knowledge and the tricks I got in multiple choice questions. When I got a wrong answer, I identify the reason of the mistake, and find out how to get it right.  Then, I write down the correct way to get the answer in my notebook. I keep it short and concise. I always take this notebook with me and read it whenever I have free time.
These are my ways in studying CMA. I'd like to know about yours.
Thanks for reading. Wish you all best of luck.
The following two tabs change content below.
Yen
Hello, I am Yen and I took a 2-year journey to study and complete the CMA exam. After some struggle with local coaching classes, I decided to self-study using Wiley CMA books. In this blog I want to share with you how I did it with my limited command in English. I passed the two parts on my first attempt.