As the number of IMA members increase in the Middle East, the IMA is able to gather enough data to create country-specific salary reports on several countries in the region, including the Kingdom of Saudi Arabia (KSA).
Profile of a Saudi Arabian Accountant in the Survey
Similar to the findings in UAE and Egypt, the respondents of the survey are more likely to be male (73%). All of them have bachelor degree and 58% of them are CMA certificate holder. The average age is 37, comparable to those from the Middle East, but slightly younger than the global average.
Accountant Salary in Saudi Arabia

The average salary among the respondents in Saudi Arabia is US$49,189 and compensation (meaning basic salary and benefits) is US$67,387. As you can see from the chart above, both metrics are higher than the global average by a considerable degree.
The median salary and compensation is also higher than the global average, but to a lesser extent. This shows that there are certain professionals in KSA who are paid substantially higher and they pull up the country average. In general, we should focus on the median figures to find out the salary level of a typical Saudi Arabian professional.

If we are to look at the breakdown within Saudi Arabia, the western region has a higher difference between mean and median salary. This demonstrates that the income is more evenly distributed at a western region.
CMA vs non-CMA

Same as all countries around the world, CMA salary in Saudi Arabia is considerably higher than that for non certificate holders. On average, CMAs in Saudi Arabia are paid US$56,056 in terms of basic salary, and US$78,440 in terms of compensation. This is a premium of 42% and 51% respectively when compared to non-CMAs.
Similarly, those with advanced degree also enjoy a sizable premium to those with bachelor degree.
Salary Comparison by Job Nature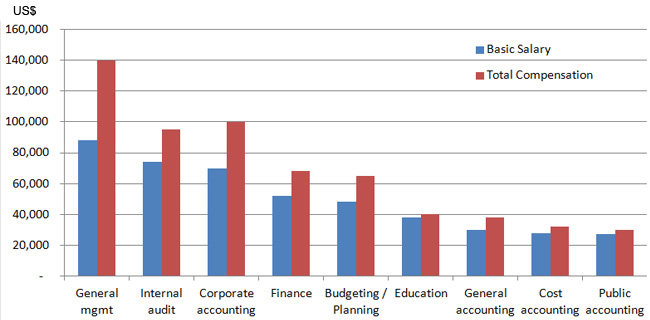 In Saudi Arabia, general management, internal audit and corporate accounting enjoy the highest salary level, both in terms of basic salary and compensation. While there are notable differences, the salary range among the accounting niches isn't as big as those in Egypt and UAE.
In terms of the nature of benefits within the compensation package, almost all of them have healthcare or healthcare insurance. More than half of them have company car allowance, travel benefits and allowances, as well as bonuses.
Expectation and Trend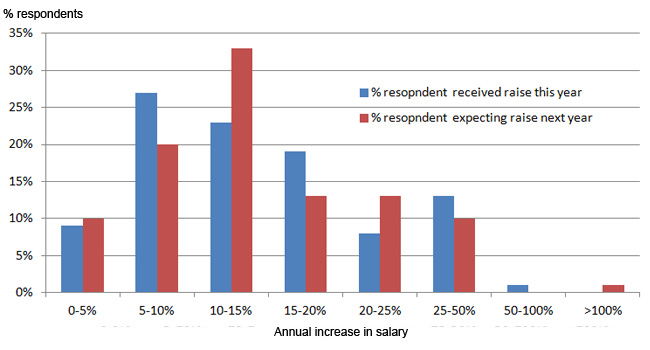 In terms of actual and expected salary raise, 63% of respondents received an income increase this year, and 75% expect so next year. The average increase this year is 13%, which is similar to the level in UAE and Egypt. Unlike Egypt, however, the inflation remains low at 3-5% in recent years. This means the employees generally enjoy a considerable salary raise in real terms.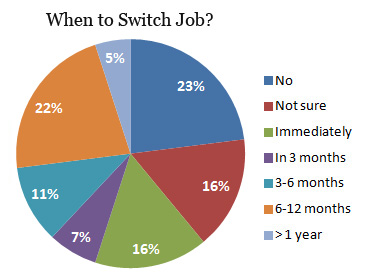 Despite the optimistic salary trend, 56% of respondents desire to switch job within the next year. This observation is similar to that in UAE and Egypt, but at a lesser degree. Among those who want to change jobs, 38% of them would like to work in another country, notably UAE and Canada.
Taking the CMA Exam in Saudi Arabia
There are several sites for taking the CMA exam in Saudi Arabia:
Riyadh*
AMIDEAST Saudi Arabia, Al Kindi Plaza
#57, First Floor, Diplomatic Quarters
Dammam (for men)
Chamber of Commerce & Industry
Eastern Province, Training Centre
Dammam (for women)
MindMerge Training Center, Mousa Center
Entrance C from the back of the building
Al Khobar
Jeddah*
MindMerge Training Cntr, Advance Business Ctr
(Same bldg as Competitive Price Center)
Jeddah
Madina (for men)
Unlimited Institute, Al Azhari
Beside Private Training Administration
Madina
Tabuk (for men)
Prometric, Al Morouj area
Abubaker Al Sideeq St
Tabuk (for women)
Prometric Test Centre – New Horizons
Mrooj Alamir
Qasim*
ALKAFAT, AL Manar neighborhood
Althamaneen ST Southwards, Qassim- Buraidah
* These centers have separate facilities for men and women.
There may be other sites for CMA exam in Saudi Arabia. Please check by following the instruction on this page. Remember to type in the city name (instead of country name).
Check out our KSA blogger Sherif!
Sherif is originally from Egypt but he has been working in KSA for years, now the Treasurer of one of the local IMA chapters.
Check out his amazing CMA exam journey and his perseverance in tackling this exam! His story starts here>>
For Your Further Reading
What's the Next Step?
As you can see from the chart, CMAs earn significant more in Egypt. To learn how to effectively plan, prepare for and pass the CMA exam, check out my free e-course here or sign up directly below: