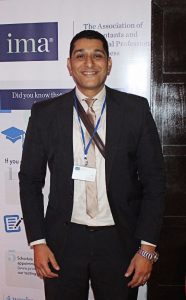 Sherif is our first blogger from Egypt. He will share his experience as a retaker who finally passed his Part 1 last June. Sherif is now preparing for his Part 2 exam. This is his first post.
Hi, my name is Sherif Aryan from Egypt, married and have a beautiful daughter. I have been working in Saudi Arabia for two years now. I'm the Treasurer of IMA's Western Province Chapter in KSA.
My CMA Journey So Far
I started my CMA journey 5 years ago when I tried my exam for 3 times in the old program, when there were 4 parts in the CMA exam.
I failed those 3 times because there were a lot of things I did wrong in my study, one of which was that I studies from more than one book…  There were more mistakes and I'll tell you about later. I recommend reading one book and especially recommend Gleim for experienced candidates.
I took my exam the 4th time in the past 2016. I pass my part 1 this time, and am now working on my part 2 exam. I'll tell you the details about the success factors and mistakes to avoid in my next blog post.
Note from Stephanie
Hello Sherif! I am so glad to have you on board. Egypt is the top 4 country with the most number of CMA candidates, and I have lots of readers from your country.
It's also great to have an active participant of IMA local chapters blogging here. We'd love to hear the events in your chapter. Readers new to the CMA program can see how these local chapters can benefit them.
Last but not least, I am very impressed by your persistence, having tried Part 1 three times and finally succeeded in your fourth. Looks like you have found the key to success! The study strategy should work well in Part 2, and we look forward to the sharing on your experience.