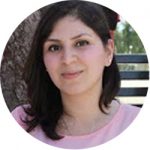 Amani is our blogger from Jordan who took Part 1 of the exam and passed it on her first try. She plans to take the Part 2 of the exam in the Jan/Feb 2016 window. Here is her story:
Thought on the CMA Exam from Middle East Candidate
1. April 14: Introducing Amani, Our New Middle East CMA Exam Blogger
In her first post, Amani shares how she started CMA Exam and what made her decide to take on the CMA certification.
2. April 21: Falling Off Track
Soon after she started, Amani confessed on not giving enough time and effort for her Part 1 preparation.
3. April 28: Dealing with Distractions: Amani's Way
Falling off track in the CMA Exam review is a common problem for many. In this post, Amani shared her way to stay on track.
4. May 5: My Gleim CMA Experience When Going Through Part 1
While going through Part 1 of Gleim CMA's book, Amani talked about her progress and occasional obstacles in the process.
5. May 12: Planning Tools for Gleim CMA Online (and Offline) Users
There are many ways to plan for this exam, and Amani explains the pros and cons of the different tools for Gleim CMA users.
6. May 19: Final Preparation for the CMA Exam
It's stressful time! Amani walked us through her final preparation for the CMA exam.
7. May 26: Walk Through of My CMA Exam: A Detailed Account from Amani
People get real nervous on the actual exam day, but not Amani. See how she pulled it off.
8. June 9: Waiting for My CMA Results
Amani shared what you can during the long wait for CMA exam results.
9. June 23: The Ups and Downs of My CMA Exam Journey
CMA exam journey is mentally exhausting. Amani has this "intense" post on her first hand experience and brutally honest view on how the exam has affected her emotion.
10. July 7: An Alternative Way to Work Through CMA Practice Questions
As she reflects on her Part 1 experience, Amani compared the different approaches she tried in the preparation.
After one and a half month of waiting, Amani broke the great news — she passed Part 1!
12. July 20: Unplanned Delay of CMA Exam (Part 2)
In life, unexpected circumstances might delay your plans. See what Amani was going through.
13. Aug 4: CMA Exam Part 2 Difficulty vs. That in Part 1
After passing Part 1, Amani compared difference between Part 1 and 2, and determined if she had sufficient time to prepare for Part 2.
14. Aug 18: When Opportunity Knocks
Amani got to seize an opportunity that made her further postpone Part 2. What is it?
15. January 12: Amani Deciding to Continue!
After she made the decision to postpone taking the part two of the CMA exam. Amani decided to continue. Know her reason from this post.
16. January 19: My CMA Studying Routine 
On this post, Amani talks about her studies. All about her study schedules and techniques, the materials she used and how she progressed throughout.
17. January 26: How CMA benefited me
Amani this time talks about how CMA benefited her. She created a summary list of all the benefits she gained after passing Part 1 of the exam.
18. February 2: Scattered Thoughts as the CMA Exam Day Approaches
As the CMA Exam day approaches, Amani shared about her thoughts and feeling. She also talked about how she has been pushing herself to the limit.
19. February 7: Quick Update: My Progress of CMA Exam
You will read about the progress Amani went through with her CMA exam journey for the past few months. She also shared about her exam preparation process.
20. February 16: Students' CMA Motives and Concerns
Amani discussed why students go for the CMA title. She also added some thoughts on having the right motivation towards success.
21. February 22: Final Preparation for CMA Part 2
A quick update on Amani's final preparation for CMA Part 2. She also shared her thoughts a week before the exam.
22. March 1: My CMA Part 2 Exam Walk-through
Amani provided a detailed account of her Part 2 exam from start to finish.
23. March 14: Through the Wait for the CMA Results
Let's see how Amani makes good use of her time while waiting for the CMA results.
24. April 10: Congratulate me, the new CMA
Amani passes her second and last part of the exam!
25. May 18: Life after Becoming a CMA
Amani shares the timeline of getting her certificate, and her salary raise and promotion afterwards.
Stories from Our Other Bloggers
Check out the experience of fellow readers / candidates around the world!