IMA has been conducting annual survey among its Chinese members since 2012. Here are some interesting findings on compensation level and trend.
Profile of an Average Chinese IMA Member
Based on the latest data in 2015, an "average" IMA member is 33 years old with 10 years of experience in the current field of work. This person could be a man or a woman — the gender of the respondents is 54% and 46% respectively, and the percentage of women is much higher than that in the Middle East, and even in the US.
In terms of professional qualifications, 50% are CMAs  and 11% are US CPAs.
Salary Range of Existing and Prospective CMA
The average annual salary is US$38,520 and total compensation is US$45,983; median is US$23,565 and US$29,849 respectively.
Using USD/RMB exchange rate of 6.62 (August 2016 level), the average annual salary and compensation is RMB255K and RMB304K respectively.
Median Salary by Region
Almost half of the respondent are based in Beijing (24%) and Shanghai (23%), with many also in Jiangsu (15%), Guangdong (10%) and Zhejiang (6%). Shanghai has the highest level of compensation followed by Jiangsu.
(Total compensation in US$)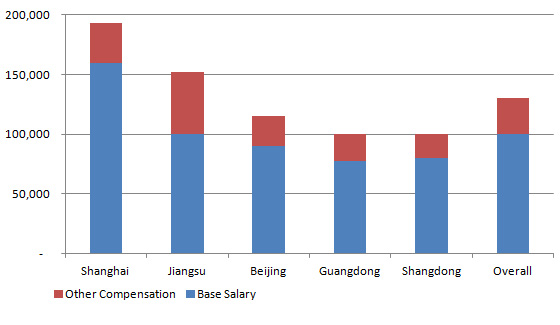 Median Salary by Responsibility Area
General management is paid the most in terms of total compensation. If looking at base salary alone, taxation is the highest.
If you look at the mean (average) instead of the median figures, budget and planning is ranked the highest. This implies that there are some individuals in budget and planning that are paid very highly and pull up the average number.
Information system and education is ranked the lowest. It is interesting to note that in the Middle East, info system is ranked among the highest instead. For the other accounting jobs, their relative ranking is similar to that in the US.
(Total compensation in US$)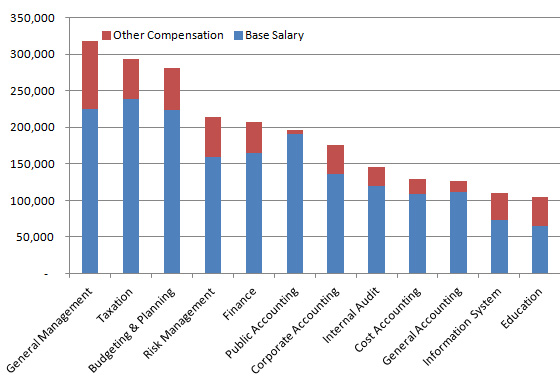 Salary by Level of Education
This is a classic example of "education pays" — on average, the higher the qualification, the greater the earnings. The difference is more apparent in the master's degree.
(Total compensation in US$)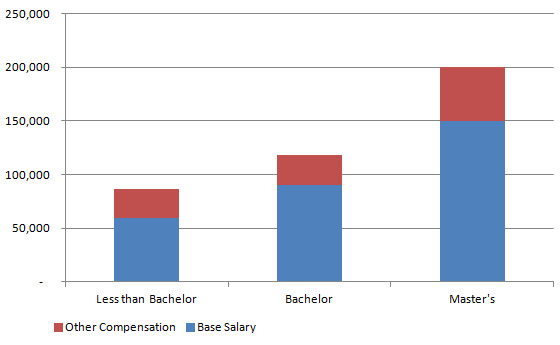 CMA vs Non-CMA
On average, CMAs earned 216,127 RMB in salary and 278,310 RMB in total compensation, which is 38% more and 34% more respectively when compared to the non-CMAs.
The difference in pay between CMAs and non-CMAs is more striking when the age of respondents is considered: in the 19-29 age group, CMAs earned 47% more than their non-certified counterparts, and in the 30-39 age group, the premium is 68%. The benefit is not clear in the 40-49 age group, probably because these individuals are more established in their careers.
(Total compensation in US$)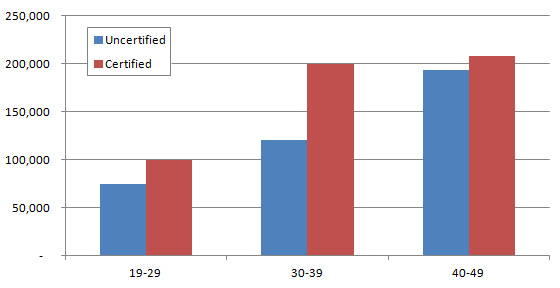 Conclusion
If you are looking to enhance your finance and accounting career in China, there are two ways to increase your pay: a better education, and a professional qualification.
In particular, the benefit of getting the CMA is more apparent among younger professionals (20-40 year olds), as they can utilize the qualification to enhance, validate, and promote their skills in the field of management accounting.
If you are not a CMA, it's time to kick start the process!
Salary trend among female professionals in China
Source: IMA 2015 China Salary Survey
Any Questions?
For more information on the CMA exam as well as tips on study tactics, please consider signing up to my e-course which is completely free. You can learn about the mini e-course here.
Source: IMA UAE Salary Survey (2014)