February 15, 2013
Need to work on MC #2 of SU2.
Moving On To SU3: Cost Allocation Techniques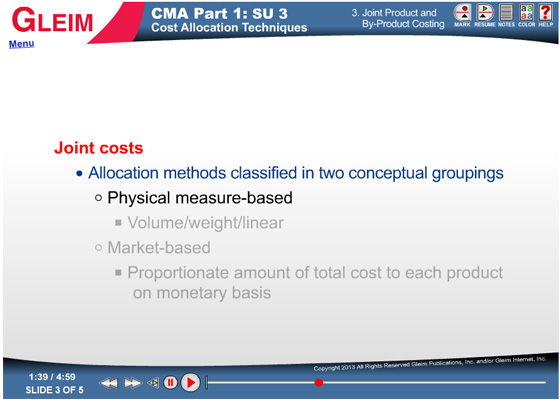 I am also starting SU3 today. This module covers cost allocation techniques such as absorption vs variable costing, joint product and by-product costing, overhead allocation and allocating service department costs. There are 7 sub-units and I expect to spend a fair amount of time going through each of them.
This exam content is also included in the CPA exam. For those who have recently taken BEC, you will be happy to know that cost accounting covered in BEC is essentially the same here.
Time Spent On Study Today
Gleim Online SU 2

MC #1 (20 questions): [ ] minutes including review time
SU 3
MC #1 (20 questions): <10 minutes — didn't bother to review because I got 17 out of 20 wrong
Audio-visual presentation: 2 hours
True/False questions (30 questions): 30 minutes including review time
Reading the examples in the Knowledge Transfer Outline: about an hour
Total study time: 3.5 hours 
Follow My Story!
Day 1 | Day 2 | Day 4-6 (no study) | Day 7 | Day 8 | Day 9 | Day 11