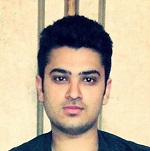 Waqar is our first blogger from Pakistan. He writes for us every Friday.
Within a few days, I will know for sure whether I pass the exam or not.
It's really hard to wait for the whole six weeks for the result, but CIA kept me busy with the new books 🙂 I am actually still worried about the exam result, thinking about it from time to time. But then, I told myself my constant thoughts and worries can't help, as the outcome would still be the same.
Basically, if I have put in my hundred percent then I will succeed; but if I did not work that hard then I'm going to have to try again. This is the reality and I need to be ready for the worst. I think this is the best quote for me at this time:
Good things come to those who wait."
I have spent this waiting time doing something useful for me and I would love to share with you. IMA offers a great deal of products and services to their members. There are lots of things to do when you are not preparing for an exam, such as useful tools for the member to continue their education and build up knowledge with the community. I love and support IMA because of these offerings and its dedication to its members.
Webinars
There are free webinars for IMA members, and available with a fee for non-members. IMA members have to take webinars after the completion of both CMA parts in order to fulfill the annual requirement of CPE (Continuing Professional Education). I have taken some webinars that are very interesting and where we can learn directly from the people working in the field.
Linkup IMA
IMA has a great community for its members known as Linkup IMA, where students and qualified members interact with each other easily. It is a great community where people help each other on various matters. Do visit Linkup if you have time for networking.
I am waiting for my result eagerly with my friends, and fellow readers who have taken the exam. Wish you all the best. May all of us succeed in our CMA journey!
To all exam candidates:
Sometimes you win, sometimes you learn."
Regards,
Waqar Akmal
Note from Stephanie
Yes we are all eagerly waiting for the results for you and Casey! So far I have been seeing 100% success rate among my bloggers who took the exam — no pressure, but I do hope we can keep the great statistics 🙂
I have confidence in you because of your great attitude in not only the studying, but also the general pursuit of knowledge. And of course, how extremely driven and hard working you are. Still can't believe you go for the CIA exam right away!
For those who are interested in the CIA exam, you might want to check out Waqar's journey here. He just began a few weeks ago. His first blog over at my CIA exam site is here.