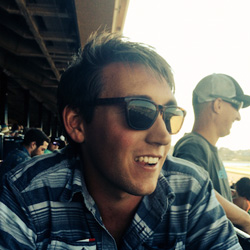 Hi, my name is Gavin Arblaster, a recent graduate from The University of Oregon (Go Ducks!), an entrepreneur and an accounting enthusiast.
Throughout my first year in the program I struggled with accounting. I felt like the quarter system moved much too fast to comprehend everything and I struggled to fully grasp all of the material. Because of this I was unsure about my future in accounting.
I had worked at a public firm in Southern California for 2 summers where I helped prepare a lot of tax returns, like too many to count.  I enjoyed learning the ins and outs of tax law, but started to become uninterested in public accounting.  This affected my drive in my accounting classes at school.
It wasn't until I took my first cost accounting class, got my first A in an accounting course and talked to my prof about my future in accounting.  He recommended that the CMA might be more cohesive with my strengths and interests as my main desires at the time were to work for a manufacturing company and eventually start my own consulting firm.
I did some research and stumbled upon ipassthecmaexam.com and through helpful informational videos and advice I quickly realized that his was the best path for me.
At first my parents were unsure about it because they thought the CPA was the only route to go in accounting.  I soon convinced them that the CMA would be just as, if not better than the CPA.  This turned my whole focus around.  I worked harder in classes and finished off the year strong, focused on getting my CMA.
After I graduated I decided to move to Honduras for 4 months to teach English.  I wanted to learn Spanish and also study for the CMA while I was there.  I thought it would be difficult with the minimal Internet access I would have, but with help from the Gleim Review System and some advice from my personal counselor all of my study needs were met and I'm gearing up to take the first part of the test at the end of January.
Interested in how I successfully studied for the CMA while abroad? Stay tuned for next weeks post.