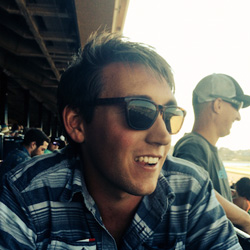 Gavin is our blogger who took both parts of the exam in the same testing window.
He just received great news on his Part 2 success. Gavin passed both parts on his first try and within the testing window.
Gavin's Inspiration for CMA exam
1. Dec 5: Introducing Our Friday Blogger – Gavin
In this first post, Gavin introduced himself as a fresh graduate from University of Oregon, how he struggled to find passion in accounting until he took his first management accounting class, and how he spent his summer in Honduras before starting his new job in LA.
2. Dec 12: Studying for CMA abroad
Gavin didn't want the Honduras adventure affecting his CMA exam preparation. He got help from Gleim, his review course provider to offer both online and offline review materials.
3. Dec 19: CMA Exam Flashcards!
Gavin loves to study with flashcards. He explained why he liked it and how he did it.
4. Dec 26: Long-term Studying for CMA Exam
It's easy to get distracted if you have 5 months of preparation time. Here is how he planned the weekly study using Gleim Online.
5. Jan 9: Handling Distractions
Is it possible to study during the biggest holiday season? Gavin devised his 5 ways to stay focus while vacationing in Australia.
6. Jan 16: Final CMA Prep… with a New Job
Stress was building up as exam day neared… and Gavin was about to start his first full-time job in his life! Interestingly, his work experience gave him a new perspective in exam preparation…
The Day in one week. Gavin was scoring between 60% – 75% on practice tests… Was that good enough?
8. Jan 30: One Down, One to Go — The Exam Day Experience
Gavin woke up that morning really pumped up and just excited to get it over with. He documented his experience from start to finish on the exam day.
Part 2 seemed to be tougher for Gavin, but he was more mentally prepared and found some resources that could help him nail this part of the exam.
10. Feb 20: Realizing My Strengths and Weaknesses
Gavin analyzed his stronger and weaker areas as he gave a final push in his Part 2 exam preparation.
11. Mar 4: Done! Now Waiting for My Results
Part 2 was tough. Gavin didn't quite finish his essay, but otherwise he did pretty well. After taking two parts with only one month apart, he shared his thoughts on how one could prepare better for this exam.
12. Mar 20: I Passed!
Score release for January candidates came a few days late, but on March 20 Gavin received the great news: He passed the first exam!
13. Apr 11: I Passed Again!
February results came in and Gavin passed the second exam, successfully completing two tests within one testing window.
Stories from Our Other Bloggers
Check out the experience of fellow readers / candidates around the world!