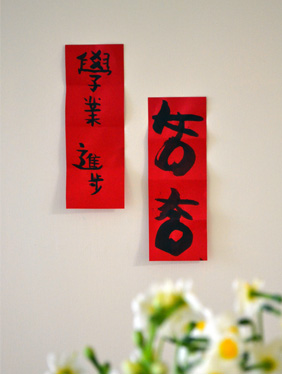 February 9, 2013
It's Chinese New Year's Eve today and I knew I would spend less time on the study. Woke up earlier in the morning to check emails and write on this blog, and tried to cover at least some part of SU 10.
Got Only An Hour for Study Today
Gleim Part 1 SU10 covers the role of internal auditors and related control procedures. It is relatively straight-forward because the concepts are similar to those covered in SU9 and I understand (from previous working experience) the work and role of internal auditors within a public-listed company.
I scored my "normal" 50% in the MC #1 section. I didn't feel bad this time — I guess I have overcome the fear of getting low scores. It's more important to know my weakness and work towards improving it.
I could spare some time watching the audiovisual presentation in the morning, but it was hard to focus. My daughter planned to finish her homework before tomorrow (New Year) and my son was left playing by himself. So he stopped by every 5 minutes telling me how his Transformers beat the giant squid… I managed to watch the first presentation and got 1/3 of the video done.
The later part of the morning was spent cleaning the house and filling the place with festive decorations. We also went to the flower market and got some traditional flowers (narcissus, a.k.a. daffodils).
Time Spent On Study Today
Went through the first section of Gleim Part 1 SU10
MC #1 (20 questions): 0.5 hour including review time
Audiovisual presentation: less than an hour, cover approx. 1/3 of the material
Total time spent: < 1 hours 30 minutes
Follow My Story!
Day 1 | Day 2 | Day 4-6 (no study) | Day 7