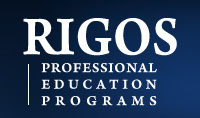 Rigos is a professional test review provider covering the CPA, CMA and the Bar Exam. Here is an overview and my thoughts on the offering.

Rigos CMA Intensive Live Classes
Rigos offers a "3-step" approach if you live in an area where Rigos CMA live classes are available.
1. The first step involves the reading of Rigos' text materials before the seminar.
2. The second step is a 2-day intensive workshop where an instructor goes through the overview and walks through a number of questions with the students. Homework will be given at the end of the workshop.
3. The third step is to work on a computer test prep questions, and watch a 5-hour follow up video to reinforce the concept.
Other Rigos CMA Live Courses
Apart from this intensive course, CMA Part 1 and Part 2 classes are available in selected cities and credits of this course can possibly be counted towards your CPA CPE requirements if you are a certified public accountant.

Self-Study Rigos CMA Course
For those who cannot attend the live classes, self-study course is available with 1,200 MC questions (for the new format) in the test prep software (known as PC software drills) as well as a "magic memory outline template" with mnemonics to help you remember the important points.
The self-study course is US$97 per part or US$180 for Part 1 and Part 2.
My Thoughts
Please click here to check out Rigos' official website:

Rigos is never a Tier one provider  in CPA or CMA review courses so it is hard to gather the pros and cons of the quality of the course.
Apart from that they don't get much mentioned among the students (which typically isn't a great thing), the fact that they pretty much run as a franchise with the operation and marketing fully outsourced to the franchisee doesn't make me feel too comfortable.
It is because there is really no one to control the quality of the lecturers — yes you get the same Rigos books and software but that's basically it. Obviously the lecturer could be a superstar but you will have to ask around to make sure.
For self-study courses, I would personally much rather pick Gleim or Wiley which seem to be THE choice of CMA candidates anyway.
What Do You Think?
If you have experience in using Rigos CMA or have friends who have been their students before, please drop a note in the comment section below. Thank you!
Summary
Reviewed by
Date
Reviewed Item
Overall Rating