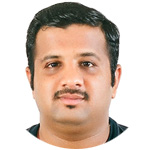 One of my special readers, Sarang, would like to share his CMA exam success story with you. He took parts 1 and 2 in the same testing window and both score above 400!
Hi all, I am Sarang. I am an Indian working in Vietnam for the last seven years. My working hours and traveling takes around 12 hours every day and six days a week. I have my wife and five-year daughter with me in Vietnam.
I successfully cleared CMA exam both Parts in January February window and passed with score of 420 and 430 respectively. During preparation, I kept myself inspired with blogs and stories on this wonderful website and thought of sharing my story with you all.
Why a Professional Qualification
Around June last year, I felt the need to get a professional qualification. I have done Masters in Costing and MBA in Finance. Since I started working in 2005, I have over ten years of experience in costing and budgeting arena. I felt a professional qualification would give me the much needed opportunity to learn new tools, subjects and knowledge. I can also revisit all things I have learnt in college but not yet got the chance to implement.
While MBA allows you to get ready for leadership role in overseeing different functions, a professional qualification strengthens your core area and helps you perform with confidence. I also believe a professional certification can help one in getting better opportunities, both within the same organization and beyond.
Why CMA
1. The Two-Part Structure
I particularly like the two-part set up of the CMA exam. Given that these parts can be taken in a single testing window and in any order, this creates the flexibility I need. I research a lot on possible alternatives and this website put up by Stephanie does a great job to provide all resources in one place.
2. Syllabus Matches Existing Knowledge and Experience
I took a good look at the course outline and felt that I studied in the past almost 50% of the outline, and practiced a large part of it at work. I estimated that I need 2 months for Part 1 preparation and 3 months for Part 2. Most topics in Part 2 were new to me. I prefer multiple choice questions rather than long theoretical questions. This preference helps me in my CMA preparations.
3. Convenient Testing Location
Another consideration to finalize the CMA decision is that it is possible to take this exam in Vietnam, in the city I stay. Sitting for the exam would not involve travel plan ahead of exam.
4. MoU between IMA and ICWAI
The final consideration is CMA vs ICWAI in India. The two institutes have signed a MoU and after completing CMA, I can get a membership of ICWAI as well. I could not do ICWAI after graduation due to lack of time. CMA certification would give me chance to become member of ICWAI which is a big bonus for me.
CMA Review Courses
This website also did a commendable job in providing comparison of online review courses. Without taking much time, I finalized on Gleim by end of August, 2015.
One of major reasons for choosing Gleim is the large question bank that Gleim boasts of. Now with both results on hand, I feel the investment in Gleim review course is worth it. I could not have asked for more.
Another consideration is how the reviews state that Gleim is good value for money which now I wholeheartedly agree.
Note from Stephanie
Sarang, first of all, amazing results especially for a busy professional, husband and father!
I believe one major reason of your success is how much thought you have put in before the whole process. You thought about why the CMA certification is beneficial, with concrete reason such as how you can make use of the MoU to get ICWAI. This is very important to motivate us to get the certification done.
I am impressed how you review the syllabus in such detail that you are able to correctly estimate the time required to complete part 1 and 2. The reasoning why you pick Gleim is also systematic and thoughtful.
Read Part 2 of Sarang's story: Planning and Progress