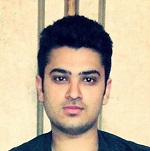 Waqar is our blogger who has recently completed the CMA exam: Part 1 on his second attempt, and Part 2 on his first. Here is his story.
Waqar's Successful CMA Exam Story
1. May 26: Introducing Our Pakistani CMA Exam Candidate – Waqar
In this first post, Waqar shared how his journey started when his friend told him about CMA Certification.
2. June 12: Gleim vs Wiley CMA: My Analysis
Waqar tried both Wiley and Gleim. He discussed how Gleim wins in several ways.
3. June 19: CMA Part 2 2015: Content and Recommended Guide
There has been changes in the CMA exam content in 2015. Waqar discussed his thoughts on the changes and the resulting approach.
4. June 26: Summing It Up for Part 2 Exam
As he went through the study units, Waqar highlighted the important points for Part 2 Exam. He explained how he utilized the book and practice questions, and how he did his own "cheat sheet".
5. June 28: CMA Part 2 Final Preparation: My Last Touch
Exam was coming up and Waqar shared his feelings then, and how he got himself mentally get ready based on his experience from Part 1.
6. July 3: After My CMA Exam: Six Weeks of Waiting Begins
Eagerly waiting for the result, and what he did in between.
7. July 12: CMA and CIA: How I Utilize My Six Weeks of Waiting
Waqar decided to go for CIA if he passed his CMA exam. Why CIA? Read further for his thought process.
8. July 17: Mistakes CMA Students Make
Reflecting on his own experience, Waqar shared the common mistakes CMA students make during preparation, focusing on how to review the materials as well as on time management.
9. July 24: Secrets from CMA Exam Blogger: Part 1
Waqar shares 3 rather unconventional secrets on how to tackle and prepare for the exam.
10. Aug 7: Final Week of Waiting
What does the final week of waiting feel like? Let's hear what Waqar says. He also explores how IMA adds value to candidates in addition to the certification.
11. Aug 15: I Passed the CMA Exam!
Excitement beyond words! Waqar shared the good news and his gratitude to those who made his dream come true.
12. Aug 27: How to Prepare for CMA Exam: My Recommendations
As a conclusion of his own CMA journey, Waqar shared his recommendations on how to prepare for the CMA Exam if he were to do this again.
13. Sept 4: Motivating CMA Candidates: Part 1
14. Sept 11: How I Motivate Fellow CMA Candidates: Part 2
15. Sept 18: CMA Exam Motivation: Part 3
After pretty good feedback from his followers, Waqar decided to write a 3-part series on his CMA journey, and how to keep himself motivated in the process.
16. Sept 25: Overcoming the Fear of CMA Essay Section
The CMA essay is a big part of the testing, and here are tips that candidates may find helpful.
Stories from Our Other Bloggers
Check out the experience of fellow readers / candidates around the world!