Wiley and IMA co-brand Wiley CMAexcel Learning System Exam Review, or better known as the CMA Learning System. Disclosure: The I Pass Team may earn a small amount of compensation if you purchase from our links; our team uses these revenues to maintain the site and produce awesome free content just for you!


Save $400 on the Platinum Course (June 2018)
Click here + use promo code CMALECTURE

Wiley CMA Learning System vs CMAexcel
Please note that Wiley offers 2 study tools for the CMA exam:
1. The CMAexcel review course is a fully-integrated course with video instruction, interactive study planner and online tracking system. The evaluation of this product can be found here.
2. The CMA Learning System is the self-study package consisting of a textbook and an access to the test bank, at a lower price.
We cover the CMA Learning System in this analysis.
My First Impression
Wiley is kind enough to send me a complimentary copy so I can thoroughly read through the two books and try out the test bank (test prep software).  The books look formidable: 1,600+ pages and 10+ cm thick when stacked together!
When I flip through the pages, it doesn't look as bad because the books are printed on thicker paper, font size is reasonable with lots of white space for me to jog down notes in the margin. The layout reminds me more of Becker's materials than Wiley's for anyone who has used their CPA products.

Wiley CMA Product Offering
1. Wiley CMA Learning System
The Wiley CMA Learning System includes 500-page textbooks for each part, and access to the Online Test Bank.
Part 1
The book is divided into 5 sections:
2018 version 
Section A: External Financial Reporting Decisions
Section B: Planning, Budgeting and Forecasting
Section C: Performance Management
Section D: Cost Management
Section E: Internal Controls
Both versions include additional chapters on how to create a study plan and on essay exam support materials.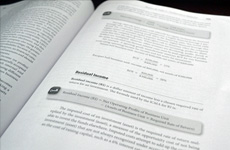 The first 3 sections are longer with around 100 pages for each. For example, in Section A the author goes through topics related to budgeting concepts, forecasting techniques, budgeting methodologies, annual profit plan and supporting schedules and top-level planning and analysis.
There are a few basic questions (knowledge checks) for you to answer at the end of each subsection, and a set of sample exam questions (practice questions) at the end of Section A.
Throughout the book, you will also find boxes highlighting important elements such as key formulas, study tips.
Part 2
The format is the same as Part 1 with the following sections:
2018 version
Section A: Financial Statement Analysis
Section B: Corporate Finance
Section C: Decision Analysis
Section D: Risk Management
Section E: Investment Decision
Section F: Professional Ethics
2. Online Intensive Review (OIR)
The OIR includes an online interactive self-study course with examples and references, CMA glossary and practice essay questions with model answers (35 in Part 1 and 35 in Part 2).
The OIR (for 2 parts) costs only $160 extra if you get it in a bundled package.
Let Me Show You the Wiley CMA Test Bank in this Video
In this video, I'll show you the entire process from PIN activation to the navigation of this online test prep software. Take a good look at the 3 study modes, and the respective features, layout and usability:
Feel free to watch the parts you find interesting:
0:29 Pros and cons of Wiley CMA Review
0:42 What to be aware of when getting the Wiley CMA Learning System
1:40 Look and feel of the Text Book
2:38 How to activate your Test Bank
3:29 Test Bank demo #1 – Practice Questions module
4:44 Test Bank demo #2 – Study Mode module
6:33 Test Bank demo #3 – Practice Exam module
7:27 Performance Reports
8:12 Info on the 2016 version
Wiley CMA Learning System: Pros
1. Well Written and Organized
To my surprise, I actually enjoyed reading the book. These exam study materials are meant to be boring, but this review book is written in something similar to a  narrative style, and from time to time the author includes comments on what he/she thinks the concept can apply to our daily lives. The topics are often practical and involve discussion on that we do as management accountants and strategic planning professionals.
This particular writing style can be explained by the fact that the original material is prepared by the IMA and not a commercial review provider, and IMA does want us to learn and not just pass the exam.
2. The Great Feeling of a Real Book
The videos and audios are great, but I am old-school and I love to study off a real book. It is easier to pace myself and to drop down notes in the margin if necessary.
3. An Integrated Review Product
The two Wiley CMA books come with the online test prep software (known as the "test bank") that you can access via the Internet.  The premium version includes the Online Intensive Review (OIR) which functions as a cram course. These offerings work well together as an integrated product and is a definite advantage to those providers that offer only the study materials or the practice questions.
4. 10-Day Money-Back Guarantee
You can get a refund of the CMA Learning System (less shipping cost) within 10 business days of purchase.
Wiley CMA Learning System: Cons
1. This "Official" IMA Study Material Does Not Give You an Edge in the Exam

This by itself is not a weakness, but knowing that many candidates pick the CMALS review books solely based on this incorrect assumption, I should make this point clear.
ICMA (and not IMA) develops, administers and grades the CMA exam. ICMA is an affiliate of IMA but is completely separate in that IMA does not have access to ICMA's exam questions.
2. Relatively Expensive

If you really like the products, you can get the CMA Learning System without the Online Intensive Review. The textbooks + online test prep software cost $950 instead of the full bundled package (with OIR) at $1,110.
3. There may be "Better" Practice Questions Out There

I need to work on more practice questions to find the best adjective to describe what I feel about the test bank, but in general, the practice questions seem a bit too basic.
It feels great that I can easily go through the questions without given them too much thought and still get a relatively good score, but knowing the questions are wordy and complex in the actual exam, I have to say I have some reservations on the test prep software.
In other words, I have a good learning experience using Wiley CMA Review but I want to totally nail this exam, I might want a supplement to get myself better prepared.
4. Some (Minor) Errors Not Fixed
I have been getting some feedback lately on how Wiley fails to correct errors identified by their customers. These are reported in their forums with some dated back two years ago. It doesn't reflect well on their customer service, but thankfully most of the errors are minor.
My Bloggers Who Use Wiley CMA Learning System
Heather (US)
Wiley CMAexcel
Take Part 1 in 2016
Yen (Vietnam)
Wiley CMA Learning System
Passed Part 1 and 2 on first try
Conclusion
There are strengths and weaknesses in each review course, and Wiley CMA Learning System is no exception. It is an excellent set of materials to learn more about management accounting, strategic planning and financial management covered in the CMA exam.
If budget is not a big concern, getting the CMA Learning System and supplement it with other CMA practice questions (from Gleim or Surgent, for example) could be just what you need to pass on your first try.
$400 savings using  discount code CMALECTURE
Expires June 28:

Bring me to Wiley CMA Learning System Now!
Summary
Reviewed by
Date
Reviewed Item
Wiley CMA Review Textbook and Testbank
Overall Rating