I have written a post on Middle Eastern CMA salary analysis with very positive feedback, and I am glad the information has been useful. As one of the very few female bloggers in the industry, I feel "obliged" to present this picture specifically for my female readers.
Profile of an Average Female IMA Member in the Middle East
Women represent only 7% of all the respondents in the Middle East survey, but this is by far the best data I can find in relation to female professionals in the accounting and finance industry in this region.
A typical female IMA member in the Middle East is 31 years old with 9 years in the current field of work. Around half of them are married.
When compared to their male counterparts, these women, on average, are younger with slightly less experience. They are also more likely in junior positions — 75% of them work at entry level or in middle management.
(% of total respondents)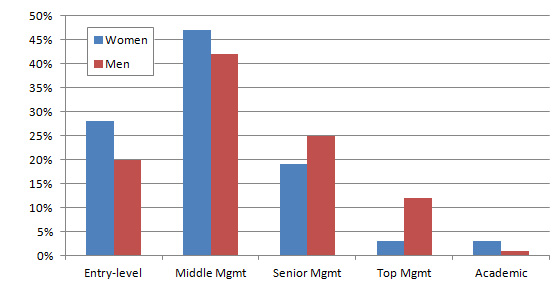 Mean and Median Salary
With gender and the above factors, women earn, on average, $17,440 basic salary and $22,776 total compensation, which is 44% and 46% respectively of the men. The median is $6,500 and $14,350 respectively.
The big difference between average (mean) and median indicates that a portion of female members earn significantly more and pull up the average number.
Male/Female Compensation
(Total compensation in US$)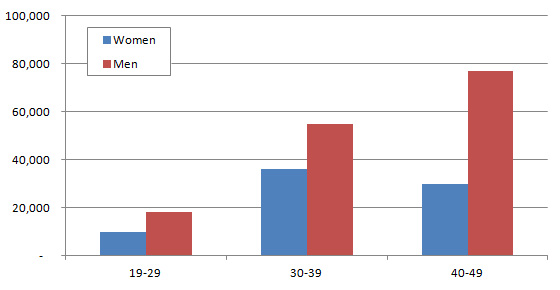 It is no surprise that women earn less than men in all age groups, but it is interesting to note that those in the 30-39 age group earn more, on average, than those in the 40-49 age group. This reflects an encouraging trend towards greater pay equality in the Middle East (and around the world) for more recent entrants into the workforce.
Women in general earn slightly less than half the compensation of men. A similar ratio in US survey points to a 60-80% range. This shows a greater income disparity in the Middle East.
Compensation of CMA vs Non-CMA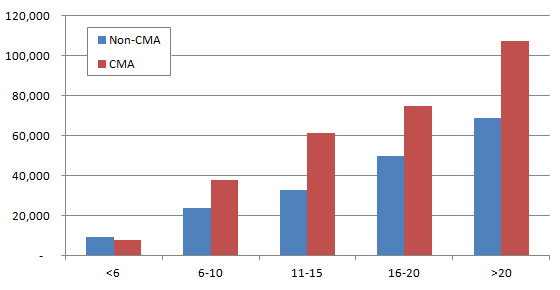 (y-axis: total compensation in US$; x-axis: age group)
This is not a gender-related analysis, but the positive impact of having the CMA designation becomes more apparent in this chart. Overall, CMAs earn 50% more in salary and 41% more in total compensation than non-CMAs.
Conclusion
The survey confirms the female/male income disparity, but the gap is narrowing for the younger age group, and I see this as a very encouraging sign. In any case, getting the CMA qualification is clearly beneficial regardless of gender.
Any Questions?
For more information on the CMA exam as well as tips on study tactics, please consider signing up to my e-course which is completely free. You can learn about the mini e-course here.
For Your Further Reading
Source: IMA Middle East Survey 2012