If you're considering the Certified Management Accountant certification, you might be wondering about Gleim CMA vs. Becker CMA review courses. After all, Gleim is one of the leaders in CMA review. But, of course, Becker is a name familiar to just about everyone in the accounting field.
So read on if you're wondering is Gleim better than Becker, or even "Should I buy Becker CMA if I already have Gleim CMA?" This article should help answer your questions about Gleim vs. Becker. And near the end, you'll find a Gleim CMA discount link and info about a Becker student discount for CMA review.
Gleim CMA vs. Becker CMA Comparison Chart
| | | |
| --- | --- | --- |
| CMA Review Attribute | Gleim CMA Review Premium Course | Becker CMA Review Pro Package |
| Access Until You Pass | Included | Included |
| Video Lectures | Over 70 lecture hours included | 35+ hours for Part 1 and 20+ hours for Part 2 |
| CMA Test Bank | Over 4,500 questions included | Over 4,000 MCQs |
| CMA Essay Practice | 130+ unique scenarios | 76 practice essay questions included |
| Mobile App | Not Available | Available |
| Expert Guidance on Accounting Subject Matter | Included | Included (Personalized tutoring also available) |
| Adaptive Software | Yes – SmartAdapt | Yes – Adapt2U Technology powered by Sana Labs |
| Detailed Final Review | Gleim's Exam Rehearsal mode + personalized Final Review | Timed simulated exams are available |
| Books | Digital and physical books included | Digital and physical books included |
| Flashcards | Yes | Yes |
The Winner of Gleim CMA vs. Becker CMA
We are declaring Gleim CMA to edge out as the winner in our contest between two titans in exam prep. Why? Gleim has more practice questions, video lectures, audio options, and excellent textbooks. Plus, the Gleim test bank questions include answer explanations for both the correct and incorrect answers. And that feature really helps you understand the concepts better.
Becker, on the other hand, has been offering new CMA review materials since 2021. So it's hard to judge the quality of a relatively new course's quality when we don't know how many students have passed the CMA exam with Becker. However, with outstanding course features like access until you pass, adaptive software, and unparalleled personalized support combined with Becker's test bank and great videos, you can't go wrong with Becker.
But still, Becker is an excellent brand and is considered nearly as good as Gleim. In fact, Becker's CPA Exam prep materials are some of the best available. And so, it seems likely that Becker's high standards for excellence will carry over to the CMA Becker review course as well.
History of Gleim CMA vs. Becker CMA Review
Gleim has been educating accounting professionals since 1981. Actually, Gleim claims that the company has prepared more CMAs for the 2-part exam than any other CMA review course in the industry. As such, Gleim boasts a 99% satisfaction rate among its previous users. So, it seems that many CMA candidates have found Gleim to be helpful. And Gleim is trusted by leaders in the accounting field, too. For example, the company is an IMA Strategic Partner. What's more, more than 250 universities use Gleim to teach their students about management accounting.
In contrast, Becker has been doing exam prep for more than 60 years, although it is largely known for its CPA review courses. Besides, before 2021, previous CMA Becker material was actually licensed by Power Resources. But now, Becker has created its own CMA Exam review resources. As a result, studying for the CMA with Becker is now a stronger option than in the past.
Becker CMA vs. Gleim CMA 2023 Interface
Today, many of the best CMA prep reviews have adaptive software that makes studying for the CMA exam much easier. Here's a basic idea of how they work. First, users start by taking a quiz that tests their baseline knowledge of the material likely to appear on the CMA exam. Then, users are guided toward learning resources like videos, audio lectures, and textbooks. Then, as users work through the practice questions in the test bank, the adaptive software tracks their performance. More specifically, the software notes what concepts users have mastered and topics they still need to study. And as users continue to take quizzes, adaptive software adapts and only feeds users questions on their weak areas. That is, they don't have to waste time studying the content they already know.
Gleim and SmartAdapt
Gleim vs. Becker CMA are both strong courses and use adaptive software. Although, the online platforms are a little different. Gleim uses SmartAdapt, which analyses your performance and adjusts quizzes and study materials to pinpoint and strengthen your deficiencies. More importantly, SmartAdapt has a feature that lets you know when you're probably ready to take the real CMA exam. This readiness score is based on how well you've done on quizzes and practice tests.
When you're ready, you can take a full-length Mock Exam built into the Exam Rehearsal mode of your Gleim CMA course. These sample exams replicate the exam-day experience from the look and functionality of the real exam down to the pacing of the sections. When you're finished, the Gleim software will show your score. In addition, it will also give you a list of topics to focus on during your personalized Final Review, a last-minute push of studying 1 to 2 weeks before your scheduled CMA exam.
Becker CMA and Adapt2U Technology
Becker CMA exam prep, on the other hand, uses Adapt2U Technology from Sana Labs. As you work through the course and answer questions in the test bank, your dashboard lets you know what concepts you've mastered and what you haven't.
Then, based on your performance, the Adapt2U Technology creates personalized review sessions that target your weak spots. You can take these personalized reviews at the end of every learning unit. Consequently, they'll really help you become more proficient with the content you've just learned.
And finally, Becker lets you take unlimited personalized practice tests. What's more, you can choose what kind of practice test you want to take. For example, you can take one with random questions that the Becker platform selects, covering various topics. Or, you can opt to only answer questions in certain subject areas, giving you extra practice on the tricky topics.
Gleim CMA Materials Compared to Becker CMA
Some free IMA CMA exam prep materials are available online for candidates seeking the IMA CMA certificate. But still, the IMA study materials are somewhat limited. And therefore, most people use other CMA reviews to prepare for their exams. But in comparing Becker vs. Gleim, are the Becker CMA study materials best because they are newer? Or are the Gleim materials, which have proven successful for many candidates, the way to go? Let's take a look.
Access Length
Both Gleim and Becker have CMA review packages that include access to the material until you pass your exam. Specifically, this means you can study with Becker or Gleim until you pass CMA exam Part 1 and CMA exam Part 2.
Help from Industry Experts
Becker and Gleim both include personalized support with their CMA review, although they take different approaches.
If you go with the Becker Pro or Advantage package, they both come with meetings with a success coach. In short, this coach will help you set up a study plan and can answer questions about taking the CMA exam. However, if you upgrade to the Pro package, you'll also receive up to five 1-hour one-on-one academic tutoring sessions with a CMA expert. Plus, you can take part in LiveOnline classes. These classes give you real-time access to the instructors leading those courses. And, of course, keep in mind that Becker also has a portal that provides academic support. Students can get detailed answers to specific questions within the course.

But if you go with Gleim CMA, you won't have access to LiveOnline classes or personalized one-on-one tutoring. Still, you'll have access to Gleim's team of accounting experts. First, you can talk to one of the Gleim Personal Counselors, who will help you create a study plan. And second, when you're working from the Gleim online platform and have a question, you can post your inquiry to a question board. An expert will answer your question within a day or two. Plus, you can read through questions previously asked by other Gleim users; you'll often find that the answer to your questions has already been posted earlier.
Multiple-Choice Questions and Essays
Aside from the texts and video lectures, most CMA candidates spend much time practicing with sample MCQs. Consequently, the quality of the test bank (or the collection of practice questions) is one of the most important features to consider before purchasing your CMA exam review.
Gleim CMA gives you 4,500 MCQs with explanations for all of the questions in the test bank. That is, you'll receive explanations for both the correct and incorrect answers. And although it might not seem that important right now, it's beneficial to understand why a question is wrong. Then, on test day, if you can't figure out an answer, you can use the process of elimination and dismiss the wrong answers to find the correct choice.
Although the Becker CMA MCQ bank is slightly smaller than Gleim's, Becker has a reputation for having high-quality questions. And if you want to try them out for yourself, you can take advantage of the Becker CMA free trial.
Videos and Audio Lectures
If you're a visual or auditory learner, you'll probably spend a lot of time with video or audio lectures. Gleim's courses come with 70+ hours of the Gleim Instruct Series. The videos are led by Amy Form (CMA, CPA, and ICMA Award Winner) and other accredited instructors who teach at major U.S. universities. Plus, the videos have closed captioning, which is especially useful for anyone who isn't a native English speaker. Gleim as audio lectures, too.
Becker's videos, led by instructors who are real experts on the CMA exam, are broken down into bite-sized lengths. Therefore, each video covers a specific topic to avoid being overwhelmed by watching long, boring videos. Moreover, Becker CMA has fewer hours of video lectures than Gleim, with 35+ hours in the Part 1 course and 20+ hours in Part 2. Still, Becker's instructors include CMAs and experienced professionals from across the accounting, law, and business fields.
And at least for now, Becker only has video lectures; no audio lectures are available. But if Becker adds them in the future, we'll update this article.
Other Learning Resources: Flashcards and Books
If you're like me, then you still like to study the old-fashioned way – by reading a textbook and taking notes in the margin. And flashcards can be useful for memorizing equations or definitions, too. Gleim and Becker CMA have them both.
The Becker CMA book for Part 1 and Part 2 are brand new, and the CMA Review Pro package comes with digital and printed textbooks alike. Plus, Becker also gives you over 500 digital flashcards.
Gleim's top package also includes digital flashcards, hard-copy textbooks, and a PDF copy of the textbook. However, some users have reported that the Gleim textbooks are a bit overwhelming because of the information they cover. So just take the content one unit at a time; don't try to digest everything at once.
Gleim CMA Review vs. Becker CMA Pass Rates
Since Gleim is the first provider of CMA exam reviews, the company has a long history of helping CMA candidates pass their exams. Although Gleim hasn't released the pass rates for its customers, according to the Gleim website, it has a 99% satisfaction rate.
However, since Becker's CMA course has been completely revamped, we don't know how many users have succeeded with Becker. Still, we know that for Becker's CPA courses, users have very high pass rates (94%!) on the CPA Exam. Of course, that doesn't automatically mean that Becker's CMA courses will be equally successful, so we'll update this article when more CMAs have passed their exams with Becker.
Learning Styles for Gleim CMA vs. Becker CMA Exam Prep
If you're choosing between two great courses like Gleim vs. Becker CMA, your decision might come down to your learning style.
Gleim seems good for CMA candidates who are visual or auditory learners because the Gleim Instruct Series breaks down concepts and makes them easy to understand. Plus, Gleim is especially preferred for candidates who like to study at their own pace.
On the other hand, Becker CMA could be best for candidates who prefer more traditional classroom settings and could benefit from the LiveOnline classes. Additionally, Becker's option for one-on-one tutoring sessions in the Review Pro course could be a big boost to anyone who might struggle with particular accounting concepts.
Gleim CMA vs. Becker CMA Discounts
Becker and Gleim both offer substantial savings from time to time. And here are some discounts made just for our readers:
FAQs about Gleim CMA and Becker CMA
Gleim vs. Becker CMA Cost
CMA price for Gleim
Price of Becker CMA

Save on the Gleim CMA Premium Package.

20% Gleim CMA Premium Discount

Save on Gleim CMA Traditional

Save on the Gleim CMA Traditional Package

Save 15% on Gleim CMA Traditional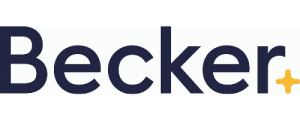 Becker CMA Discount Pro Package

Save with this Becker CMA Pro discount code.

$1,000 Off Becker CMA Pro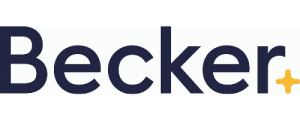 Becker CMA Discount Advantage CMA Study Prep

Save on the Becker CMA Advantage Package.

$800 Off Becker CMA Advantage
Renewal Costs
Becker's CMA Review Pro has unlimited access, so you don't need to worry about renewal costs. However, if you pick the CMA Review Advantage course, it only has access for 24 months. So, if you haven't passed your exams after 2 years, you'll need to re-purchase your course.
And likewise, although the Gleim Premium course has access until you pass, the Traditional course and the Mega Test Bank don't come with unlimited access. So once your subscription is over, you'll need to re-purchase those study materials if you haven't passed your exam yet.
So as you can see, it's often less expensive in the long run if you choose Becker CMA Review Pro or Gleim Premium because your study materials won't expire.
Refunds and Guarantees
So what happens if you purchase a CMA review course and aren't happy with it? Well, thankfully, Gleim and Becker both have guarantees.
The Gleim guarantee that comes with the Premium CMA Review System is fairly simple. If you follow the steps suggested by the course (like reading the textbooks, practicing questions, and taking sample tests) and still don't pass the CMA exam, you can request a refund within 18 months of your purchase date.
The Becker Promise is a little different, though. If you answer at least 90% of the practice questions, finish at least one simulated exam with a score of at least 50%, and still fail the real CMA exam, you can request a 3-month extension on your course materials. (Of course, if you pick the top Becker package, it already comes with access until you pass.)
Best CMA Review Course: Gleim CMA vs. Becker CMA
So in sum, which is best? After all, they both address 100% of the ICMA's Content Specification Outlines, and both companies are IMA Strategic Partners. Plus, they each include video lectures led by CMA experts, adaptive learning software, and help from experts.
Well, after carefully weighing all of the features, we think that Gleim CMA edges out Becker for a few reasons. First, Gleim has more MCQs in its Mega Test Bank, and all answers—even the wrong ones—include answer explanations, which can really help you learn the material better. Plus, the Gleim Instruct Series does a good job of explaining the CMA exam content. And finally, Gleim has been providing CMA review for over 40 years and has a high approval rate among its users. In fact, more CMA Award Medal winners studied with Gleim than any other company.
Still, Becker is a top company with an outstanding reputation in the accounting industry. And keep in mind that Becker also has one-on-one tutoring available with the Pro package–that's a fairly rare option in the test-prep market. Plus, Becker users can leverage practice tests and their Adapt2U dashboard to assess their performance through personalized reporting that ties back to the exam's learning objectives. And as an added bonus, Becker's pro package even comes with a 1-year Becker CPE subscription, so you don't have to pay extra to take continuing professional education classes once you get your CPA license.
In addition, Becker's CMA courses have just been revamped, and we just don't yet know how candidates will respond to the new material. So if you go with Becker, please drop us a line and let us know what you think!
Should You Pick Gleim CMA or Becker CMA?
| | | |
| --- | --- | --- |
| Course Features | Gleim CMA | Becker CMA |
| Access until you pass | 1 | 1 |
| Affordability | 1 | .75 |
| Course Quality | 1 | .75 (because Becker CMA materials are new with little user feedback right now) |
| Flashcards and other materials | 1 | 1 |
| Help from experts | 1 | 1 |
| Video lectures | 1 | 1 |
| Total | 6/6 | 5.5/6 |
So as you can see, Gleim CMA comes in about half a point over Becker CMA (EXCEPTION: Becker offers generous discounts that may make the price lower than Gleim's). The Gleim courses are a little more affordable (depending on the current Becker and Gleim discounts). Plus, the Becker materials are new, and we don't yet know how many people will pass their CMA exams using Becker's courses.
Need More Info?
Of course, Gleim and Becker aren't the only CMA review courses on the market. You could also consider Wiley vs. Gleim vs. Becker CMA, for example. So check out these articles analyzing Wiley vs. Becker CMA, HOCK CMA vs. Becker CMA or Gleim vs. Wiley CMA. Or, skip to this article about the best CMA courses available.