Why become a CMA – that is the magic question. Becoming a Certified Management Accountant (CMA) means expending lots of time, effort, and money, so is it worth it? What's the value of becoming a CMA?
I aim to answer that question for you today because I believe it's very important for potential candidates to do all of their homework before making a final decision about which accounting certification to get. I know that the process can be daunting. With so many options out there, it can be difficult to know which is right for you and if the investment is really going to help your future career.
Here are 5 good reasons to pursue the CMA.
Why Become a CMA: 5 Motivations
We are going to dive into five motivations to become a CMA for a bit. It's important to understand why other people get the CMA certification in order to help see the benefits. However, when making a decision for yourself, you also need to look at your own career path and what will help you get there.
1. The CMA Is the Gold Standard in Management Accounting
Your aunts and neighbors may have never heard of the CMA, but in the corporate accounting world, CMA is a very respected designation. In fact, it is considered the "gold standard," meaning it is one of the top certifications in management accounting that you can obtain. It's also the fastest-growing credential around the globe. Holding the top title in the field is a big motivation for many people.
The CMA is an advanced professional certification specifically designed to measure critical accounting and financial management skills. This is especially relevant for success in a business environment. This means you will be a prime candidate for job positions when you hold this distinction.
2. It's Arguably the Most Global Management Accounting Certification
The CIMA is the largest in this niche, but the vast majority of members are located in the UK and, to a lesser extent, Europe and Commonwealth countries. However, the CMA is growing around the globe more quickly than CIMA.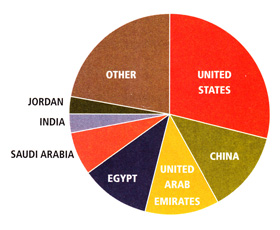 The number of US CMAs is smaller, but the certification is now the most popular management accounting certification not only in the US but also in the fastest developing regions, namely China and the Middle East. As you can see from the chart extracted from the August 2014 edition of Strategic Finance, almost half of the new CMA candidates came from the Middle East (UAE, Egypt, Saudi Arabia, and Jordan) and almost 1/4 from the Asia Pacific (China and India).
3. CMAs Get Paid More
Let's face it — we want to learn, but ultimately, we need the certification to get better-paying jobs. According to a comprehensive study by the IMA, CMA certification holders earn about 58% more than their non-certified counterparts.
More is good, but how much more are we talking about? The global mean and median base CMA certification salary may rise and fall from year to year, so you have to stay updated on the stats. However, the figures remain high and attractive to future Certified Management Accountants, meaning it's still a good reason to consider getting your CMA.
The IMA reports that the global mean base CMA salary in 2021 was $70,000, while the global median base salary for non-CMA holders was $45,000. Typically, this will rise from year to year, so we can feel confident in steady increases for the years to come.
4. For Many, CMA Skills Are More Practical
Various industry journals have indicated that 80% of accountants end up in non-public accounting. The management accounting knowledge and skills are in fact more useful for these professionals. Additionally, many dual CPA and CMA holders find the materials covered by the CMA more interesting and practical in their daily work.
Again, it all depends on what career path you want to take, but the skills learned from becoming a Certified Management Accountant are often touted as the best in the industry for the day-to-day tasks you will have as an accountant.
5. The IMA Makes It Easy for Us
Unlike the CPA Exam, in which getting qualified is sometimes harder than passing the exam itself, the IMA (the CMA exam administrator) keeps things clear, simple, and organized for applicants. The IMA openly welcomes international candidates with the exam offered in hundreds of locations worldwide.
Don't get me wrong — earning the CMA is not easier because of a low barrier of entry. Candidates are still required to have a bachelors degree, pass a rigorous exam, and secure 2 continuous years of management accounting experience to get certified.
However, the IMA makes the process of becoming a CMA as smooth as possible. Candidates can focus on passing the exam and fulfilling the experience instead of getting stuck with the bureaucracy and conflicting rules from different state boards like those involved in the CPA certification process. This is a huge benefit to many candidates and is one leading reason why some people choose CMA over other accounting certifications.
The CMA Sounds Great, But How Does It Benefit Me?
Maybe all of this means the CMA sounds good, but that doesn't guarantee it's great for you. At the end of the day, you are the only person who can truly determine that. However, I hope to give you a wealth of information to help you make your choice. Let's see if the CMA certification benefits YOUR career.
1. Can the CMA Certification Land You a Better Job?
"Within the Finance department at J&J, the CMA is a highly regarded certification. The content of the CMA exam mirrors real-world applications used across the corporate finance and accounting functions." – Ryan Perkins, CMA, Senior Financial Analyst at Johnson & Johnson

(Source: Strategic Finance Magazine, April 2015)
Please grab a pen and paper and write down:
3 dream companies to work for and
3 dream positions within the company
Then, look at this list and see if these are the companies you'd like to work for.
These fortune 500 companies are known to have CMAs in their key management roles:
3M
Alcoa
AT&T
Bank of America
Boeing
Cargill
Caterpillar
ConAgra
Hewlett-Packard
Johnson & Johnson
Microsoft
Procter & Gamble
KeyCorp
Whirlpool
Saudi Aramco
Verizon
Xerox
You will notice that the majority are big, global corporations focused on manufacturing.  If your ideal workplace is on the list above, then the CMA is great for you.
2. Are You Sure You Don't Want to Be an Auditor or Tax Accountant?
If you aren't sure, then the CMA certification may not be good for you, at least at this stage. There is very little use if you aspire to work in a public accounting firm, either as an auditor or in tax.
On the other hand, if you want to build your career in corporate accounting, the certification greatly enhances your profile and knowledge in the field.
3. Is the CMA Truly Valued Where You Live?
It's nice to know the 58%+ salary premium CMAs enjoy and that CMAs are in low supply. But honestly, does this average figure mean much?
Probably not, because the demand for CMAs is different in different regions across the US and around the world.
So how do you know if the CMA is valued in your area?
It's time for research. Check out online recruiting sites such as Monster.com and Indeed.com or other equivalent sites in your home country.
Then, type in "certified management accountant" and see if there are jobs that pop up in your area ("CMA" is likely too broad because it covers "certified medical assistant" and a few other certifications).
For example, Monster.com lists several jobs in New Jersey based on "certified management accountant." You should be able to find more listings using a variety of keywords.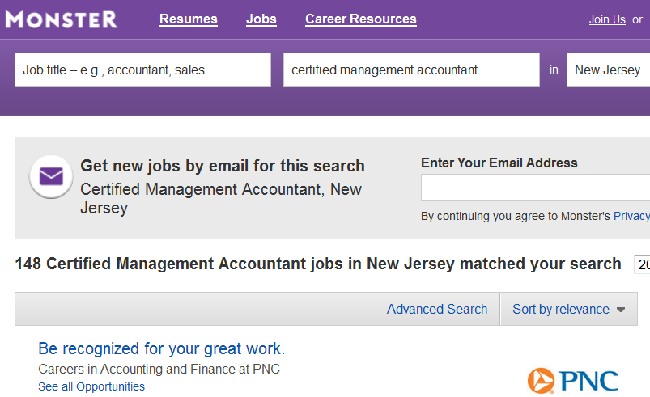 Take a look at the industry, job description, and salary range. See if these opportunities excite you.
CMA Advantages and Disadvantages
We have spent some time looking over the advantages, but as you know, there are always disadvantages, too. In order to make an informed decision, you should look at the pros and cons of each choice to help guide your decision.
Some disadvantages of the CMA certification are the time and monetary investment it will take to get it. Of course, this investment pays for itself when you factor in the break-even rate, how much you can make in salary, and the new positions and job opportunities that will open up for you. However, these things are not important to everyone.
If you're planning a simple accounting career in a job that does not require a certification of this level, it may not be practical to invest that level of time and money into getting it just for the bragging rights.
Scope of the CMA
To understand the benefits of the CMA better, let's take a look at the scope of the CMA. By definition, a Certified Management Accountant (CMA) is an accounting professional to whom the Institute of Management Accountants (IMA) has awarded the CMA certification. The IMA developed the CMA designation in 1972 to supply an objective measure of an accountant's knowledge and competence in management accounting.
The CMA certification requires passing the CMA exam. This exam comes in two parts, and the breakdown shows the overall scope of the CMA well.
CMA Exam Part 1: Financial Planning, Performance, and Analytics
External financial reporting (15%)
Planning, budgeting, and forecasting (20%)
Performance management (20%)
Cost management (15%)
Internal controls (15%)
Technology and Analytics (15%)
CMA Exam Part 2: Strategic Financial Management
Financial statement analysis (20%)
Corporate finance (20%)
Decision analysis (25%)
Risk management (10%)
Investment decisions (10%)
Professional ethics (15%)
What Jobs Does a CMA Hold?
If you're trying to decide if the CMA is right for you and to calculate the advantages of choosing it, then it will also be important to look at the types of jobs CMA holders have. To see the potential CMA career scope, let's look at the jobs a CMA can hold.
CMAs can hold these titles and more:
Budget analyst
Chief Executive Officer
Chief Financial Officer
Cost accountant
Controller
Financial analyst
Financial manager
Internal auditor
Senior accountant
Staff accountant
Treasurer
Understanding the scope of the CMA will help you see how being a titleholder can help you in a career in any of these fields. These are just some of the common titles that people will their certification might hold.
Is CMA a Good Course?
In simple terms, yes. The CMA is a good course and exam choice to take if you are looking to work a career in accounting. Earning the CMA is not a simple process. There are several things you need to do in addition to taking the CMA exam.
Let's recap the benefits of getting your CMA certification:
Higher income
More job opportunities
Greater job security
Increased skills and abilities
Heightened respect and admiration
Is CMA a Good Career?
Will it be a smart career choice to become a Certified Management Accountant? Again, only you can say for certain what is right for you. In general, yes, the CMA is a good career. You can see the job scope opportunities listed above. You can also see the many other benefits, such as pay increases, job dependability, and personal recognition. These are just some of the reasons candidates decide to go for their CMA.
Finally, Experience a Summary in Video Format
Sounds Good! What's Next?
You may also be interested in signing up for my mini e-course to plan, study, and pass the CMA exam on your first attempt (click the link for details on the mini-course):
Join us if you want to get tips on how to plan,
study, and pass your CMA exam on your first attempt!