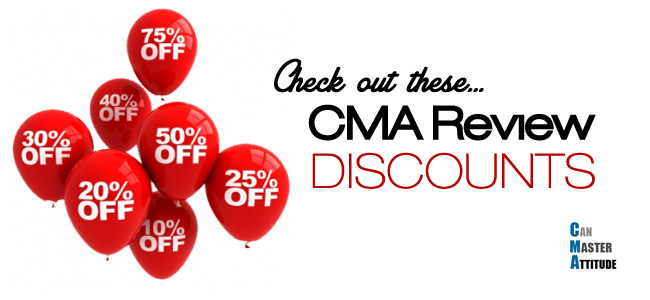 CMA Review Discounts
Check out this page often for the latest CMA review discounts and coupon codes! The CMA is also known as the Certified Management Accountant 🙂 Disclosure: The I Pass Team may earn a small amount of compensation if you purchase from our links; our team uses these revenues to maintain the site and produce awesome free content just for you!
Gleim CMA Review Discounts
Save 10% on Gleim CMA Review Systems (Part 1 and 2 bundled offer only)
No code necessary but must click through this Gleim CMA discount link (you will see the discounted price in

red

)
Valid until June 30, 2018
Check out my Gleim review

Wiley CMAexcel Discount Code
Save $400 on PlatinumCMA Review Course purchases

CMA Exam Academy Discount Code
5% off on all review courses:

There are occasional IMA exam fee promo codes, especially for Middle East candidates. If you are from the area, check out the IMA Middle East facebook page before paying any fees.
Other Ways to Save Money in Your CMA Exam Preparation
The best and simplest way to save money is to pass the exam in your first attempt. Here are three ways to leverage your existing review course investment at no additional cost:
1. Try Before You Buy
Both Gleim and Wiley CMAexcel have free trials. This is the best and most practical way to test whether you like the learning style and study tool of the programs.
2. Make Best Use of The CMA Test Prep Software
The CMA test prep software is not only a bank of practice questions. Each question is designed to test a concept. If you are able to answer correctly, you are able to put the concept in practice. If you don't, it is also a great learning experience to understand why you were wrong, and why the other answer is right for the right reason.
3. Write Your Own Flashcards
I understand that many CMA review course providers offer electronic or printed flashcards. For me personally, nothing is better than creating my own.
I wrote the key concepts and important points in 3×5 index cards. Some friends have a few pages of notes. Either way is fine as long as you take the time to let your brain process the newly gained knowledge.
Do You Have Other Ideas? Please Share Your Thoughts
I'd love to hear from you regarding your way to save money for the CMA exam!
SaveSave