Gleim CMA Review may be the most popular CMA exam review program on the market.  So, let's analyze the features, pros, and cons of the latest 2019 version of this course.
Current Gleim CMA Review Discount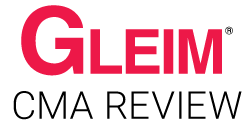 Get an instant 20% off Gleim CMA Review Premium Materials or 10% off the Gleim Mega Test Bank.
The Gleim CMA discount will automatically apply to your cart! You must click the link to save.
Gleim CMA Materials
Gleim CMA has 3 offerings: the Premium CMA Review System, the Traditional CMA Review System, and the Mega Test Bank. Disclosure: The I Pass Team may earn a small amount of compensation if you purchase from our links; our team uses these revenues to maintain the site and produce awesome free content just for you!
Gleim CMA Review System includes everything you need for your CMA exam preparation. This is the only Gleim CMA course that includes professor-led video lectures, a no-hassle money-back guarantee, an access until you pass guarantee, and the ability to get help from experts.
Therefore, if you do not have a strong background with the CMA exam content, this is the Gleim course for you.
Additionally, the Gleim CMA Premium Course includes the following components:
2 textbooks: 1 for each exam part
Over 40 hours of instructor videos
Unlimited course access that doesn't expire
Hundreds of essays
Thousands of questions (both the essays and questions are part of the Mega Test Bank, and you'll receive this test bank with the Premium CMA course)
Audio lectures
A personalized study planner
Access to a Personal Counselor/exam mentor
Support from experts who will answer questions about the course materials
A money-back that is easy to qualify for
The guided, easy-to-use online course
Do I Need a Complete CMA Review Course?
Yes, you do. With a complete course, you'll receive access until you pass. This guarantee means your materials WILL update automatically. Having access until you pass is critical because, in 2020, the CMA exam will undergo a lot of changes, and materials from 2019 or before will no longer be able to prepare you for the new exam version. Therefore, we highly recommend that you ONLY purchase a course that includes access until you pass.
What's more, each re-take for the CMA exam costs over $400 per part. Consequently, if you purchase a full review course and not just a test bank, you have a better chance of avoiding any exam re-takes. So, if you invest in a complete CMA course right away, you'll not only save money but also hundreds of study hours as well. I know a CMA review course is expensive, but it is also a good value. A quality course can save you money in the long-run and may also help you to become a CMA more quickly.
The Gleim CMA Traditional System is a self-study CMA exam course. The Traditional package does NOT include these features from the Premium system:
Access until you pass
No-hassle money-back guarantee
Professor-led video lectures
The ability to ask accounting experts questions about the exam concepts
The absence of the above features truly makes this course a self-study system. You'll still have access to an exam mentor, but they won't be able to answer technical questions about the exam content.
However, you'll still receive:
2 books: 1 for each exam part
Thousands of questions and hundreds of essays (the questions and essays are part of the Mega Test Bank, which is included with this course)
Audio lectures
A personalized study planner
A Personal Counselor/exam mentor
The Online course
The price of the Gleim CMA Traditional course is fairly close to the cost of the Premium system. Therefore, because the Gleim CMA Premium course offers a much better value for a reasonable price, I recommend the Premium option over the Traditional one.
The Gleim CMA test bank is known as the Mega Test Bank. This test bank includes 1 book for each exam part and the option of having the physical book delivered to you or receiving access to the digital version (which lets you save on shipping fees).
Of course, the test bank also contains thousands of questions and hundreds of essays (you also receive access to this test bank as part of the Premium CMA or Traditional CMA course). You can use the Gleim test bank in 2 different ways:
CMA Practice Exam –This mode simulates the actual exam environment that you'll experience at Prometric. When you complete a practice exam, the system hides the correct answers until the end of the exam.
CMA Study Session — When you complete a study session, the course provides you with the correct answer immediately after you answer a question.
This CMA test bank is a powerful tool because it shows you the answer explanations for both the correct and incorrect answer choices. The best way to use a test bank is to read all of the explanations, even the ones for the incorrect answer choices, as doing so ensures that you understand the exam concepts and the reasoning behind each answer.
Comparison of Gleim CMA Courses
If you're looking for a more comprehensive analysis of the 3 products Gleim CMA Review offers, check out my chart below.

To summarize, the main difference between these options is that the Premium course comes with a lot of video lectures (to give you a classroom experience). Consequently, the Traditional features everything in the Premium course except the lectures, access until you pass, access to experts, and a good guarantee. Finally, the Gleim CMA Mega Test Bank is just a bank of questions, so you won't get any lectures, guarantees, or additional support.
Gleim CMA 2019: Is Gleim CMA Review Good?
Gleim CMA Pros
1. Strong Team of Experienced Professionals


Dr. Gleim was one of the first CMAs in the country (you can see his certificate number on the IMA website). He was a highly respected professor at the University of Florida, and he has many years of experience teaching exam review courses for accountants. What's more, Dr. Gleim was actually the first author of the popular Wiley CPAexcel Exam Review!
Furthermore, Amy Ford, the lead instructor in the Gleim CMA videos, was one of the top scorers on the CMA exam. Therefore, she received a Certificate of Distinguished Performance from the IMA. Amy is an instructor of accountancy at Western Illinois University (WIU), and the IMA named her IMA Faculty Mentor of the Year in 2011.
2. Excellent Set of Practice Questions
Gleim is proud of their practice questions, which cover the widest range of topics. If you study best by cranking through lots of practice questions (like I did), then Gleim is an excellent choice for you.
In my opinion, Gleim CMA is able to develop such a comprehensive set of questions because they have also created review courses for the CPA, CIA, and EA exams. Therefore, they have a deep and wide understanding of accounting that goes beyond just management accounting.
3. Very Accurate Simulation of the Real Exam Environment
Gleim CMA's courses are the best course at recreating the exam environment. With a Gleim CMA course, you can learn how the exam operates as you prepare for it. And with experience, you can minimize the number of surprises you encounter on exam day. Another great feature of the test bank is the test mode that lets you take a very realistic practice test.
4. Learning Tool That Teaches You How to Self-Study
I can see that Gleim has put a lot of thought into the design of Gleim CMA Review. Specifically, I appreciate the detailed instructions as well as the very exact guidelines. Additionally, Gleim CMA provides study tactics and the recommended number of study hours for each of the sub-units in a section.
5. Personal Counselors to Help You Develop Your Study Plan
If you get the Premium or Traditional Review System, your course comes with access to a Personal Counselor. Many students need help creating a study plan, tips for sticking with it, and answers to questions about the exam. The Personal Counselors at Gleim supply a value-added service of presenting solutions to these common issues. Remember, the Gleim Personal Counselors do not answer technical questions, so you'll need the Premium CMA Review Course specifically if you want this service.
Gleim CMA Cons
1. Potentially Overwhelming Books
While I appreciate the very detailed discussion about every topic that the books contain, some candidates will find this information hard to read or just too much to read. I personally prefer a format with more bullet points and more white space on each page.
Having said that, if you follow the study guide in the online course, you will see that it does not require students to read the whole book. Instead, the study guide recommends that students just focus on the sections they are not familiar with. If you do that, the books will be much less overwhelming. Also, watching video lectures is a much better way to digest information that can be challenging to read through. So, if you watch all the lectures and don't find the books helpful for reinforcing your weak areas, you can probably skip the books altogether.
2. Designed for Candidates with an Accounting Background
Gleim may be better suited for candidates who have an accounting background. Because the course teaches certain concepts at a high-level, some candidates who do not have an accounting degree may not feel at ease with this teaching style. However, the Premium course comes with more than enough study aids. So, if you purchase this product, you should be able to catch up on the most basic concepts pretty quickly using the many different study tools.
Would You Pick Gleim CMA Review?
If you are asking me, the answer is: yes, definitely! The pros of these courses certainly outweigh the cons, and Gleim CMA is the gold standard in the industry. Additionally, Gleim was the first CMA review provider and is a partner of the IMA. Moreover, the Gleim materials are top-notch and are meticulously updated every year. And finally, the Gleim CMA Review Course is also a very popular choice among my readers and is likely the most widely used CMA review course on the market.
Gleim CMA Discounts and Gleim CMA Free Demo
* Valid for Part 1 + Part 2 bundled CMA Premium Review System Purchase
My Bloggers Who Used CMA Gleim
 Gavin (US)
Passed Part 1 & 2
on the first attempt
 Amani (Jordan)
Passed Part 1 & 2
on the first attempt
 Waqar (Pakistan)
Passed Part 1 (2nd try)
Passed Part 2 (1st try)
 Vinoth (India)
Passed Part 2 so far
Fun Facts About Gleim CMA
As you can see, the company name is Gleim, not Gliem. It's pronounced like "glime". However, there is no shame in calling them Gliem CMA. As long as you pass, you can call them Gliem all day long 🙂
You can purchase both parts of Gleim CMA Review together. If you purchase them separately (i.e., Gleim CMA Part 1 and Gleim CMA Part 2), you'll miss out on a discount and possibly a free shipping opportunity.
You can read some reviews of Gleim CMA from actual candidates.
The Gleim CMA question bank is the same thing as the Gleim CMA test bank. There are lots of names for this tool, as it's also referred to as the Gleim CMA Mega Test Bank as well!
Dr. Gleim is a CPA, CMA, CIA, and a pilot, too. How fun.
Summary
Reviewed by
Date
Reviewed Item
Overall Rating