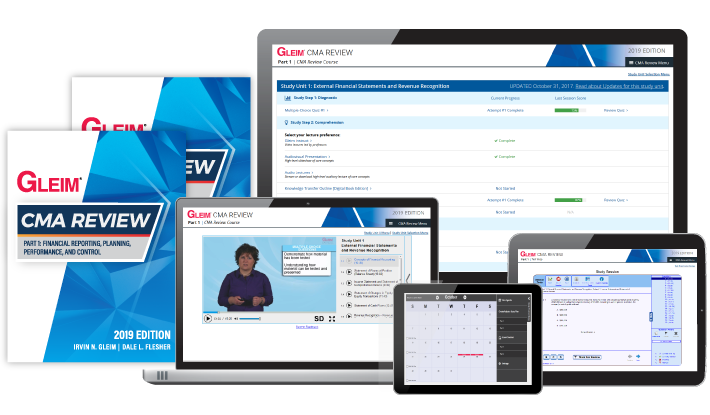 Find the best Gleim CMA Review discount here. Gleim CMA Review has provided us with an exclusive discount for you. The discount that Gleim CMA has provided to our readers will save you 20% on Gleim CMA. Disclosure: The I Pass Team may earn a small amount of compensation if you purchase from our links; however, our team uses these revenues to maintain the site and produce awesome free content just for you!
This month, you'll save 20% on the Gleim Premium CMA Review System, and you can also save 10% on the Gleim Mega Test Bank.
Gleim CMA Review Discount – Updated for May 2019
The Gleim Premium CMA course includes lectures, access until you pass, and the ability to reach out to experts when you need help.
The test bank doesn't include any of the above features.
Instead, the test bank includes practice multiple-choice questions, essays, and books (PDF or physical copies).
The Gleim CMA Review discount auto-applies to your cart – no promo code required. You will need to checkout online using the links above in order to activate the discount.
Is Gleim CMA Review the Best CMA Course for You?
Gleim CMA launched as the first CMA review course. And to date, it is still the most popular CMA course available. The Gleim CMA system offers a systematic approach and provides candidates with a fully immersive CMA study experience. Gleim is so confident in their review course that they even offer a money-back guarantee. But that doesn't mean that it's the best course for you. Your requirements for a CMA course may or may not include these features
Access Until You Pass
Largest test bank w/ thousands of practice questions
Assistance from real-life accounting experts
Thorough bite-sized lectures from actual accounting professors
Save 20% on Gleim CMA Now!
These discounts are exclusively for I Pass the CMA Exam readers. If you're looking for Gleim CMA test bank discounts or Gleim CMA course discounts, you'll find those here!
Visit our thorough CMA review of Gleim and learn all about Gleim CMA's pros and cons. And if you'd like to see your other CMA review course options, our best CMA courses chart has you covered.
Tell us: have you used Gleim CMA to pass? Leave a comment below to let us know. We'd love your feedback on this course.
Feel free to reach out if you need any assistance from our team! Or follow us on Quora!
Summary
Author Rating