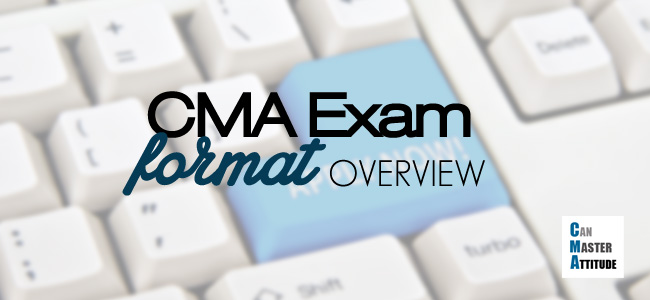 Before you jump in to pursue the CMA certification, you might want to take a look at the CMA exam format, length and intensity of the exam, and the type of questions you are going to see on the exam day.
CMA Exam Format
The CMA exam is fully computerized and is available at hundreds of prometric centers around the world. Candidates can take the exam 6 months out of the 12 each year.
CMA Exam Duration
There are two parts in the exam. Each part is 3 hours long for 100 multiple choice questions, representing 75% of the exam score. The second section is essay writing representing the remaining 25%. You will be given 30 minutes for each of the two essays. Total testing duration is 4 hours.
You must pass at least 50% of the first (i.e. multiple choice) section in order to advance to the essay questions. You can use any time remaining from the multiple choice questions towards the essay portion.
| | | | |
| --- | --- | --- | --- |
| | Duration | No. of Questions | Avg Time per Question |
| Multiple Choice | 3 hours | 100 | 1.8 minutes |
| Essay | 1 hour | 2 | 30 minutes |
Question Type Compared to Other Accounting Certifications
Most aspiring CMAs are deciding between CPA, or other management accounting certifications such as CIMA and CGMA.
When Compared to the CPA Exam
As you can expect, the CMA exam is similar to what you may encounter in the BEC section of the CPA exam, and to a lesser extent, FAR and AUD.
I find that the multiple choice questions in the CMA exam could get quite complex and lengthy, so the exam cannot be called "easy" even when compared to the CPA exam.
Having said that, since there are only 2 parts versus 4 parts in CPA exam, the total time spent on exam preparation is shorter. You can check out my analysis on CMA vs CPA on this page.
When Compared to CIMA Exam
The CMA exam is 100% computerized, and comprises mostly multiple choice questions. The advantage of having most questions in multiple choice format is that it is easy to drill and monitor your progress using online prep software. Also, multiple choice is used to test a candidate's breadth of knowledge, not the depth.
Please refer to my CIMA vs CMA comparison page for details.
When Compared to CGMA Exam
The CGMA certification is brand new. Based on what I've gathered, the exam format is very similar to that in CIMA's final exam, and therefore, the above analysis applies. I will include more details when more information becomes available. For now you can check out this overview page on CGMA.
Next Step: Check out the Exam Syllabus
We have a quick video going through the Part 1 syllabus here:

For Your Further Reading