Did you ever have the impression that the CMA exam is easy (or easier)? If you look at these CMA exam pass rates, you will be surprised.
Latest Statistics
The IMA seems to have stopped releasing CMA exam pass rates in recent years. Looking at past statistics, IMA releases CMA exam pass rates by exam parts in a 9-month period:
| | | | |
| --- | --- | --- | --- |
| | Jan to Oct 2015 | May 15 to Feb 16 | Sep 15 to Jun 16 |
| Part 1 |  36% |  35% | 35% |
| Part 2 |  55% |  52% | 50% |
For Part 1, it stays more or less the same every year. Part 2 pass rate increased to 55% in 2015, but slowly got back to the 2014 level by mid 2016.
CMA Exam Pass Rates Relative to Other Qualifications
One of the most popular questions I got from reader is: how is this CMA pass rate compared to that in other accounting qualifications?
Contrary to common belief, the overall CMA exam pass rates are lower than those of the "most difficult exams", such as CPA and CFA. It is much lower when compared to some niche qualifications. For example, the enrolled agent exam pass rate was 61 to 86%.
Should we conclude that the CMA exam is more difficult, or are other reasons? Let's take a closer look.
CMA Exam Pass Rate Analysis
We only have regional statistics up to Oct 2015. Here is the breakdown and analysis: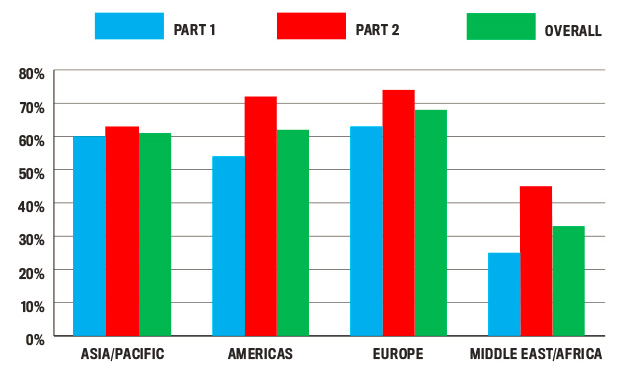 Source: SF Magazine (Sep 2016)

We analyze the performance in Part 1 and Part 2 in more detail.
CMA Exam Pass Rate: Part 1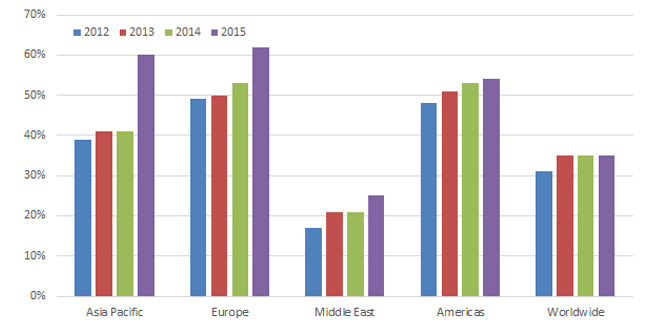 The worldwide pass rate is a rather scary 31%-35% in this 4 year period, but if you exclude Middle East, the statistics looks much better. It is quite obvious from the above that if your native language is English or you have a chance to learn English in your country (notably Europe, and to a lesser extent, Asia), you have a higher chance to pass.
I don't have details on the sudden jump in Asia pass rate. It is likely that the IMA counted the pass rate of the local language (63%) vs English language (56%) among Chinese candidates, or the weighted average figure. They represented the vast majority of Asian candidates in 2015.
Why English Could be a Major Factor in Pass Rates
The CMA exam tends to have wordy and complex questions which could be a challenge for those with slightly weaker comprehensive skill in the English language. Also, the CMA exam comprises not only multiple choice questions but also an essay section that are graded by human examiners.
One evidence can be found in China where candidates can choose to take the CMA exam in English or in Chinese, as mentioned above. The 7 percentage point difference is statistically significant.
In light of this, international candidates should therefore work on practicing English writing as part of the exam preparation.
CMA Exam Pass Rate – Part 2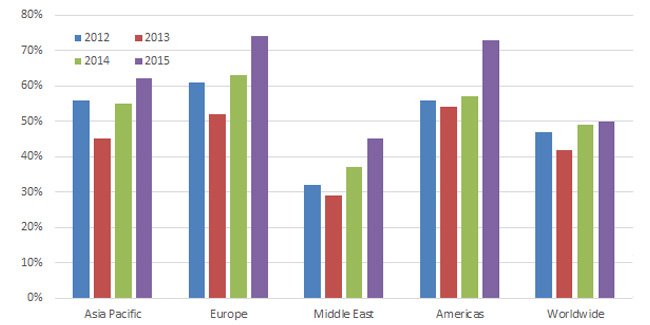 The data reveals that the pass rate of Part 2 is considerably higher, and even more significant in the non-English speaking regions.
The year-on-year improvement is also encouraging, with the Middle Eastern region reaching all-time high of 45%.
What We Can Learn from These Passing Rate Statistics
Before these low pass  rates scare you away, let me try to explain how we can analyze the data.
1. Diversified Pool of Candidates
First, while CMA exam welcomes candidates from all over the world, the exam format is US-centric. Candidates outside of the US may not be familiar with how the multiple choice questions are written and also, if their native language is not English, it is hard to score well in the essay section.
2. Low Barrier of Entry Attracts Casual Takers
Second, IMA (the exam administrator) makes it very easy for anyone with a bachelor degree to apply, unlike, for example, the CPA exam where candidates must take a substantial number of accounting and business courses.
The low barrier of entry attracts candidates who just want to give it a try. These casual takers do not invest sufficient time, money and effort to properly prepare for the exam.
What Does It Tell Us?
If you have a good command of English; or
If you work hard and do lots of practice questions to get familiar with the style of the multiple choice questions…
… your chance to pass the CMA exam is much higher than this average statistics.
Here is a Summary in Video Format
I go through the analysis with more pictures and charts in this video:
Now, How do YOU Increase Your Chance of Success?
Don't miss my mega post on the ultimate CMA exam prep guide, with 50 actionable tips to help you nail the exam!

For more information and updates on the CMA exam, please consider signing up to my e-course which is completely free. You can learn about the mini-course here or sign up directly below.
Join us if you want to get tips on how to plan,
study and pass your CMA exam… on your first attempt!