Becker CMA is a well-known brand among accountants who want to pursue a CPA designation in the US. Although Becker's CMA products have gone on and off the market over the past few years, the company launched a new set of review packages last year. We'll show you what they offer and how Becker CMA stacks up against the competition. Disclosure: The I Pass Team may earn a small commission if you purchase from our links; however, our team uses these revenues to maintain the site and produce awesome free content, like our CMA formulas, 100+ blog articles, and more!
Becker CMA 2023: What's New
Overall, Becker CMA offers just two options: CMA Review Advantage and CMA Review Pro. The former is a self-study option, whereas the latter includes a virtual classroom and one-on-one tutoring services. Whereas Becker's content from several years ago was licensed through Power Resources, the company now produces its own review material.
Becker CMA Review Advantage
The CMA Review Advantage package provides two years of access to Becker's two-part review course and digital textbooks. Here are the review course materials you'll receive.
Textbooks and Course Content
Becker's textbooks aren't just updates of past material. Instead, the digital textbooks are regularly updated with the latest content for both exam parts. Additionally, the text covers 100% of the most recent ICMA Learning Outcome Statements.
Unlike before, Becker is now a licensed partner of the Institute of Management Accountants (IMA), which bestows the CMA designation. This does not imply endorsement by the IMA, but it does mean Becker receives up-to-date content.
Adaptive Learning Platform
For several years, Becker has been using adaptive learning software to power its CPA prep platform. Finally, they have brought this technology to the CMA exam review. The program is called Adapt2U Technology, and it promises an easy-to-use interface that will create a personalized study plan for you.
The adaptive platform serves early quizzes to assess what you already know and focus your attention on what you don't. You'll also take assessment quizzes at the end of every unit. As you progress through the material, the software will identify areas of strength and weakness to help you study more efficiently.
Practice Questions and Exams
With over 4,000 multiple-choice and 76 essay questions, Becker CMA's quiz bank isn't quite as robust as Gleim's CMA prep program. Additionally, the course promises "unlimited practice tests" and "simulated exams," and it's important to recognize the distinction between them. Practice tests are drawn from the quiz bank, and you can choose a standard distribution of topics or a personalized distribution based on your areas of weakness.
However, a simulated exam gives you test questions under real-life testing conditions. Some test prep companies have software that closely replicates what the real CMA exam software will look like. Others give you a time limit to complete the questions. To the best of Becker CMA's ability, they mimic the Prometric CMA testing environment in every way possible.
Video and Audio
Becker CMA uses short, bite-sized lectures that are led by CMA exam experts. Each video only covers one topic, so you won't have to sit through endless boring videos that lose your interest. Becker includes 35+ hours in the Part 1 course and 20+ in the Part 2 course. Plus, Becker's instructors include CMAs and experienced professionals from across the accounting, law, and business fields.
As of right now, there is no audio-only component to Becker's course to review by listening.
Support
The Becker CMA Review Advantage package comes with "success coaching" and "academic support." Neither of these is one-on-one tutoring – that's only available with the Pro package – but what Advantage customers receive is more involved than simple technical support. All Becker users have access to the Becker CMA Academic Support Form, where students can get detailed answers to specific questions within the course.
Becker Promise Policy
Although Becker CMA doesn't offer a money-back guarantee, they promise that if you use their materials but fail the exam, you can repeat the course at no additional cost. To be eligible for the Becker Promise Policy, you must complete 90% of the course, score at least a 50% on one simulated exam, and provide a score report for your failed exam.
Unfortunately, the Advantage package only grants you a three-month extension on your course access. While this is nice, it's not a very robust guarantee. You can only get a money-back guarantee within the first 10 days of your purchase.
Becker CMA Review Pro
The CMA Review Pro is Becker's upgraded package that includes tutoring, virtual classes, and unlimited course access. You'll also receive print copies of the textbooks. If you buy the Advantage package and later decide you want to upgrade to the Pro, you can do so by paying the difference between the two. In other words, you won't have to purchase the whole thing again. Here's what the Pro package has that Advantage doesn't.
Tutoring
With the Pro package, you'll receive five hour-long academic tutoring sessions. These will be one-on-one virtual sessions between you and an instructor.
Virtual Classroom
Speaking of virtual instruction, the Pro package also comes with LiveOnline webinars that serve as a virtual classroom environment. You'll have real-time access to the instructors of these courses, which can be accessed anywhere. What's more, Becker's LiveOnline webinars were a new addition a couple years ago, and the Becker team has continued to offer these coaching sessions in 2023 as well.
Becker CPE Subscription
As a CMA, you'll need to take a certain number of continuing professional education (CPE) credits every year to maintain your certification. In addition to exam prep, Becker also offers some CPE courses, which you'd ordinarily need to pay for. Although your first CPE requirement doesn't begin until January 1 after you pass the exam, if you time it correctly, this could be a big help.
Or maybe not. Unfortunately, Becker doesn't specify when the year of free classes begins. If it starts the day you pass your exam, it's very useful, especially if you take your exam late in the calendar year. If, on the other hand, it starts the day you purchase the course, it probably won't do you much good unless you plan on taking the exam very soon after starting with Becker CMA. Once again, we'd really like more details.
Unlimited Access
You'll continue to have access to updated Becker CMA materials as long as you need them to pass. And you won't have to rely on the Becker Promise guarantee to enjoy a longer access period, as Advantage users do.
Becker CMA Review Packages Comparison Chart
| | | |
| --- | --- | --- |
|   | CMA Review Advantage | CMA Review Pro |
| Type of course | Self-study | Full package |
| Price | Get price | Get price |
| Length of access | 24 months | Unlimited |
| Textbooks | Digital | Digital and print |
| Multiple-choice questions | 4,000+ | 4,000+ |
| Essay questions | 76 | 76 |
| Practice tests | Unlimited simulated exams | Unlimited simulated exams |
| Video/audio content | Lecture videos | Lecture videos |
| Support | Success coaching | Success coaching |
| Flashcards | 500+ | 500+ |
| Tutoring | N/A | Five 1-on-1 sessions |
| Virtual classroom | N/A | Live webinars |
| CPE subscription | N/A | Free for one year |
Becker CMA vs. the Competition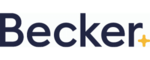 Here is my analysis of the four major CMA exam prep companies:
| | | | | |
| --- | --- | --- | --- | --- |
|   | Becker CMA | Gleim CMA | Wiley CMAexcel | HOCK CMA |
| IMA Licensed / Strategic Partner | | | | |
| Video Lectures | | | | |
| # Practice Questions | 4,000+ | 4,500+ | 5,500+ | 4,000+ |
| Performance Tracking | | | | |
| Audio Review | | | | |
| Customer Service | Tutoring | Personal counselor | Instructor mentoring | Teacher support |
| Free Trial | (14 days) | (Unit 1) | (14 days) | (14 days) |
| Access Time Limit | 24 months or unlimited | 18 months or unlimited | Unlimited | Unlimited |
| Money-Back Guarantee | | | Partner Until You Pass | |
| Pricing (2-parts) | $2,199 (before our discounts) | $1,599 (without coupon) | $1,500 | $1,529 (or $1,809 for printed books |
| Pricing (single-part) | $899 | $950 | N/A | $914-$1,059 |
|   |   |   |   |   |
| Recommendation & Analysis | Becker CMA vs. Gleim CMA | Gleim CMA analysis | Wiley CMA analysis | HOCK CMA analysis |
Becker CMA: The Pros
1. Free Trial
It's encouraging that Becker CMA offers a 14-day free trial. Thus, if you're interested or your employer is willing to sponsor the Becker CMA course for you, it's good to take a look and compare the offering with the competitors. Gleim and HOCK also have free trials that you can sign up for without strings attached.
2. Unlimited Access
Although it's only available with the Pro package, Becker CMA does offer unlimited access to its study materials. Additionally, the 24-month access for the Advantage package is also fairly generous. If other CMA prep programs have a cut-off, it's usually at 18 months.
3. Live Instruction
Again, this only comes with the more expensive Pro package, but Becker CMA does offer two types of live instruction: virtual classes and one-on-one tutoring. These give you the chance to ask questions of a real person who can help explain concepts to you in a way you'll understand. Tutoring alone can be expensive, and five built-in sessions may be perfect for you.
4. The Becker Name
Becker CMA's cost is, in part, due to the company's sterling reputation in the CPA prep market. The IPass team rates it as the #1 CPA review course. Therefore, a company with this clout wouldn't risk it all on a sub-par CMA product. Becker CMA mirrors the quality and helpfulness that made its CPA product so successful.
Becker CMA: The Cons
1. Brand New Material
What percentage of candidates who use Becker go on to pass the exam? It's impossible to answer that question because, at the time of writing, no one who uses Becker has had time to take the exam yet. Just six weeks in, it's difficult to even find reviewers who have dug substantially into the program. The first version of anything is likely to have some bugs. Although fortunately, the Adapt2U platform has already been tested as part of Becker's CPA program, the CMA materials on it have not.
The program is so new that it's not even complete yet – videos for part two of the exam and all live webinars don't premiere until later this year. Therefore, we recommend you start with Part 1 first.
2. Limited Offerings
Right now, Becker CMA's products are limited to two packages. There's no option to purchase the test bank separately for a lower price. Nor is there the option to purchase materials for only one exam part. If you want any of Becker's products, you must buy them as part of a larger package.
3. Weak Guarantee
The Becker Promise Policy is only useful under a narrow set of circumstances. If you purchase the Advantage package, complete 90% of it, and fail the test, you get three more months of access. That's it. The wording doesn't even make it clear whether you get three months added on to the end of your 24-month access period or you just get three months starting from the date you fail the exam.
4. Expensive
Of all the CMA exam review products we've reviewed, Becker is the most expensive by a substantial margin. At $2,199-$1,599, Becker is pricier than many full CMA review packages. Given that there are no cheaper a la carte options, you can't even buy Becker's test bank or flashcards to use as supplemental materials. However, there are Becker CMA discounts that bring the cost down considerably.
Becker has always priced their CPA product at a big premium, but that's based on specific history and reputation. However, even with discounts, putting the CMA prices at $1,599 and $2,199, respectively, this is the high end of the cost spectrum.
My Conclusion, For Now
Overall, we find that there's just too much information missing to pass a definitive verdict on Becker CMA yet. The company has a good reputation in the CPA prep department, and hopefully, these CMA materials will have the same high quality. However, there are still too many unanswered questions.
Additionally, because the materials are so new, they have yet to be "battle-tested" by actual CMA candidates sitting for the exam. How easy are the textbooks to understand? What kind of webinars are available through the LiveOnline classroom? How well does the exam simulation resemble the actual exam? How helpful is the academic support and success coaching? We just don't know yet.
Moreover, the extremely high price point makes all these questions doubly important. If you pay this much for a CMA review course, you want it to be comprehensive and effective. However, since there's a free trial, you can test the materials and software to see if you like the course.
If you are new to the CMA exam, several well-established, family-run, and comprehensive review courses are out there, as shown in the chart above. Check out my comparison page on major CMA course providers for even more information.