NINJA CMA Review is still fairly new, but it's modeled on other reviews for accounting exams from the NINJA family. NINJA is unique because it's the only CMA review to offer a monthly subscription, making it an affordable study option. However, the NINJA CMA study materials are limited to a question bank with practice tests and access to private study networks. Still, the NINJA approach was also designed for busy candidates who need to study as efficiently as possible. And after all, many candidates are only looking for practice questions. Therefore, is NINJA CMA Review for everyone? Let's take a look at what NINJA has to offer.
Number of MCQs: Almost 2,000 | Number of Essays: 40 | Access Length: Monthly Subscription | Cost: $67 per month
Why You Should Pick NINJA CMA Review
NINJA CMA Review was brand new for 2021, but NINJA CPA Review has been on the market for over a decade. NINJA could work for you if you're looking for:
First and foremost, a CMA MCQ (multiple-choice question) test bank that can also supplement another course.
Plus, a sleek and easy-to-use platform.
Detailed answer explanations to all practice questions and sample essays as well.
Practice exams and progress reports that break down what topics you still need to study.
Affordable CMA review that is available via a monthly subscription, which you can cancel at any time.
NINJA CMA Review Savings
Right now, NINJA CMA doesn't offer special discounts. But that's because NINJA is affordable from the start. After all, unlike other CMA courses, NINJA is offered as a monthly subscription for just $67 a month.
Background of NINJA CMA
NINJA exam review comes from the same website creator that publishes the CPA and CMA another71.com site. In the past, this forum was mostly dedicated to passing the CPA Exam. But now, you can study to become a CMA or CPA with NINJA.
Jeff Elliot, CPA, is the founder of both the NINJA exam review and the another71 CMA and CPA content. He created NINJA CPA Review after studying for the CPA Exam about 15 years ago. He was disappointed with traditional CPA courses and wanted to build a different kind of exam review. Basically, his goal was to make exam reviews affordable, effective, and easy to use for busy candidates. On top of that, he also envisioned exam review that wasn't boring.
So in 2011, he launched his "NINJA" approach to CPA review. The approach starts with the NINJA Study Plan, which anyone can download for free. Plus, NINJA has private study groups and a private social network to connect users.
Previously, the NINJA approach was only available for CPA Exam candidates. However, NINJA introduced CMA review in 2021. So let's take a look at NINJA CMA Review and everything it offers.
Overview of NINJA CMA Study
NINJA is a different kind of exam review. Unlike some other CMA exam prep course providers, NINJA CMA only comes with an MCQ test bank, sample essays and practice exams, access to NINJA study groups, and private social networking. That is, it doesn't include other learning tools like books and audio or video lectures. And NINJA doesn't have personal tutoring either.
Still, NINJA CMA could be the right study aid for you. For instance, it can be used as a supplement to another CMA course if you just need a test bank of practice questions. Likewise, if you feel stuck with your current course and need a study boost before your exam day, you could benefit from a NINJA subscription. And since NINJA is available for a pay-as-you-go monthly fee, it can be an affordable option for CMA review.
Course Features
Here are some of the top features you'll find in your NINJA CMA study materials.
1. NINJA CMA MCQ Test Bank
The NINJA MCQ bank includes almost 2,000 MCQs (multiple-choice questions). That's smaller than the number of MCQs from some other companies like Gleim CMA, though. But still, the size of the test bank should be fine if you're using it as a supplement.
Furthermore, you can choose to tackle MCQs and practice essays by CMA exam topic. Or, the software will pick practice questions by random if that's what you prefer.
Plus, every practice question includes answer explanations, which will help you learn the content faster. And I encourage you to always read the explanations, even if you think you know why a choice is correct. After all, you might pick up a thing or two that could add up to a few extra points on the CMA exam.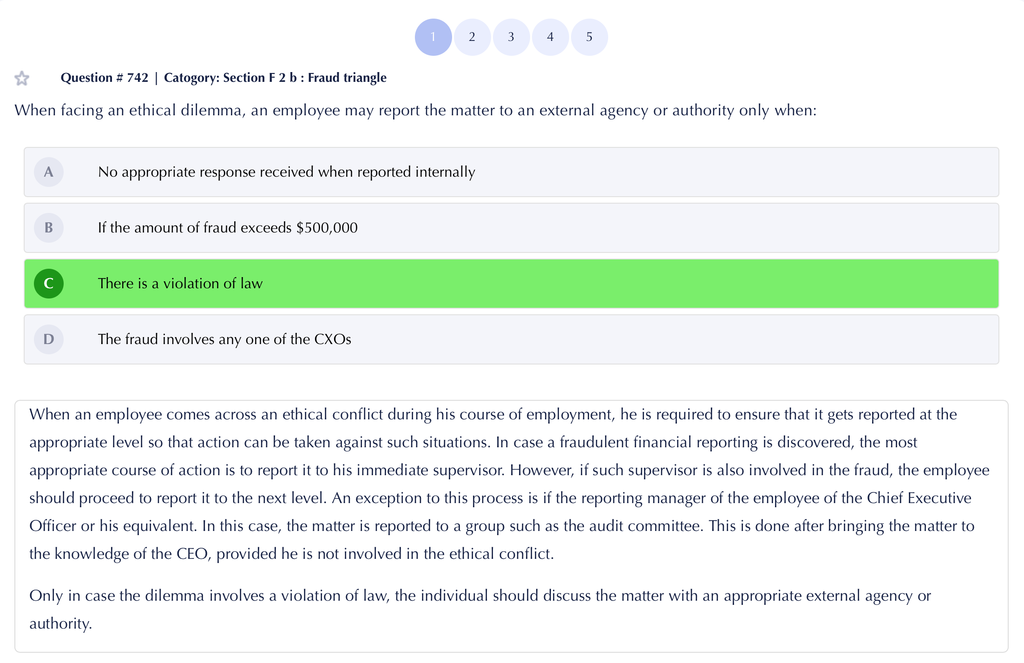 2. Sample CMA Essays
The CMA exam format includes two types of questions: multiple-choice questions and essays. The CMA exam essays are called "scenarios," actually. And each essay has several short-answer questions, too. Because the essays can be a little intimidating, you should definitely practice them.
So thankfully, NINJA includes 40 sample essays. Furthermore, NINJA includes easy-to-follow explanations for the answers and tips to help you solve other essays as well.
3. Practice Exams
A challenge of the CMA exam is simply getting through the whole thing, especially if you've been out of school for a while. Therefore, it's important to take several practice tests before your big exam day. This way, you can rehearse the pacing of questions. You can also learn how to use the functions of the exam.
Therefore, NINJA has included practice exams with the CMA review monthly subscription. Don't skip taking a practice exam – it's crucial to your success.
5. Private Study Groups and Private Social Network
And finally, your NINJA subscription also comes with access to private study groups and even a private social network just for NINJA users. In these spaces, you can seek out support from fellow NINJA users. You could ask a CMA exam question or just post a funny story to keep everyone's study spirits high!

NINJA CMA vs. Gleim and Becker
Let's take a look at how NINJA CMA stacks up against two popular CMA courses from Gleim and Becker.
| | | | |
| --- | --- | --- | --- |
| Features | NINJA CMA Review | Gleim Premium CMA Review | Becker CMA Review Pro |
| Practice MCQs | | | |
| Sample Essays | | | |
| Video Lectures | | | |
| Audio Lectures | | | |
| Flashcards | | | |
| Books | | | |
| Practice Exams | | | |
| Access to Accounting Experts | | | |
| Access to Personal Exam Counselors | | | |
| 1-on-1 Academic Tutoring | | | |
| LiveOnline Virtual Classes | | | |
| CPE Subscription Included | | | |
| Access Until You Pass | Not Applicable | | |
| Cost (before discounts) | $67/month | $1,599 | $2,099 |
How much does NINJA CMA cost?
NINJA CMA Review is unlike other CMA courses because it's only offered on a monthly basis. That is, for just $67 a month, you can use all of your online study materials. Plus, your subscription will automatically renew—you don't have to do a thing except keep on studying!
The Best Parts of NINJA CMA Review
Even though NINJA CMA is different from many of the other CMA courses I've reviewed, it can still help you pass the CMA exam.
1. Affordable for Short-Term Study
To start, NINJA CMA Review is potentially the most affordable online CMA study package because you pay for what you need. For example, perhaps you just need help studying for Part 1. In that case, you might not want to purchase an entire CMA review course. Instead, you could purchase NINJA CMA for a few months, study the content areas you need to review, and drop your subscription after you pass the CMA Exam.
However, keep in mind that depending on the length of your CMA exam study time, you could actually end up paying more for NINJA vs. another course. For example, let's say that you study for an entire year or more, which isn't uncommon. Well, that monthly NINJA subscription cost adds up over time. And in the end, it might actually cost you less to purchase a course like Gleim CMA, Becker, or even Surgent with unlimited access until you pass the CMA exam. Although they have a bigger sticker price than NINJA, I have several generous CMA review discounts that can significantly reduce the cost.
2. Money-Back Guarantee
NINJA CMA has a no-gimmicks-attached money-back guarantee. If you purchase a review subscription from NINJA and you aren't happy with it, you can review it within 30 days. No questions asked.
Plus, you can cancel your monthly subscription at any time. Again, without a hassle. Because really, how many accountants have time for that?
3. Mapped to Blueprints and Updated as Needed
The CMA exam topics cover the IMA's Content Specification Outlines or the content that the IMA thinks that all new CMAs should know. Therefore, the questions in NINJA CMA Review are keyed to these outlines, so you can be sure that you're studying everything likely to appear on the exam.
Plus, NINJA adds new questions on a regular basis. For instance, if the CMA exam changes, NINJA will update your online study materials, too.
4. Detailed Reporting
When you answer questions in the NINJA CMA MCQ bank, the platform keeps track of several metrics.
First, you'll find a Progress Report on your NINJA dashboard. And you can also track your performance according to the Blueprint area. That is, when you answer practice questions, NINJA analyses what Blueprint areas you're acing and what areas you need to study. In this way, you can better focus your studies to boost your weak topics.
Second, on your NINJA CMA dashboard, you'll also see a breakdown of your study history. I like this feature because it keeps you honest about how much time and effort you're putting into studying for the CMA exam.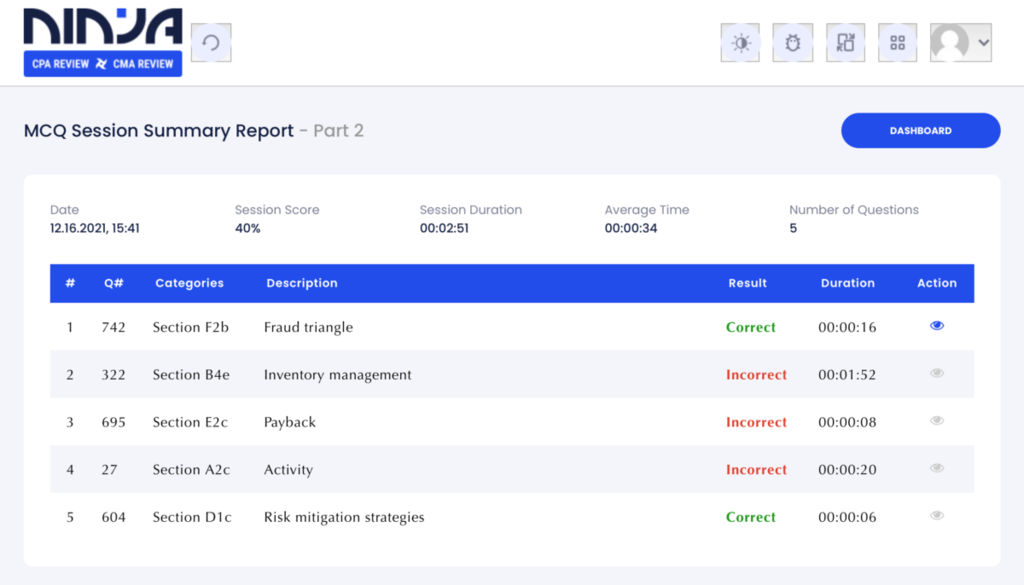 5. You Can Use NINJA as a Supplement
Since NINJA CMA is essentially a test bank of MCQs and practice essays, you can use it as a supplement to another full CMA review course. So if you're feeling stuck with your existing CMA materials, I suggest giving NINJA a try for a few months. After all, it's a monthly subscription. So you don't have to drop a lot of cash to give it a go. And you might find that using NINJA as a supplement gives you the boost you need to pass the CMA exam.
6. Easy to Use
NINJA has a platform that is very easy to use. When I tested out the course, I quickly found everything I needed on my NINJA dashboard, which they cleverly call the Dojo.
Plus, I like the Dark Mode function that changes your computer screen to have a dark background. At the end of a long day, my tired eyes appreciate Dark Mode!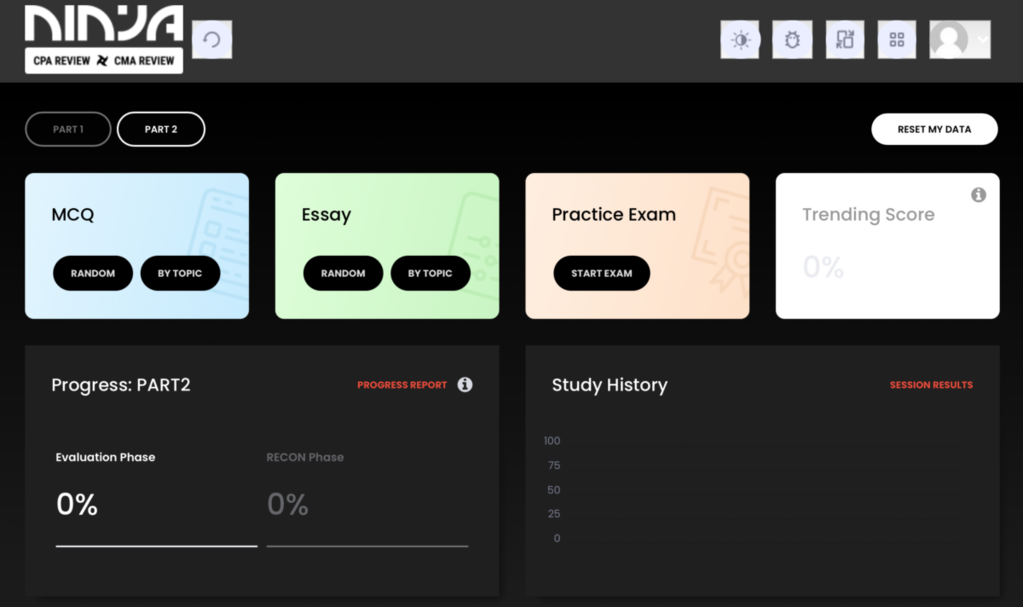 The Worst Parts of NINJA CMA Review
1. Limited Offerings (at least for now?)
As I mentioned earlier, NINJA is a different kind of CMA review when you compare it to other CMA courses. That is, with your monthly subscription, you basically get:
a) Practice MCQs and essays.
b) Feedback about what you're getting right and wrong.
c) And access to study groups and a social network.
So in comparison to Gleim or Becker CMA, for instance, NINJA doesn't have video or audio lectures, flashcards, or even books. Moreover, I hope that NINJA is able to add these materials in the future.
2. Answer Explanations for the Correct Choices Only
Each question in NINJA CMA Review includes explanations for the correct answer choice. And although the explanations are thorough and easy to understand, it would be helpful to have explanations for all of the answers. That is, it's sometimes just as useful to know why an answer choice is incorrect as it is to know why it's correct.
3. Test Bank is Smaller than Most
NINJA's MCQ test bank includes almost 2,000 practice questions. Technically, Part 1 has 892 MCQs and Part 2 has another 760. However, compare this number to Gleim (with 4,500+ MCQs) or Becker (with 4,000+ MCQs) and you'll see that NINJA's test bank is on the smaller side.
At first, having a couple of thousand MCQs might seem like enough. But since most people spend the bulk of their study time answering questions, you might find NINJA's test bank size limiting. After all, you don't want to study studying the same questions over and over again. But still, at the end of the day, it's better to have a smaller number of quality questions than a larger number of out-of-date ones.
4. Brand New CMA Review
NINJA CMA Review was brand new in 2021. Although the NINJA CPA materials have a good reputation, they've been on the market longer and have been tested by many candidates. Therefore, not enough of our readers have used NINJA CMA yet to really know how users benefit from it.
So if you've used NINJA CMA, drop us a line and tell us what you think!
5. Limited Personal Support
NINJA's materials are all for self-study. Plus, NINJA doesn't offer personal tutoring or other one-on-one support. For example, some other CMA courses have question+answer forums with experts. Of course, NINJA does give you access to private study groups, but that's not the same as having the ability to ask an accounting expert a question.
Therefore, if you think you'll benefit from tutoring or having a connection to true CMA experts, check out my reviews of Gleim, Becker, or Hock CMA.
NINJA CMA FAQs
Does NINJA have a free trial?
Yes! If you supply your email address, you can get a free 3-day trial to NINJA CMA. You'll find details on the NINJA website.
How do you switch between NINJA CMA Part 1 and 2?
When you get a subscription to NINJA, you'll get access to just one part at a time. That is, while you're studying to pass Part 1, you'll have access to the Part 1 materials. Then, you can contact NINJA to switch to Part 2 after you've passed Part 1.
How long is your access to NINJA CMA study?
NINJA is a monthly subscription with auto-renewal. So you can keep studying until you contact NINJA to cancel after you pass the CMA exam.
My NINJA CMA Conclusion
Although NINJA doesn't have as many features as other courses (like books, flashcards, lectures, or tutoring), NINJA could still be a good choice for CMA candidates looking for a supplement test bank. The answer explanations are thorough, and the progress feedback helps to keep you stay focused on passing the CMA exam.