Becker CMA CPE courses are one option to maintain an active Certified Management Accountant certification from the IMA. But what is CPE for CMAs? And where can you find a good CPE course? Well, in addition to courses offered by the IMA, the CMA CPE Becker courses are popular with today's busy professionals. So, I'll go over some of the Becker CPE courses. Plus, I'll give you some tips for meeting your CMA CPE requirements.
What are the CPE Standards for CMAs?
Continuing professional education, or CPE, keeps us on our toes. After all, it updates us on matters that affect the accounting profession. For example, CPE synthesizes new regulations or emerging best practices. Also, it can sharpen our existing accounting or management skills. It's therefore essential to stay on top of your CPE hours. Not only will it keep your CMA credential active, but it also keeps you at the top of your accounting game.
The Institute of Management Accountants has two requirements to maintain your CMA credential:
Pay the annual CMA Maintenance Fee to the IMA
Meet the annual CPE requirement
What Are the CMA CPE Requirements?
The IMA intends for CMA holders to remain proficient in all aspects of management accounting. Moreover, CMAs are expected to learn and apply new concepts as they develop in the field. In the end, the overall goal of CPE is to maintain your professional competence. Plus, it enhances your ability to meet—and even exceed—your job's unique demands.
Essentially, to keep your CMA credential active, you'll need 30 hours of CPE each year. And of those 30 hours, you need 2 hours in an ethics course. However, you don't need to meet the CPE requirement if you've retired.
CMA CPE Topics
To make your CPE hours more tailored to your career, the IMA allows a broad range of CPE topics. In general, your CPE hours should be related to topics tested by the CMA exam. Or, you can focus on topics directly related to your job responsibilities. For example, some of the IMA's allowable CPE topics include accounting, business law, computer science as it relates to management accounting, economics, financial management, marketing, and even organizational behavior.
Plus, the IMA expects all CMA holders to have 2 CPE hours in ethics each year. More specifically, according to the IMA, your ethics course must review the "ethical considerations in the area of decision support, planning, and control for accounting and financial professionals." But don't worry—several CPE providers, including Becker CPE, have acceptable ethics courses to keep your CMA active.
Where to Find CPE for CMAs
Thankfully, the IMA has flexible ways for CMA holders to meet the annual CPE requirements. For example, CMAs can attend CPE courses offered by the IMA. Or, they can enroll in supplementary college courses or attend seminars and lectures. The IMA even accepts CPE credits for publishing academic articles or passing additional professional exams.
Home study courses are popular options, too. After all, most busy professionals probably don't have time to take another college course. Therefore, several companies that help candidates study for the CMA exam also offer CPE courses. For instance, Becker CPE is an example. Not only does Becker help candidates pass the CMA exam in the first place, but they have hundreds of CPE courses to keep your CMA active. Enrolling in Becker CPE courses can be an effective way to reach your 30 annual hours of CPE for the CMA credential.
What is Becker CPE?
Becker is a trusted name in the accounting industry. In fact, they have been educating accounting professionals for over 60 years. For many accountants, Becker has become their go-to for all of their education and CPE needs. Specifically, accountants trust Becker because of its high-quality materials and experienced instructors.
In addition to full review courses for the CPA and CMA exams, Becker also offers over 1,000 CPE credit hours through 600+ courses. All CPE courses are offered online, either on-demand or via webcasts with live question and answer capabilities. Plus, all CPE content is downloadable and mobile-compatible, so you can review your materials anytime or in any place. And what's more, you don't even have to take an exam at the end of your course to receive your credits. Becker also sends you a certificate of completion, so you can prove you've completed your CPE hours.
Becker CPE courses fall into 18 different fields of study. Here are just some of the topics you can brush up on:
Accounting
Auditing
Behavioral ethics
Business law
Business management and organization
Communications and marketing
Computer software and applications
Economics
Finance
Information technology
Regulatory ethics (GAAP, GAAS, GASB, etc.)
So as you can see, Becker is bound to have CPE courses that will help your career.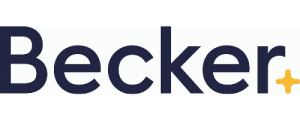 Becker CMA CPE Discount

Get the Best Price on Becker Single Course CPE
Becker CMA CPE Courses
Becker's CPE courses are either labeled as "foundational" or "premium." The foundational content is the most crucial to your career. The most time-sensitive or cutting-edge topics, in contrast, appear in the premium courses. Some recent hot topics include AI for accountants, understanding blockchains, and virtual currencies. Current events are also covered in the premium courses.
Becker CPE webcasts vs. on-demand courses
All of Becker's CPE courses are offered through webcasts or on-demand courses. Although they are both online, the two delivery methods have some differences.
The live webcasts have a consistent schedule: weekdays at 9 AM, 2 PM, and 7 PM CST. Weekend webcasts are available, too. During these live events, course attendees can ask the instructor questions and answers in real time.
Plus, Becker presents a shorter "Lunch and Learn" webcast every day at noon CST. Participating in these short events is an easy way to build up your CPE hours little by little.
Becker has on-demand video options, too. This flexible delivery method lets you gain your CPE hours whenever you have some free time and an internet connection. All of the videos are led by Becker's famed instructors, so you can trust that the content will be of high quality.
If you want to check for yourself, click here to browse the Becker CPE catalog.
Becker certificates
In addition to CPE courses, Becker also offers certificates that demonstrate specific skills. For instance, when you purchase a CPE subscription, you can also go after the following certificates:
Great Becker CPE instructors
Becker is known for the strength of its instructors. In fact, Becker actually relies on a whole team of experts to teach their courses and develop study material. Taken together, the Becker instructors have decades of real-world experience in academia and public and private accounting.
What Are the Benefits of Becker CMA CPE?
Flexible formats
Becker understands the busy lives of today's accountants. Therefore, they have developed a flexible series of CPE courses designed to meet every individual's needs. Do you want to work on your CPE in little chunks over time? Then take in the daily "Lunch and Learn" webcast. Or, do you have specific concerns and want to be able to interact with your CPE instructor? In that case, check out the live webcasts. Or, if you know that you can't commit to webcasts at a set time, choose one of the on-demand courses whenever you are free.
Relevant and updated content
Becker updates its CPE courses on a regular basis, so you don't need to worry about reviewing out-of-date material that no longer impacts your career. Plus, the premium content is especially timely and reflects the day's most pressing issues.
CPE compliance tracker
Becker now provides a simple solution to make the hard job of keeping track of your CPE compliance status a little easier. Whether you hold a CPA license or another type of certification, the compliance tracker is based on the ongoing education requirements for your particular certification. It also recommends CPE programs to fill in any gaps. Additionally, you are able to upload CPE credits from other independent CPE vendors.
The brand-new Becker compliance tracker is currently available for just $19.99 for an entire year or as part of the Prime package.
Real-life applications
Becker CPE courses provide the depth and level of detail you need to apply your new knowledge to your career. After all, the instructors have been in your shoes. So, they don't waste your time with irrelevant content. And even more, they clearly explain how updates in the accounting world will impact your job in a very real way.
Free CPE Course
If you think Becker could be the right CPE provider for you, then definitely check out the offer for a free CPE course. You just have to sign up here, pick your free course, and finish it to receive credit. You can't beat that deal!
Becker CMA CPE Packages
Becker understands that everyone has different CPE needs. That's why Becker has developed a tier system of CPE packages.
Single Courses
First, you can purchase single Becker CPE courses if you only need to get a few CPE hours. Courses start at just $29. Of course, if you need more than just a handful of CPE hours, a Becker package is a better value.
CPE Packages
However, most CMAs choose a Becker CPE package. In short, the differences between the packages are related to access length, the number of available live webcasts and on-demand video courses, and the availability of premium content.
As you can see, the Prime package is the best value. Basically, it gives you the most access to premium courses, which are the ones most likely to be relevant to today's unique issues in the field. Plus, with over 1,000 live webcasts (including live question and answer sessions!), you're bound to find the right CPE courses to meet your annual requirement.
Becker CPE discount
Discover a list of current Becker CPE discounts! Additionally, you can find our exclusive Becker CMA discounts and Becker CPA discounts too!
Final Thoughts
I encourage you to think about CPE hours as a privilege instead of an obligation. Sometimes we dread continuing education because it feels like one more chore on our never-ending to-do list. However, CPE is really important to our careers. It keeps us updated on important information and sharpens the skills we need as accountants. Plus, if you go with a CPE provider like Becker, you can rest assured that your time won't be wasted. Instead, you'll get relevant and timely reviews of the topics you need as a CMA holder. And because of Becker's accomplished instructors, you might even enjoy your time in a CPE course.
Further Reading
CMA CPE Requirements (And Approved Courses Suggestions)
How to Become a CMA: The CMA Certification Process