Surgent CMA Review may be a new brand in the industry, but its former name, ExamMatrix CMA Review, may ring a bell. Disclosure: The I Pass Team may earn a small amount of compensation if you purchase from our links; our team uses these revenues to maintain the site and produce awesome free content just for you!

Get the Best Surgent CMA Review Discounts Now!
Surgent is originally well known for its CPE courses. In the last couple of years, Surgent has been aggressively expanding, hiring a new CEO with a marketing background, and getting funding from private equity firms. The current Surgent brand covers online education in the accounting and finance industry.
Surgent CMA Review Product Offering
Surgent CMA only offers one CMA review option, and it's called the Essentials Pass. The Surgent CMA Essentials Pass is not a comprehensive review course that includes lectures, access to experts, or hundreds of practice essays. If you need a complete CMA review course, we recommend checking out Gleim CMA or Wiley CMAexcel.
However, if you are extremely comfortable with the exam content tested on the CMA exam or just need a supplement, Surgent CMA might be a good fit for you.
I would say a clear feature that sets them apart is the "Adaptive Learning" Software. Surgent calls it the proprietary A.S.A.P. Technology.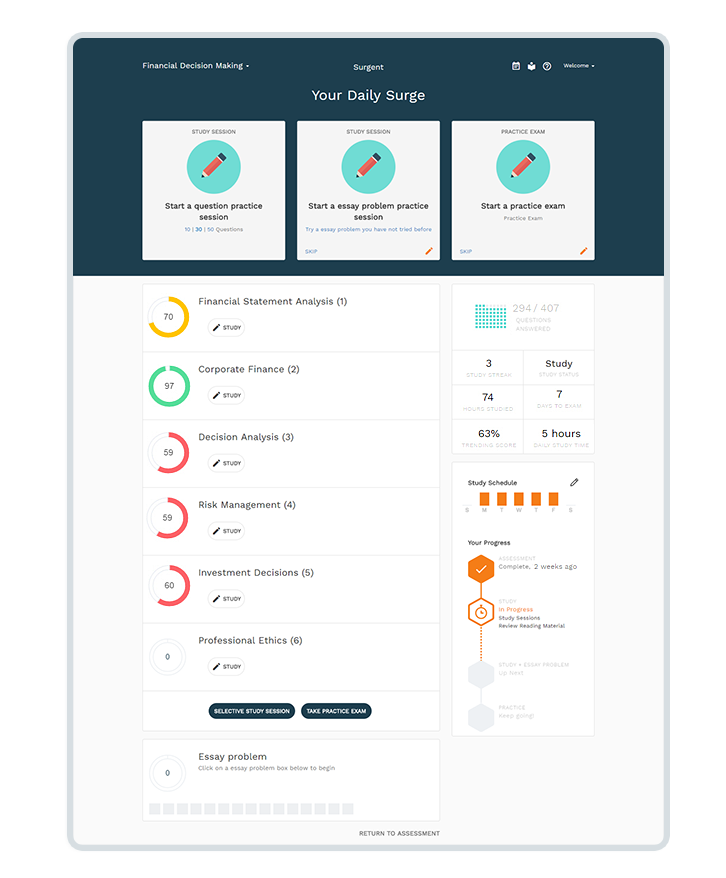 Pros
1. The Only CMA Review program with Adaptive Learning Technology
The adaptive learning platform automatically identifies your weaker areas based on the performance of the practice questions. Then, the system feeds you more questions in these topics, and tracks the performance.
Instead of dwelling on topics you know anyway, or spending too much time manually marking the incorrect questions in review books, you can rely on this intelligent learning tool to focus on improving your weaker areas.
I recorded this video back when it was known as ExamMatrix, but the underlying structure is the same.  This walkthrough video will show you how the platform looks and works:
2. Extensive Database with Full Explanation
Surgent CMA Review offers over 2,500 multiple-choice questions, all with full-text explanations. The question database is developed by a team of accounting professors with practical experience.

3. Over 80% Pass Rate (per Surgent)
I cannot verify this percentage. If this is true, it is quite impressive given the overall CMA exam pass rate is at the low 40 to 50%.
(For your information, Wiley also boasts an "8 out of 10" pass rate. Gleim and Hock make a conscious decision not to gather information on customers' pass rates.)
4. Pass or Refund Guarantee
This guarantee is available for all Surgent's test prep products. Customers need to spend a certain amount of time in the practice questions and attain 50% accuracy, together with other requirements, to get qualified. The requirements are reasonable in my opinion. It encourages candidates to make good use of the product before asking for a refund.
Cons
1. Not an Integrated and Guided CMA Review Course
Surgent CMA Review is essentially a test prep software plus basic reference books. If you need an explanation of concepts, study tips, or to talk to a personal counselor, Surgent cannot provide this service.
2. Relatively Expensive
The complete set (part 1 + part 2) costs $599 and doesn't come with a lot of value-added features.
My Conclusion: Good Supplement
If you are looking for a guided review course, or an extensive review book covering all exam content, Surgent CMA Review may not be enough as a learning tool.
However, if you learn by working on practice problems, or you are looking for a supplement for practice questions, this could be an intriguing offer.