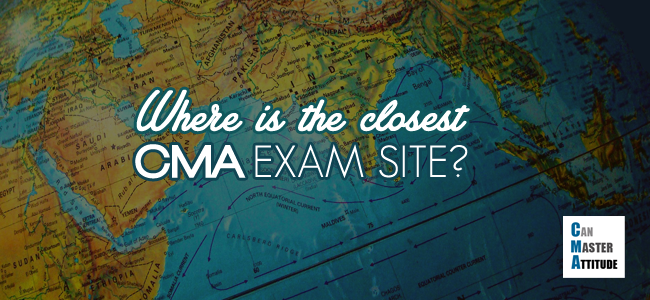 "Is this exam available in my country? What's the best way to find the CMA exam locations?"
This is one of the most commonly asked questions I get from aspiring CMAs – and I agree this is very valid. If you're wondering, "Where can I take the CMA exam?" then I am here to help. In this post, I will clear up all the answers for you so you can walk away confident in when and where you can take the exam.
If the exam is available in your own country, then you can avoid the hassle of getting a visa and save a lot on travel and accommodations, let alone the inconvenience such as jet lag and extra anxiety in a foreign country. Traveling all the way to another country to take an exam may sound like a real hassle, but when you see how much the CMA certification can help you in your career advancement, you will understand why some people are willing to do it.
That said, wouldn't it be better if there were CMA locations closer to you? There have been many new CMA exam locations added since the demand for the exam has increased.
CMA Exam Locations: The Good News
You have to take the CMA exam in person. This is not one that is offered remotely, so it's important to find out where the testing locations are before you sign up for your test. The CMA is given in two parts and you will need to travel two separate times to take them. You're going to want to find the location closest to you because it will make this travel easier.
Unlike the CPA exam, the CMA exam is available in many parts of the world. IMA is proud to have members from 120 countries with 300 local chapters around the world.
You can easily check the location with the exact address, google map and direction from the Prometric center website. Scheduling is also done here once you apply for the exam.
Check the Closest CMA Exam Centers Here
Tips for Locating the Best CMA Exam Center for You
Now, when you're ready to look for the best CMA center for you, there are some tools that can help you. First, is the search tool from Prometric. On this page, you can search for testing centers anywhere you live, to find which ones are closest to you. This is really important since the CMA exam is given in two parts, each which is 4 hours long. You also have to account for prep time and travel time, so finding the closest center to you is essential.
How does it work?
Let's say you are from Toronto, Canada and you would like to check the location before applying for CMA exam. Okay, it's really easy.
If you type in "Canada", it will only show you one location (in Saskatoon!) but if you type in "Toronto", it will show you the two centers available in town as well as the three in the surrounding area.
In other words, it is better to narrow down your searches by city name or zip code, versus the name of your country. This is going to give you the best and most accurate search results.
Here is a quick screen capture video showing how I locate the São Paulo testing center for Ailton, who asked for my help in the comment section:
If you have difficulty using the tool, simply drop a note below in the comment section, and I can copy and paste the exact address for you. Hopefully, this tool will aid you in finding the closest testing center near you so you can plan accordingly to take the exam.
While many people who take the CMA are from the United States, the popularity of this certification means it is not exclusive to the Americas only. Let's take a look at some places outside of the U.S. where candidates sometimes want to take the CMA.
Becoming a CMA in the Middle East
If you live in the Middle East and you want to become a CMA, is it possible? What is the process? Of course, you're going to want to know if there are testing centers near you. There are, and I will give you some info on this before. The structure of the exam and its two parts is also the same. Pass rates, however, are not favorably high for people who test in the Middle East.
During the 10-month period from January to October 2013, only 21% candidates passed Part 1 and 29% passed in Part 2. This could be because the test is given in English and English is not the first language for most people in the Middle East. It could also be because candidates from the Middle East are relying on local exam review courses to prepare for the CMA exam and these review courses are not the best resources.
If you are from the Middle East and plan to take the CMA exam, consider our recommendations for review courses instead. You can do them all online, just as easily as you are reading this post, and it will greatly improve your chances of passing, and on the first try. Now, let's look at those exam center locations.
US CMA Exam Centers in India
Are you wondering if you can become US CMA certified in India? If so, the answer is yes! I have found that many Indians search for information on the CMA certification each year and I want to provide useful information here on this site to guide you through the process. It's very good news that you can take the CMA exam right in India, so you don't even have to travel outside of your country. You do, however, need to be properly prepared to take it and pass it.
If you're an Indian working in the Middle East, you'll want to read my page about becoming a CMA in the Middle East. It goes into much more detail about what I was discussing above about prepping and testing for the CMA in the Middle East.
There are currently 10 test centers in and around India:
Ahmedabad
Allahabad
Bangalore
Chennai
Dhaka
Gurgaon
Hyderabad
Kolkata
Mumbai
Trivandrum
There are also regional IMA chapters in India, which provide you with the opportunity to meet up with other candidates or CMA certificate holders. You will find these in:
Bangalore
Chennai
Delhi
Hyderabad
Kochi
Kolkata
Mumbai
Pune
CMA Exam Centers in Hyderabad
Hyderabad is the capital of the Indian state Telangana and it is one location for CMA testing in India. When you use the search tool to look for CMA testing centers or CMA exam locations in India, you will find that there is a testing centered here:
PROMETRIC TESTING PVT LTD
9th Floor, Unit – 2,Kapil Towers IT Block
HYDERABAD
This location allows you to test for the CMA Part 1 and Part 2.
CMA Exam Center in Saudi Arabia
There are several CMA exam centers in Saudi Arabia for you to consider. A current search in Prometric's tool shows the following testing centers:
8292: RIYADH MEN/WOMEN, SAUDI ARABIA
AMIDEAST Saudi Arabia, Al Kindi Plaza
#57, First Floor, Diplomatic Quarters
RIYADH – MEN/WOMEN
8293: RIYADH WOMEN, SAUDI ARABIA
AMIDEAST Saudi Arabia, Al Kindi Plaza
#57, First Floor, Diplomatic Quarters
RIYADH WOMEN
8056: QASIM MEN, SAUDI ARABIA
ALKAFAT, AL Manar neighborhood
Althamaneen ST Southwards, Qassim- Buraidah
QASIM MEN
8062: QASIM WOMEN, SAUDI ARABIA
ALKAFAT, AL Manar neighborhood
Althamaneen ST Northwards, Qassim- Buraidah
QASIM WOMEN
You can take note of the testing center that is closest to you and also that meets your needs the best. You will see that there are designated locations for Qasim women and men, as well as Riyadh women and men.
Note: Testing centers and locations can change so use the Prometric tool to double-check that these centers are still active if you are planning to take the CMA exam in Saudi Arabia.
CMA Exam Testing Centers in the Middle East
If you are looking for CMA test centers in the Middle East, there are many to choose from to make it easier for you. We've talked about Saudi Arabia, which has four testing centers, but there are more across the Middle East.
Exam sites are conveniently located in major cities in the following:
Bahrain
Egypt
Israel
Jordan
Kuwait
Lebanon
Oman
Qatar
Saudi Arabia (4 centers, 2 for men and 2 for women, as listed above)
UAE (Abu Dhabi and Dubai)
West Bank
You can find out the exact address of the exam sites here. Again, if you have trouble finding the one closest to you, just leave me a comment and I'll try to get the exact address for you.
CMA Exam Testing Centers in Other Countries
If you are living in another country and wish to take the CMA exam, again, just use the tool to select your country and look for the closest testing centers to you. It's there to help you plan in advance for your CMA exam.

Scheduling Your Exam with IMA Prometric
Once you know your closest testing center location, the next step is to schedule your exam with IMA Prometric. Exams are always administered through the network of Prometric Testing Centers located worldwide.
CMA Exam Parts:
Part 1: Financial Reporting, Planning, Performance, and Control
Part 2: Financial Decision Making

CMA Exam Testing Windows:
January/February
May/June
September/October
There are some guidelines to follow when scheduling your exam with IMA Prometric. First, you need to schedule your exam appointment at least 72 hours in advance of the exam date. Most people will schedule much earlier than this because they already know which testing window they are trying to get into. If you need to reschedule your exam appointment for any reason, you need to provide 30 days notice and you will need to pay a $50 rescheduling fee.
Seats at the exam centers are very limited and failing to give notice means you will pay the full exam fee, even if you don't show up and sit for the exam. You are taking a seat that could have gone to someone else. Because of the rescheduling fee, you should do your best to avoid canceling and rescheduling for any reason. However, if an emergency arises, you do have this option available to you.
Many Prometric Testing Centers
There are over 8,000 testing centers spanning 160 countries, so you are sure to find one close to you when you are ready to take the exam. If you want to plan in advance, you can also use the search tool above, as I explained, in order to find the testing center that you would use if you decide to sit for the CMA.
There are many reasons why people choose to get CMA certified. Of them, increasing their salary is top. When you want to earn more in your current profession, or move your way into a CMA certified profession to earn more, the CMA exam is required.
Any Questions?
For more information on the CMA exam tips and study tactics, check out my FAQ page. Here you can find the answers to things like why you should choose the CMA, how it will help your career, how difficult the CMA exam can be, what the current CMA exam pass rate is and so many other common questions. Look at it as a database of answers related to the CMA.
My goal for this site is to help you learn more about the CMA, the CMA exam, and how to prepare for and pass it. If you have any questions that you do not find answered here on the site, please feel free to leave them in a comment, or send us a message so that I can get it answered for you. I understand that a lot goes into the decision to take the CMA and I want to help you make it as smooth as possible.
Further Reading: 
You can also sign up to my e-course which is completely free. Learn about the mini e-course here or sign up directly below:
Join us if you want to get tips on how to plan,
study and pass your CMA exam… on your first attempt!