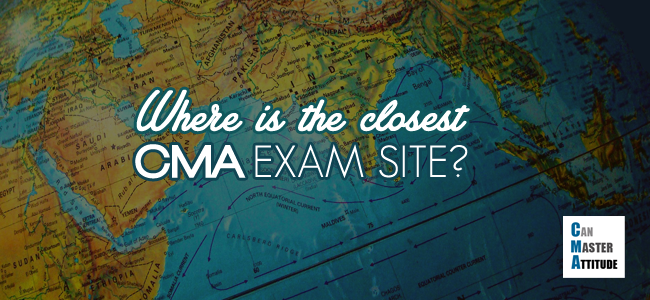 Is this exam available in my country? What's the best way to find the CMA exam locations?"
This is one of the most commonly asked questions I got from aspiring CMAs — and I agree this is very valid.
If the exam is available in your own country, then you can avoid the hassle of getting a visa and save a lot on travel and accommodation, let alone the inconvenience such as jet lag and extra anxiety in a foreign country.
CMA Exam Locations: The Good News
Unlike the CPA exam, CMA exam is available in many parts of the world. IMA is proud to have members from 120 countries with 300 local chapters around the world.
You can easily check the location with the exact address, google map and direction from the prometric center website. Scheduling is also done here once you apply for the exam.
Check the Closest CMA Exam Centers Here
Tips for Locating the Best CMA Exam Center for You
Let's say you are from Toronto, Canada and you would like to check the location before applying for CMA exam.
If you type in "Canada", it will only show you one location (in Saskatoon!) but if you type in "Toronto", it will show you the two centers available in town as well as the three in surrounding area.
In other words, it is better to narrow down your searches by city name or zip code, versus the name of your country.
Here is a quick screen capture video showing how I locate the São Paulo testing center for Ailton, who asked for my help in the comment section:
If you have difficulty using the tool, simply drop a note below in the comment section, and I can copy and paste the exact address for you.
Any Questions?
For more information on the CMA exam tips and study tactics, check out my FAQ page.
You can also sign up to my e-course which is completely free. Learn about the mini e-course here or sign up directly below:
Join us if you want to get tips on how to plan,
study and pass your CMA exam… on your first attempt!