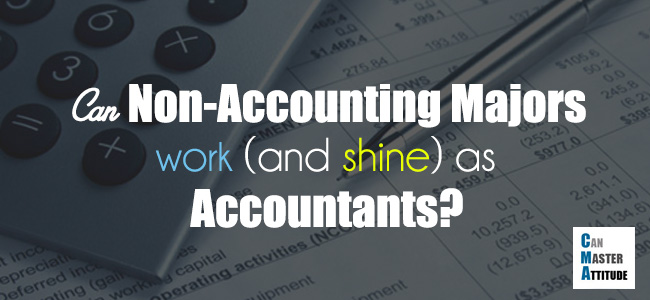 Do you want to know how to become an accountant without an accounting degree? You've come to the right place! I will answer the question, "Can non-accounting majors work (and shine) as accountants?"
There are lots of reasons why people want to become an accountant. It could be job security, the relatively good work-life balance (except month-end and audit season), and the fact that accountants are no longer just bean counters. This profession has evolved over the years, and in today's modern technological world, there is even more demand for the role.
Not all of us make this decision during college. Because of this, we may not end up getting an accounting degree. The question is: can one still become an accountant without an accounting degree?
Let's find out together.
Accounting is Not Rocket Science
First of all, rest assured that you don't need to study for 4 years to become an accountant. It is absolutely fine to get the training to be an accountant without a degree related to accounting, finance, business, or numbers in general.
From my experience, accounting is a set of rules that is best to learn on the job. In order to get solid skills, you can start as an accounting clerk or junior financial accountant responsible for preparing journal entries in each reporting cycle. This is an excellent way to learn the fundamentals of this discipline.
Accounting jobs without a degree include:
Bookkeeping
Collection (of outstanding bills)
Accounting receivable/payable and payrolls
Tax preparation
Accounting jobs for non-accounting majors include:
Business analysis
Financial analysis
Budgeting and planning
Consulting within public accounting firms and the Big 4
Can You Get Promoted to Manager Level?
If you work in public accounting or a CPA firm, it is most likely that you need a CPA license to reach the manager level. In order to get a CPA license, one pretty much needs to concentrate on accounting.
For non-accounting graduates, one easy solution is to take a master's degree in accounting — get the necessary credits (and knowledge) to get qualified for the CPA exam.
For management accounting, the requirement is a lot less rigid. I've seen non-CPAs promoted to the CFO level without any formal accounting training.
Having said that, it is best if you can take the time to enhance and prove your accounting expertise through a professional qualification. It will make things easier for you in terms of education and it will make you a more attractive employee.
Can You Become an Accountant without a Degree?
Now, let's go back to this main question: Can you become an accountant without a degree? Finding accounting jobs without a degree is going to be a challenge, but not impossible. Some people choose to use this as an opportunity to get work experience in the field before they complete their degree and enter the job market. So again, this is an option.
However, you will not be able to become a professional accounting or a Certified Public Accountant (CPA) without at least a 4-year degree. More on what it takes to get your CPA later. That said, there are some accounting jobs you can get before you have your degree.
Here are some of them:
Bookkeeper
Collections
Accounting Clerk
Administrative Assistant
Tax Preparation
As mentioned above, if you're looking to work in management accounting, it can be easier to get into this field without a degree. It's all about your future goals and what you hope to obtain in the job market.
Take the CMA Exam without a Degree
Can you take the CMA without a degree? This is a great question, since having a CMA certification can help you get better jobs and higher-paying jobs. It can also help you get promotions in your current career path. Can you obtain it without an education, however?
To find the answer, you have to understand what is required to sit for the CMA exam and to obtain your CMA certification. There are a series of requirements you must meet in order to become a CMA. These include educational requirements.
The CMA education requirement says you must have achieved at least 1 of 2 educational statuses:
Earn a bachelor's degree from an accredited college or university
Have a professional certification
This means you must have at least a bachelor's degree or equivalent professional certification. It is possible to sit for the exam before you've completed your degree but you should be in the process of getting it. This is because you're going to have to show the proof, once completed.
The IMA does allow students to sit for the CMA exam before they've completed their degree. If you're a student, you just need to be registered for at least 6 credits per semester during the academic year in order to take the CMA exam. In addition, you need to send confirmation of your degree to the ICMA within 7 years of passing the CMA exam.
Now, what about another very popular accounting certification, the CPA?

Take the CPA Exam without a Degree
Now let's follow that same thought process and determine, can you take the CPA exam without a degree? How do you become a CPA? It is possible to get the CPA without an accounting degree, but it will be harder, and there will still be educational requirements. In fact, it seems in recent years it is becoming even more difficult to get it without an accounting degree.
Therefore, getting your CPA with no degree at all is not likely. There have been cases of students who were majoring in something else deciding to sit for the CPA exam and they can manage by taking extra courses.
The CPA 3 E's
To understand how it works, you need to understand the requirements for the CPA. You must have what is referred to as "the three Es":
Education
Exam
Experience
There are educational requirements to sit for the exam. You will need minimum accounting credit hours and relevant experience. This is where the real hangup for non-accounting majors will come in. If you're not an accounting major, it can be difficult to get the required experience to sit for the exam. Most states require 150 college credits, which is more than the 120 credits from a bachelor's degree.
Different states have different regulations around how many credit hours you need. For example, Maine has only 15 credit hours and Georgia has only 20. There is a catch, however. Most states who have lower credit hour requirements will have higher experience requirements.
Taking Maine as our example again: They ask for only 15 credit hours of education but require at least 2 years of public accounting experience and 4,000 hours of audit compilation. In this example, you can see that it would be possible to take the CPA exam without a degree if you were working in an accounting position already.
It may also be possible to get the CPA with a finance or economics degree, but it will be much harder to get it with no degree at all. You can learn more about it in CPA for Non-Accounting Majors.
Sit for the CIA exam without a Degree
We know about the CPA and CMA, but can you take the CIA exam without a degree? Again, technically it is possible, but it is much harder. There are minimum educational requirements you must meet before you can qualify to sit for the CIA exam.
The IIA expects CIA candidates to have at least an associate's degree or higher. Acceptable equivalents to an associate's degree include:
Foundation Degree
Diploma of Higher Education
Higher National Diploma
3 A-level certificates with a grade of C or higher
However, there may be a workaround for the CIA exam. For candidates who don't meet the minimum education requirements, the IIA has made another way to CIA eligibility. Specifically, the IIA may approve candidates who have at least 7 years of verified experience in internal audit or its equivalent. Most people who already have 7 years in the industry would also meet the educational requirements.
Learn more about the CIA exam requirements if that is the accreditation you are going for.
Take the EA exam without a Degree
Every accounting certification and exam has different requirements. What is the stance on degrees for the Enrolled Agent exam? There are many reasons you might want to become an Enrolled Agent, but the EA exam and the role comes with a lot of responsibility.
According to the National Association of Enrolled Agents (NAEA), an enrolled agent is a tax practitioner with technical expertise in taxation. You are a tax professional who represents people before the IRS. The good news is you can take the EA exam without a degree. And the EA exam pass rates are higher than other credential exams, too.
EA candidates do not have to meet any education or experience requirements. Again, you don't need a specific degree or specific job to become an enrolled agent. This makes it very appealing to many who want to work in the field but do not have an accounting degree. You can learn more about becoming an EA if that is your chosen career path. To get started, read through the Enrolled Agent exam syllabus.
Plus, lots of EA study courses are available to help you become an Enrolled Agent, so you don't have to go it alone. For instance, if you read my article Gleim EA vs Surgent EA, you can read about two of the top EA prep courses to get you started. Gleim EA Review is the most popular course, but Surgent is known for helping EA candidates reduce their study time. The Fast Foward Academy is an online course with lots of practice questions and a supportive community of fellow users and instructors. Another popular option is TaxMama, which is really for EA candidates who don't have much previous experience in tax preparation.
Go for the CMA Certification
The CPA license is the most versatile and arguably the most prestigious, but for non-accounting majors who don't want to go back to study for a Master's, it is very hard to get qualified for the CPA exam.
The next best alternative is to get the Certified Management Accountant (CMA) certification from the IMA.
Unlike the CPA license, the CMA requirement is a bachelor's degree in any discipline. Then, all you need is to work hard studying for the two parts of this exam, accumulate two years of relevant experience, and voila — you get to the level playing field.
Can You Become a Chartered Accountant Without a Degree?
If you work in a country where chartered accountants are more recognized, then you may consider going for the ACCA. Although it takes much longer when compared to the CMA program, anyone with a high school diploma can get qualified. This is because the ACCA offers courses within its program that is equivalent to university studies. This is an option for some people, and it may be something you want to explore if you work in a country that recognizes this.
Please check out this page to learn more about the difference between CMA and ACCA. This will help you make the right choice for your needs and future career path.
Which Accounting Certification Can I Earn without a Degree?
Now, if you are asking yourself which accounting certification you can earn without a degree, you should feel better informed. For most, you are going to need at least a basic degree. There are some workarounds and some exceptions for students who are planning to obtain their degree within a certain timeframe of registering for the exam. Again, these are all things you need to be aware of before trying to become an accountant.
You can get the EA certification without having a degree of any sort. You're not likely to get any fo the others without a degree, or the equivalent in education or work experience (and be able to prove it). These certifications are prestigious for a reason. You can work in accounting without one, but you can't get your accounting certification without at least the minimums outlined above.
Conclusion
In conclusion, you can become an accountant without an accounting degree. The skills can definitely be learned on the job. Depending on where you want to go in your career and what types of jobs you want to be eligible for, having an accounting degree may not be necessary.
If you are looking to develop a long-term career in accounting, it is better to get a professional qualification to proof your accounting expertise. If the CPA license is too hard to reach, the US CMA certification and ACCA are good choices. It just makes sense to help yourself along the path to a successful career in accounting by taking the best certification exam for your needs.
For Your Further Reading