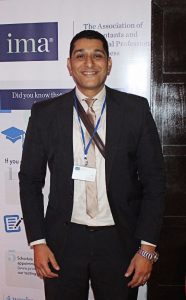 Sherif is our first blogger from Egypt. He shares his experience as a retaker who finally passed his Part 1 last June. Sherif took his Part 2 exam in February 2017.
While waiting my part 2 exam result, I'll discuss which exam part to start with first.
We all know that you can start with any part you like, but what is the perfect decision to start your journey? It is critical decision because you will plan for your journey on this decision. You must know the advantage and disadvantage of each option.
Part 1 Disadvantage
Part 1 is longer is containing 13 units.
More variety of topics.
Longer studying time when compared to Part 2.
Part 1 Advantage
Most topics can be used as the base of understanding Part 2. In other words, starting with Part 1 first make it easier to understand the topics in Part 2.
In the actual exam, my Part 1 questions consume less time than those in Part 2.
Part 2 Disadvantage
The questions are really tricky and consume more time in the exam than those in Part 1.
In my opinion, the topics are more difficult than those in Part 1.
Part 2 Advantage
There are only 10 units in Part 2. It takes less time to study.
20% of the exam is on Ethics and Risk Management, which are easy topics to score points in the exam.
Conclusion
In my opinion it's easier to start with Part 1. Although the curriculum is longer, the questions in the exam are more direct and take less time to solve than those in Part 2. We are generally more familiar with the topics in Part 1 when compared to Part 2.
Note from Stephanie
Thanks for sharing your thoughts on this commonly asked topic. From years of interaction with readers, I agree that most candidates find it better to start with Part 1. Many if not most of them are practicing accountants, and therefore are familiar with the accounting and internal control topics in Part 1.
Having said that, for finance majors or those working in finance, they could potentially find Part 2 easier, simply it's their area of expertise. The conclusion could be different depending on your background.
In any case, the study tips and exam taking tactics are very similar. Because of this, my readers tend to be able to pass their second part on their first try even if they needed multiple attempts for their first part, no matter whether it's Part 1 and Part 2. This is always encouraging to know.