The CIMA exam is very comprehensive, aiming to be one mile wide AND one mile deep. Potential candidates should take a closer look at the CIMA syllabus and make sure this is something they are willing to commit to in the next 3-4 years.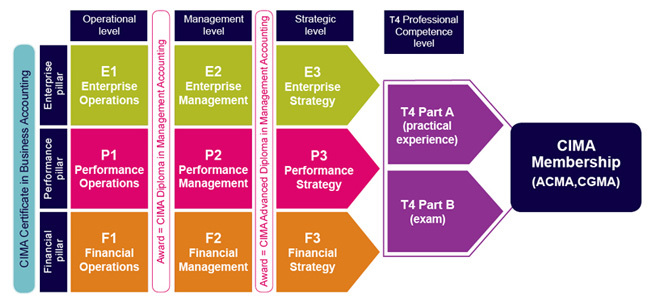 CIMA Syllabus – Operational Level
Operational level is the first in the CIMA exam levels. This is used as a foundation block for the next two levels, and therefore, the knowledge is applicable to those at the technical, working level.
E1: Organisational Management
E1 covers the organisation structure at the basic level, and how efficient and effective management (through finance, IT, marketing and HR functions) facilitates the organisation to achieve its strategic goals.
Introduction to organisation (25%)
Managing the finance function (15%)
Managing technology and information (15%)
Operations management (15%)
Marketing (15%)
Managing human resources (15%)
P1: Management Accounting
P1 covers the important function of cost in the decision making of an organisation. For example, various costing methods, purpose of forecast, plans and budgets, cost in relationship to pricing, and how to assess risk. In this level, the focus is on short-term decision making.
Cost accounting systems (30%)
Budgeting (25%)
Short-term decision making (30%)
Dealing with risk and uncertainty (15%)
F1: Financial Reporting and Taxation
FI covers the role of financial reporting and why the financial statement is important tool in managing the financial health of the organisation. The concept of governance and taxation is also introduced.
Regulatory environment for financial reporting and corporate governance (10%)
Financial accounting and reporting (45%)
Management of working capital, cash and sources of short-term finance (20%)
Fundamentals of business taxation (25%)
CIMA Syllabus – Management Level
Management level is the second in the CIMA exam levels. The knowledge is built on the operational level, and is applicable to the "managers" who monitor and oversee how work is done.
E2: Project and Relationship Management
E2 builds on the understanding of organisational structure in E1, and focuses on how organistional strategy an be implemented through people, projects and relationships.
Introduction to strategic management and assessing the global environment (30%)
The human aspects of the organisation (20%)
Managing relationships (20%)
Managing change through projects (30%)
P2: Advanced Management Accounting
P2 builds on the insights about costs and their drivers (from P1) to support the implementation of the organisation's strategy.
Cost planning and analysis for competitive advantage (25%)
Control and performance management of responsibility centres (30%)
Long-term decision making (30%)
Management control and risk (15%)
F2: Advanced Financial Reporting
F2 builds on the competencies gained from F1, covering ways to source long-term finance, produce consolidated financial statements, and discuss the need for disclosure.
Sources of long-term finance (15%)
Financial reporting (60%)
Analysis of financial performance and position (25%)
CIMA Syllabus – Strategic Level
Management level is the third (and last) in the CIMA exam levels. The knowledge is built on first two levels, and is applicable to the senior management who make long-term, strategic decisions for the organisation.
E3: Strategic Management
E3 aims to develop the skills and abilities of the strategic leaders or organization, e.g how to evaluate key external factors on strategy, handle ethical issues, implement ogranization changes, and evaluate IS requirements for successful strategic implementation.
Interacting with the organisation's environment (20%)
Evaluating strategic position and strategic options (30%)
Leading change (20%)
Implementing strategy (15%)
The role of information systems in organisational strategy (15)%
P3: Risk Management
P3 shows how to identify, evaluate and manage various risks that could affect the implementation of the organisation's strategy, and be able to recommend appropriate responses.
Identification, classification and evaluation of risk (20%)
Responses to strategic risk (20%)
Internal controls to manage risk (20%)
Managing risks associated with cash flow (20%)
Managing risks associated with capital investment decisions (20%)
F3: Financial Strategy
F3 focuses on the formulation and implementation of financial strategy to support the overall strategy of the organisation, by evaluating the financial and non-financial objectives, the pros and cons of mergers, acquisitions and divestment, and recommend appropriate actions.
Formulation of financial strategy (25%)
Financing and dividend decisions (35%)
Corporate finance (40%)
CIMA Syllabus for Case Study Exams
Candidates must pass all three objective tests before taking the case study exams in the same level. This is because the case study exams is meant to integrate all the 3 learning pillars.
In other words, there is no specific syllabus for the CIMA case study exams, but the candidates should know everything in that level.
Any Questions?
If you have questions on the exam content, please drop a note in the comment section below and we will try our best to answer. you can also check out the CIMA exam blog page for common questions from readers.
For Your Further Reading