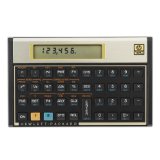 Candidates are allowed to bring their own CMA exam calculators in the prometric center, but there are rules that you have to follow. Let's take a look.
CMA Exam Calculator Policy
Simple six-function calculators that is not programmable (except for the financial calculators listed below). The six functions are addition, subtraction, multiplication, division, square root, and percent.
The calculator must not use any type of tape.
Small, quiet, and battery- or solar-powered.
The calculator's memory must be temporary, and it must erase when the memory is cleared or the calculator is turned off.
Can't bring along instruction books
CMA Exam Calculator Comparison
The following financial calculators are allowed:
* Texas Instruments BA II Plus "Professional" is not allowed.
**Since January 1, 2013, candidates can use HP 12c / HP 12c Platinum which are very popular among finance professionals and are approved for the CFA and CFP exam.
1. Texas Instrument BA II Plus
If you are looking for a calculator with basic features that satisfy your CMA exam requirements, such as calculating NPV and IRR, then the Texas Instrument model works well for you.
What's Great about this CMA calculator

More affordable
More user-friendly
Limitations
May need more keystrokes to accomplish the same tasks
Keyboard slightly less sensitive than the HP models
2. HP 12C and HP 12CP
If you are looking for a more advanced model that could be useful for your profession, then you may want to take a look at the HP models. This calculator has been around for 20+ years and have been popular among bankers.
What's Great

Fewer keystrokes for frequently used calculations e.g. NPV
Very sturdy keypads
Good size (3″x5″) for your suit pocket
Limitations

The way you key in the formula is not user friendly, e.g. you need to enter the "=" before the numbers. Technically it's known as the Reverse Polish Notation (RPN) and it's quite hard to use.
It's more expensive
For more details on these CMA exam calculators, check out our discussion on CFA calculators (which also use TI BA II Plus and HP 12C). Disclosure: The I Pass Team may be earn a small amount of compensation if you purchase from our links; our team uses these revenues to maintain the site and produce awesome free content just for you!
| | | |
| --- | --- | --- |
| TI BA II Plus | HP 12C | HP 12C Platinum |
| | | |
Other Notes to Candidates
1. Before The Exam
I encourage that you get any of the above financial calculators for Part 2 of the CMA exam. Although the NPV and IRR calculations can be done using NPV/IRR tables supplied by the CMA examiners, it takes a longer time to complete each computation.
Since you need to get one for your exam anyway, it is a good idea to practice using the calculators during your study session.
2. A Few Days Before Your Exam Day
Make sure your calculator has fresh batteries.
3. On Exam Day
The Prometric center may have calculators available, but they are not required to do so (i.e. can't blame them if they can't supply one) and they only carry the most basic version.
The proctor in some Prometric center may not be familiar with the latest CMA exam calculator policy, especially if you plan to use the newly approved HP 12C. It is best if you can print out the calculator policy in the CMA Candidate Handbook (p.11) and bring it with you.
| | | |
| --- | --- | --- |
| TI BA II Plus | HP 12C | HP 12C Platinum |
| | | |
For Your Further Reading