Wiley CMA Review (also known as Wiley CMAexcel) is now a major player in the market after its taking over of IMA's CMA Learning System.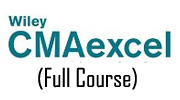 Save $400 with the Wiley CMAexcel Discount

Two Products Under Wiley CMA Review: A Comparison
Wiley CMA Review offers two sets of products: Wiley CMAexcel which is the premium state-of-the-art, all-in-one study tools. Wiley CMA Learning System is a self-study pack with textbooks, test bank, and online review. Disclosure: The I Pass Team may earn a small amount of compensation if you purchase from our links; our team uses these revenues to maintain the site and produce awesome free content just for you!
Text
Books
Practice Questions
Online
Review
Video
Instruction
Flashcards
Free
Updates
Online Study Planner
CMAexcel
 
 
 
 
 
 
 
CMA Learning System
 
 
 
Let's Take a Look at Wiley CMA Review
Why the Premium Wiley CMA Review Deserves My Recommendation
I like both offers but prefer the full course. Here are my 3 reasons: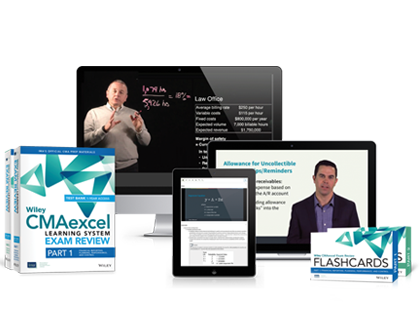 1. Effective Bite-size Video Lectures
One of the features that stands out is the quality of the video lectures. There are 21 hours of exam content covered by Professor Doug Clinton. He is one of the best management accounting teachers I've seen — knowledgeable, lively, speaks clearly and to the point.
Professor Clinton has been in active teaching for more than 15 years. He is the Senior Content Advisor to the IMA's Research Centre of Excellence and member of the ICMA Board of Regents (regulators of the CMA exam).
In terms of the structure of the videos, they are filmed in bite-size, meaning short, precise presentations with the most important information on that particular topic. You can easily watch the video during commute or lunch.
2. Free Trial + Free Updates Until You Pass Guarantee
When publishers are confident in their products, they offer free trials and updates, and CMAexcel is no exception. There is a button at the bottom of this page that points you to a free trial offer — it's a limited access 2-week experience that you can take full advantage of before committing to the course.
Having an opportunity to try it out on your own is better than any third-party evaluations (that's right, including this review!)
3. Popular Online Study Planner to Keep You on Track (and Stress-Free)
Wiley CMA Review uses the same infrastructure as the popular and proven CPAexcel review course. The study planner is interactive and can be highly customized to your own schedule. Then, there is email notification to remind you of the studies and any weaker areas that you may have.
There are also various performance tracking tools within the course itself. For example, once you watched the lecture and try out the review questions in test mode, you will be given a "green light" (and if you don't perform as well, a yellow or orange light). As you get more and more green lights, you gain the confidence in your progress. This virtual cycle helps drive the momentum to your passing success.
What are the Limitations?
Nothing is perfect, so I identify some limitations for you to consider.
1. Designed for Online Learners
It's less of an issue nowadays, but there are candidates who prefer to study off a real textbook. This course comes with a textbook, but if you won't utilize the interactive online study planner, videos and performance tracking feature, you are better off with the more affordable CMA Learning System.
2. Most Expensive Option
Given the state-of-the-art online platform and full product offering, it's no surprise that Wiley CMA Review comes at a hefty price.
If budget isn't a concern, I encourage you to sign up for the free trial anyway, since the price premium is justified with the quality of the offerings. If you can't really afford it, don't worry you have other options on the market.
3. Test Bank Not Tough Enough?
The Wiley CMA test bank has comparatively fewer practice questions. Also, based on readers' feedback, the variety of questions is not as broad as Gleim, for example.
Having said that, many readers find it okay, as they would rather have a smaller, narrower and less overwhelming set of practice questions that they can handle.
4. Some (Minor) Errors Not Fixed
I have been getting a lot of feedback lately on how Wiley fails to correct errors identified by their customers. These are reported in their forums with some dated back two years ago. It doesn't reflect well on their customer service, but thankfully most of the errors are minor.
My Bloggers Who Use Wiley CMA Review
Susan (US)
Wiley CMAexcel
Passed Part 1 on the first try
Yen (Vietnam)
Wiley CMA Learning System
Passed Part 1 and 2 on the first try
Hari (US/India)
Priscilla S Payne Award
winner, Jan/Feb 2017
Conclusion: Great for Busy Professionals
Wiley CMA Review is great if:
You are a busy professional who sees efficiency as #1 priority and needs to squeeze any downtime for the studying
You study well with video instructions
You appreciate the state-of-the-art online learning tools, study planner and tracking system
Save $400 on the Wiley CMA Review Course with this Wiley CMAexcel Discount!

SaveSave
Summary
Author Rating