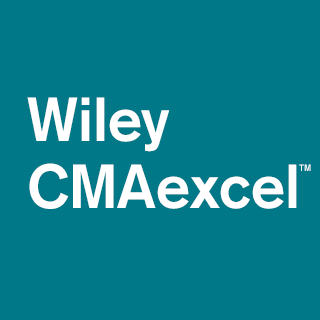 Wiley CMA has become a popular CMA review course. Therefore, let's take a look at why Wiley CMA exam prep has developed a following among CMA candidates.
Comparison of Wiley CMA Review Courses
Many accounting professionals know the Wiley name from the Wiley CPA review courses. However, the company offers CMA prep, too. In fact, Wiley CMA Review offers two packages of fully-integrated CMA study courses in addition to several supplements that candidates can purchase separately. Basically, the Wiley CMA choices include the Pro and Platinum courses. In a nutshell, the differences between the two courses are in the amount of personal support since the Platinum course has one-on-one mentoring and live virtual classroom sessions. Plus, the Platinum course also has the 11th Hour Final Review and an extra certification for a Microsoft Excel for Accountants class.
Disclosure: The I Pass Team may earn a small amount of compensation if you purchase from our links; our team uses these revenues to maintain the site and produce awesome free content just for you!
Wiley CMAexcel Course Comparison
| | | |
| --- | --- | --- |
|   | Wiley CMAexcel Pro | Wiley CMAexcel Platinum |
| Online test bank | 5,500 MCQs | 5,500 MCQs |
| Video lessons | 49 hours | 49 hours |
| Study planner | | |
| Digital flashcards | 750+ | 750+ |
| Digital or print CMA books | | |
| Essay questions | 70+ | 70+ |
| Access to Wiley CMA study group | | |
| Mobile app | | |
| Printed flashcards | | |
| 11th Hour Final Review | | |
| One-on-one mentoring | | |
| Live virtual classrooms | | |
| Microsoft Excel for Accountants | | |
| Free updates | | |
A Detailed Exploration of Wiley CMA Products
Let's look at the products under the Wiley CMAexcel umbrella, including two main courses:
Wiley CMAexcel Pro
Wiley CMAexcel Platinum
Aside from these main course offerings, Wiley CMAexcel also has supplements available:
CMA 11th Hour Final Review
Wiley CMA Exam Study Guide and Online Test Bank (this option is NOT the same as a full course)
I know: that's a lot of options! However, you shouldn't need a supplement unless you have another course, like Gleim CMA and Becker CMA. So, that really leaves you with just two courses to choose from if you don't have any CMA exam prep yet.
I'll supply you with information about all of the available Wiley CMA products. But first, I'll provide my recommendation for your Wiley CMAexcel course. After all, it's one of the best-selling and most popular Wiley CMA products.
Wiley Platinum CMA Course Features
If you're going to study with Wiley, I suggest using the Platinum course. Why? Well, it has the most value-added features. Let's take a look at what I like about the Wiley CMA Platinum Course.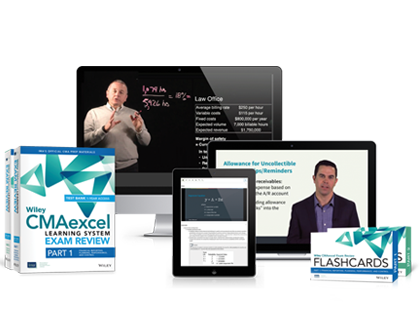 1. Effective Bite-Sized CMA Video Lectures
One of Wiley's stand-out features is its high-quality video lectures. Within these lectures, the instructors cover hours of the exam content. Furthermore, the Wiley instructors are professionals and thought leaders with dozens of years of experience. Plus, most of the instructors are professors at major universities like Brigham Young, West Virginia University, and more.
Wiley structures the video lectures into bite-sized segments. So, these videos let you consume short, precise presentations of the most important information on that particular topic. For instance, you can easily finish a video during your commute or lunch break.
2. Large CMA Test Bank
When you use the Wiley CMA Platinum or Pro Courses, you'll have access to over 5,500 multiple-choice questions (MCQs) and 70+ essays. Additionally, detailed analytics help you see where your weak areas are.
In total, Wiley has one of the largest CMA test bank available. Therefore, if you learn best by practicing questions, this review course will not disappoint. And you can forget your fear of memorizing the questions because that's just not going to happen with this course.
You may be asking, "Do I REALLY need that many sample CMA exam questions?" Yes. I say this because your weak areas may vary from those of other candidates. What if you really struggle with a few particular topics, and your chosen CMA test prep provider only has a handful of questions about those topics? Clearly, the peace of mind that comes from having the largest bank available is pretty priceless, if you ask me.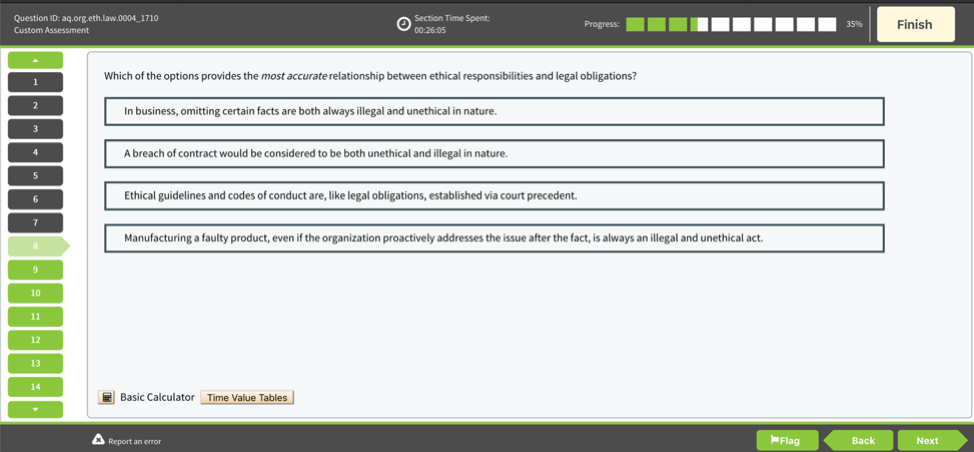 3. The Wiley Course App
If you need to study offline due to internet access issues, commuting challenges, or other reasons, then you need this course because of the app. In fact, Wiley is the ONLY major CMA review provider to include an app. As a result, no other CMA exam prep embraces the busy lives of CMA candidates like this course. If you need a CMA exam app, this is your must-have course.
4. Access to Instructors When You Have Questions
Wiley has an instructor forum that helps you interact with active professors. In fact, Wiley names the professors you will be working with, so there is never doubt if you are talking to a real expert or not.
If you have questions, you simply post them within the Instructor Mentoring tool and a professor will answer your question in 48 hours or less.
5. CMA Books from Wiley
The Wiley courses include study guides/CMA books. If you opt for the printed versions, you'll find that the textbooks are big and look formidable! But don't let the size of the textbooks scare you. Wiley actually prints the pages on thicker paper and makes the font size larger. Conveniently, this formatting allows for better note-taking since you can write in the margins or use a gel pen without marking up the other pages.
Consequently, the textbook layout reminds me a lot of the books from Becker CPA Review. (And CPA candidates know how popular Becker's books are 🙂).
Both textbooks include 100% of the ICMA Learning Outcome Statements (syllabus). So, the Wiley CMAexcel textbooks cover each and every topic that you might see on the CMA exam.
Additionally, the textbooks include:
Coverage of critical concepts
Explanations of calculations (examples)
A small sampling of CMA practice questions
Dozens of retired essay questions
Study tips and study plans
The end of each subsection presents a few basic questions (knowledge checks) for you to answer, and the end of each major section features a set of sample exam questions (practice questions).
Furthermore, throughout the books, you will also find boxes highlighting important elements such as key formulas, study tips, and more.
6. The Wiley CMAexcel Real Final Review
The accounting exam prep industry has a few different names for a final review. For example, the CPA Exam market calls this type of feature a CRAM course because you complete it about 1 week before you sit for your actual exam. And once again, Wiley is one of the only CMA review courses to supply this beneficial study option.
Wiley CMAexcel calls this feature an 11th Hour Review. This final review includes 16 hours of unique video lectures, mock exams, and more. This tool is the best for ensuring exam success because it enables you to strengthen all remaining weak areas and boost your confidence by exam day.
As a chronic accounting exam candidate (let's just say I love taking accounting certification exams), I can verify that the final review is nearly as critical as the entire review process itself. Some candidates call this last part of the review process revising, and when I talk with them, I sometimes learn that they are developing either inadequate or excessive revisions and final reviews. Therefore, with Wiley's 11th Hour Final Review, you're guaranteed to achieve the proper amount of CMA revision and final review.
7. Live Virtual Classroom Options
If you're used to learning in a traditional classroom environment, then check out Wiley's options for live virtual classes. If you purchase the Platinum course, then you'll have access to Wiley's virtual classroom series. In short, instructors teach online according to a regular schedule. What's more, instructors and students can even interact in real-time, just as they could in a face-to-face setting. In fact, Wiley is one of very few CMA courses to offer this level of personal instruction.
Other Wiley CMAexcel Products
If you don't have the money for the Platinum or Pro courses, you could also purchase one of Wiley's additional products. Of course, you could also use these learning tools to supplement another CMA review, as well. However, these supplements alone live up to the Platinum course. And to pass the CMA on your first try, you might find that you need a full review course vs. a supplement alone.
I've also included a handy chart below to help make your decision process easier.
Wiley CMA 11th Hour Final Review
Of course, the 11th Hour Final Review is included in the Wiley CMA Platinum course. However, you can also purchase this cram course separately. Therefore, it's a good buy if you purchase another review that doesn't include a final summary.
Wiley CMA Exam Study Guide and Online Test Bank
Finally, Wiley also offers a barebone, stripped-down package that only includes a study guide (essentially, CMA books) and an online test bank. This package includes the following:
One or two Wiley CMA books, depending on whether you purchase just CMA Part 1, CMA Part 2, or both
Over 3,300 multiple-choice questions
28 sample essays
In contrast, though, it doesn't include some of the learning tools that a "full" CMA course like the Pro and Platinum courses have. So let's take a look at what's EXCLUDED in comparison to the Wiley CMA Platinum course:
11th Hour Final Review (and the corresponding 16 lecture hours associated with this feature)
Flashcards
Instructor Mentoring
Thousands of practice questions (you'll only get around 3,300 compared to 5,500 in the full course)
Video lessons
Study planner
Mobile app
Tracking tools and analysis like the Score Predictor and Content Recommender
Live virtual classes
Therefore, if you need some additional instruction beyond just reading and answering practice questions on your own, the Wiley CMA Exam Study Guide and Online Test Bank will likely be a letdown. This system is not a full course, so please don't rely on it for your entire review. The CMA exam pass rate is already pretty low, and the exam is very expensive to take. Therefore, you should only use this system to supplement your studies, as you'll need a full course to pass the CMA exam (that is unless you're exceedingly bright and already super familiar with the testable concepts).
Comparison of Wiley CMA Full Courses vs. Supplements
| | | | | |
| --- | --- | --- | --- | --- |
|   | Wiley CMAexcel Pro | Wiley CMAexcel Platinum | 11th Hour Final Review Supplement | CMA Exam Study Guide + Online Test Bank |
| Sample MCQs | 5,500 MCQs | 5,500 MCQs | 200 within 2 mock exams | 3,300 |
| Video lessons | 49 hours | 49 hours | 16 hours | |
| Study planner | | | | |
| Digital flashcards | 750+ | 750+ | | |
| Digital or print CMA books | | | | Print only |
| Essay questions | 70+ | 70+ | 4 within 2 mock exams | 28 |
| Access to Wiley CMA study group | | | | |
| Mobile app | | | | |
| Printed flashcards | | | | |
| One-on-one mentoring | | | | |
| Live virtual classrooms | | | | |
| Microsoft Excel for Accountants | | | | |
| | | | | |
| --- | --- | --- | --- | --- |
| Online Access Limit | Unlimited | Unlimited | 1-2 years | N/A |
Using the Wiley CMAexcel Test Bank
Although the Wiley CMAexcel test bank is fairly basic, it contains plenty of helpful tools for CMA candidates. Within the test bank, you can choose to do the following:
Study in test mode: tells the system to withhold the answers until you've completed all the questions in your practice set
Study in practice mode: commands the system to provide the answer and explanations immediately after you answer each question
Flag questions: affords you the chance to come back to questions at a later time
Isolate topics: lets you answer questions about specific topics or even subtopics
Filter questions: enables you to avoid questions you've seen or haven't seen before
Select question type: permits you to answer either MCQs or essay questions
Specify question number: allows you to dictate the number of questions within your practice set
Additionally, the test bank does a good job of emulating the Prometric exam environment that you'll see on your exam day. And while the system isn't a 1:1 replica of the CMA exam, we appreciate that the developers at Wiley CMA did so well with this detail.
What's more, the Wiley CMA test bank includes answer explanations for each of the questions I reviewed. However, I did notice that some of the answer choice explanations were pretty basic and not as helpful as I'd have liked. Therefore, I still think that Gleim CMA Review is the gold standard for test banks and answer explanations. The Becker CMA test bank is good, too, for the same reasons.
Reasons to Consider the Wiley CMA
1. The CMA Books Are Well-Written and Organized
To my surprise, I actually enjoyed reading the Wiley CMA books. CMA exam study materials are generally dull, but these review books are written in an almost narrative style. And from time to time, the author includes personal thoughts and provides real-world examples. Furthermore, the topics are often practical and feature discussions about what management accountants and strategic planning professionals do.
The explanation for this particular writing style is the fact that the IMA prepared the original material and is not a commercial review provider. And the IMA was trying to train CMAs as well as prepare them to pass the CMA exam. In contrast, review providers usually structure their courses in such a way to help candidates pass as quickly as possible. Both approaches have their merits. In this case, getting through the books may take a bit longer but should be less tedious.
2. Free Trial + Free Updates Until You Pass Guarantee
When publishers are confident in their products, they offer free trials and updates. And Wiley CMAexcel is no exception. At the bottom of this post, you'll see a button for a free Wiley trial offer. This offer includes two weeks of limited access to the Wiley course, and I recommend taking full advantage of this trial before committing to the course.
Besides, exploring the course for yourself is better than trusting any third-party evaluations. (That's right—including this review!)
3. Popular Online CMA Study Planner for Staying On Track (and Stress-Free) + Other Features
The Wiley CMA Pro and Platinum courses include an interactive study planner that you can customize according to your schedule. Additionally, email notifications will remind you of your scheduled study sessions. And the "Content Recommender" will identify any weak content areas you may have and direct your studies accordingly.
The course itself also presents various performance-tracking tools. For example, once you watch a lecture and answer some practice questions in test mode, the course will give you a green light. And if you don't perform as well, you'll see a yellow or orange light instead. As you get more and more green lights, you gain confidence in your progress. This virtual cycle helps you maintain the momentum you need to pass.
Finally, the Wiley courses also contain other exciting features like digital and printed CMA flashcards, an exam score predictor, access to an exclusive study group on Facebook, and unlimited practice/mock exams. In addition, if you go with the Platinum Wiley CMA course, you'll also get access to an extra course and certificate for "Microsoft Excel for Accountants."
The Downsides of Wiley CMAexcel
Because nothing is perfect, I'll identify some limitations of Wiley CMAexcel for you to consider.
1. Higher Price Points
However, for some of the Wiley products, more affordable options are just as good, if not better. For example, the Gleim CMA test bank is an affordable study option. Plus, Becker CMA is almost the same price as Wiley's CMA courses. But Becker offers more learning tools in its packages and has a stronger reputation.
2. Better Practice Questions Are Available Elsewhere
The questions in the Wiley CMAexcel test bank seemed a bit too basic for me. I know that on the actual CMA exam, candidates receive difficult application-based questions. So, I was a bit disappointed that the Wiley test bank didn't serve a lot of complex questions for me to answer.
Now, going through the practice questions easily without giving them too much thought and still getting a relatively good score feels great. But, knowing that the actual exam questions are wordy and complex leaves me with reservations. Therefore, because I need to pass my exams on the first try to save money and not get frustrated, I want my test bank to show me the most difficult questions too. And sadly, the Wiley test bank doesn't do that. In contrast, check out the Gleim test bank.
3. Some (Minor) Errors Not Fixed
In the past, I've received feedback on how Wiley fails to correct errors identified by their customers. I've seen this feedback in Wiley forums, with some of the comments dating back a few years. And the current Wiley website itself has some typos, too. However, most of the errors are minor and shouldn't impact your overall learning experience. (The Becker CMA courses, on the other hand, seem to be free of errors.)
Wiley CMAexcel vs. Gleim CMA Review
A lot of readers who are considering Wiley also ask me about Gleim. As a result, I've written in great detail about the differences between these two courses. So, you can see who wins the battle in my head-to-head Wiley CMA vs. Gleim CMA showdown.
Wiley CMA Discount & Wiley CMAexcel Coupon Codes
I sometimes receive very generous discounts from Wiley, so my Wiley CMA discounts should help make your purchase more affordable. To review all the Wiley CMAexcel discounts available, check out my CMA Review Discount page.
You can purchase Wiley CMA Part 1 and Wiley CMA Part 2 separately; however, the discounts are best when you purchase both parts together.
My Bloggers Who Used Wiley CMA Review
Susan (U.S.)
Wiley CMAexcel
Passed Part 1 on the first try
Yen (Vietnam)
Wiley CMA Learning System
Passed Part 1 and 2 on the first try
Hari (U.S./India)
Priscilla S Payne Award
winner, Jan/Feb 2017
Conclusion: Wiley CMAexcel Is Good for Most Candidates
Wiley CMA 2022 is great if you:
Need to pass the CMA exam on the first attempt and are comfortable paying a premium in order to achieve this goal.
Will benefit from the Wiley CMA video lectures.
Appreciate state-of-the-art online learning tools and features.
However, if you aren't convinced that Wiley is for you, check out this review of Wiley CMA vs. Becker CMA, another big name in the exam prep industry.
Get all the available Wiley CMAexcel discounts here!
SaveSave