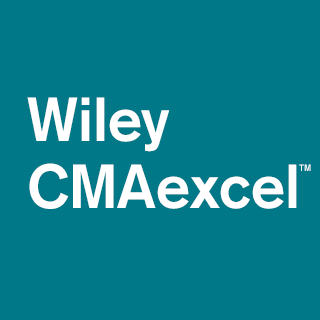 Wiley CMA has become a popular CMA review course. Let's take a look at why Wiley CMA exam prep has developed a following among CMA candidates.

A Comparison of 2 Wiley CMA Review Products
Wiley CMA Review offers 2 sets of study materials. Your first Wiley option is Wiley CMAexcel, which is their premium, state-of-the-art, all-in-one CMA study tool. In contrast, your second option is the Wiley CMA Learning System, a self-study pack with textbooks and a limited test bank. Disclosure: The I Pass Team may earn a small amount of compensation if you purchase from our links; our team uses these revenues to maintain the site and produce awesome free content just for you!
Wiley CMAexcel Course Comparison
| | | |
| --- | --- | --- |
| | Wiley CMAexcel | Wiley CMA Learning System |
| CMA Textbooks | | |
| CMA Test Bank | | (questions are limited) |
| Online Review | | |
| Classroom-Style Video Lectures | | |
| CMA Flashcards | | |
| Free Updates | | |
| Online Study Planner | | |
A Detailed Exploration of Wiley CMA Products
Let's take a look at all of the products under the Wiley CMAexcel umbrella. There are 3 main courses:
Wiley CMAexcel Platinum
Wiley CMAexcel Gold
Wiley CMAexcel Silver
Aside from the 3 main course offerings, Wiley CMAexcel also has supplements available:
CMA 11th Hour Final Review
CMA Learning System
CMA Flashcards
I know: that's a lot of options! However, you shouldn't need a supplement unless you have another course, like Gleim CMA. So, that really leaves you with just 3 courses to choose from if you don't have any CMA exam prep yet.
I'll supply you with information about all of the available Wiley CMA products. But first, I'll provide my recommendation for your Wiley CMAexcel course. It's the best-selling and most popular Wiley CMA product.
This Wiley course is the best CMA review option with the most value-added features. Let's take a look at what I like about the Wiley CMA Platinum Course.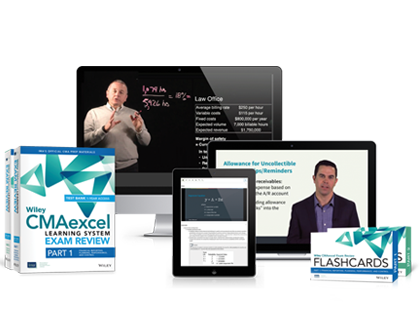 1. Effective Bite-Sized CMA Video Lectures
One of Wiley's stand-out features is their high-quality video lectures. Within these lectures, Professor Doug Clinton covers 64 hours of exam content. And, he is one of the best management accounting teachers I've seen: knowledgeable, lively, well-spoken, and to the point.
Professor Clinton has been actively teaching for more than 15 years. Furthermore, he is the Senior Content Advisor to the IMA's Research Centre of Excellence and a member of the ICMA Board of Regents (regulators of the CMA exam).
Wiley structures their video lectures into bite-sized segments. So, these videos let you consume short, precise presentations of the most important information on that particular topic. You can easily finish a video during your commute or lunch break.
2. Free Trial + Free Updates Until You Pass Guarantee
When publishers are confident in their products, they offer free trials and updates. And Wiley CMAexcel is no exception. At the bottom of this post, you'll see a button for a free Wiley trial offer. This offer involves 2 weeks of limited access to the Wiley course, and I recommend taking full advantage of this trial before committing to the course.
I suggest the trial to you because having an opportunity to explore the course for yourself is better than trusting any third-party evaluations (that's right, including this review!).
3. The Largest CMA Test Bank
When you use the Wiley CMA Platinum Course, you'll have access to over 5,500 multiple-choice questions (MCQs) and 140 essays. All of those questions and essays make this the largest CMA test bank available. Therefore, if you learn best by practicing questions, this review course will not disappoint. And you can forget your fear of memorizing the questions because that's just not going to happen with this course.
You may be asking, "Do I REALLY need nearly 6,000 questions (including essays)?" Yes. I say this because your weak areas may vary from those of other candidates. What if you really struggle with a few particular topics, and your chosen CMA test prep provider only has a handful of questions about those topics? Clearly, the peace of mind that comes from having the largest bank available is pretty priceless, if you ask me.
4. The Wiley CMAexcel Platinum Course App
If you need to study offline due to internet access issues, commuting challenges, or other reasons, then you need this course because it's the ONLY one to include an app. No other CMA exam prep offers this study-on-the-go feature and embraces the busy lives of CMA candidates like this course. If you need a CMA exam app, this is your must-have course.
5. Access to Instructors When You Have Questions
No other CMA course allows you to interact with active professors. In fact, Wiley names the professors you will be working with, so there is never a doubt if you are talking to a real expert or not.
As you have questions, you simply post them within the Instructor Mentoring tool and a professor will answer your question in 48 hours or less.
6. The Wiley CMAexcel Real Final Review
The accounting exam prep industry has a few different names for a final review. For example, the CPA Exam market calls this type of feature a CRAM course because you complete it about 1 week before you sit for your actual exam. And once again, Wiley is the only CMA review course to supply this beneficial study option.
Wiley CMAexcel calls this feature an 11th Hour Review. This final review includes 14 hours of unique video lectures, mock exams, and more. This tool is the best for ensuring exam success because it enables you to strengthen all remaining weak areas and boost your confidence by exam day.
As a chronic accounting exam candidate (let's just say I love taking accounting certification exams), I can verify that the final review is nearly as critical as the entire review process itself. Some candidates call this last part of the review process revising, and when I talk with them, I sometimes learn that they are developing either inadequate or excessive revisions and final reviews. Therefore, with Wiley's 11th Hour Final Review, you're guaranteed to achieve the proper amount of CMA revision and final review.
7. Popular Online CMA Study Planner for Staying On Track (and Stress-Free) + Other Features
Wiley CMA Review uses the same infrastructure as Wiley's popular and proven CPAexcel review course. The study planner is interactive, and you can customize it greatly according to your schedule. Additionally, email notifications will remind you of your scheduled study sessions and identify any weak areas you may have.
The course itself also presents various performance tracking tools. For example, once you watch the lecture and answer some practice questions in test mode, the course will give you a green light. And if you don't perform as well, you'll see a yellow or orange light instead. As you get more and more green lights, you gain confidence in your progress. This virtual cycle helps you maintain the momentum you need to pass.
Finally, this course also contains other exciting features like CMA flashcards, a student discussion area, and unlimited practice/mock exams. I've said it before and I'll say it again: Wiley CMAexcel's Platinum Course is the only course around that includes these 3 features.
Other Wiley CMAexcel Products
If you don't have the money for the Platinum course, you may want to consider one of Wiley CMAexcel's other courses. Although, none of them live up to the glory of the Platinum course, so you may want to consider splurging to get the amazingly wonderful, value-packed option that is the Platinum course.
I've also included a handy chart below to help make your decision process easier.
Wiley CMA Gold Course
The Wiley CMAexcel Gold Course is one step down from the Platinum course. The Gold CMA Course includes everything from the Platinum Course, EXCEPT:
11th Hour Final Review (and the accompanying 14 hours of additional lectures)
Flashcards
Wiley CMA Silver Course
The Wiley CMA Silver Course is 2 steps down from the Platinum Course. But there are a lot of features that you won't get, so let's take a look at what's EXCLUDED:
11th Hour Final Review (and the corresponding 14 lecture hours associated with this feature)
Flashcards
Instructor Mentoring
Wiley CMA Books (you'll receive Wiley PDF books instead)
Thousands of practice questions (you'll only get around 1,000)
Therefore, if you learn best by drilling questions, the Silver course will likely be a letdown because there are far fewer questions in this course than most other options available.
The Wiley CMA Learning System is Wiley's test bank. This test bank includes 3,800 questions and 90 essays. Some of these questions and essays are included in the Wiley CMA books; however, most are available on the online platform. The Learning System does not include apps, lectures, flashcards, final reviews, instructor help forums, or additional practice questions, among other things.
So, if you purchase the Learning System, you should know that it is purely a supplemental offering. This system is not a full course, so please don't rely on it for your entire review. The CMA exam pass rate is already pretty low, and the exam is very expensive to take. Therefore, you should only use this system to supplement your studies, as you'll need a full course to pass the CMA exam (that is unless you're exceedingly bright and already super familiar with the testable concepts).
Overview of Wiley CMAexcel Courses
| | | | | |
| --- | --- | --- | --- | --- |
| | Wiley CMA Platinum Course | Wiley Gold CMA Platinum Course | Wiley Silver CMA Platinum Course | Wiley CMA Learning System (Wiley Test Bank) |
| CMA Textbooks | Yes, you'll receive 2 CMA books. | Yes, 2 CMA books come w/ the Gold Course. | No, only digital textbooks are available. | Yes, you'll receive 2 CMA books. |
| 5,000 Questions + 140 Essays | Yes, you'll have the largest test bank available. | Yes, you'll get access to all these questions and essays. | No, less than 1,200 questions and essays come with this course. | No, the Wiley CMA test bank includes less than 4,000 questions and essays. |
| Instructor-Led Videos | Yes, you'll have access to 64 lecture hours. | Yes; however, you'll only receive 50 lecture hours. | Yes, 50 hours come with this course. | No, lectures are not included. |
| Instructor Mentoring & Assistance | Yes, both instructor mentoring & assistance are features of this course. | Yes, instructor mentoring & assistance come standard. | No, neither feature is included. | No, these features are unavailable for this product. |
| Flashcards | Yes, this course includes flashcards. | No, you must purchase flashcards separately. | No; however, you can purchase flashcards a la carte. | No, flashcards require a separate purchase. |
| Free Updates & Access Until You Pass | Yes, you'll receive free updates and access until you pass. | Yes, updates & access until you pass come in this package. | Yes, online updates are free & access until you pass are standard. | No, updates are not free. Access is limited to 1 year when you purchase only one part; if you purchase both, the access length is 2 years. |
| Online Study Planner | Yes, this course features a state-of-the-art study planner. | Yes, your course includes a study planner. | Yes, you'll receive a study planner. | No; a study planner is not available. |
| 11th Hour Final Review | Yes, you'll get the final review in this course. | No, this feature is unavailable. | No, this feature is not included. | No, a CMA final review is not included. |
| CMA Study App | Yes, this course includes an app. | Yes, you'll get a CMA study app. | Yes, you'll receive a CMA app. | No; an app is not available. |
The Downsides of Wiley CMAexcel
Because nothing is perfect, I'll identify some limitations of Wiley CMAexcel for you to consider.
1. Higher Price Points
Nearly all of Wiley CMAexcel's CMA courses and products cost more than other tools on the market. But in some cases, this makes sense. For example, the Platinum course is pricey, but it has no equivalent. For this reason, I think the price of the Platinum Course is fair. However, for some of the Wiley products, especially the Learning System (Wiley CMA test bank), more affordable options that are just as good if not better are available (i.e., the Gleim CMA test bank).
2. Silver CMA Course Likely Requires Additional Supplementation
The Silver Course by Wiley only includes around 1,200 questions and essays. In my opinion, this number is not nearly enough to develop a robust understanding of the materials. And it's certainly not enough if you have weak areas on which you need to focus.
Consequently, I know of many Wiley users who've gone on to purchase another test bank to supplement their studies. Supplementing adds additional costs to the Silver Course, so I'd recommend getting a more comprehensive course instead (i.e., the Wiley Platinum or Gold course; the Gleim Premium CMA Review Course).
3. Some (Minor) Errors Not Fixed
In the past, I've received feedback on how Wiley fails to correct errors identified by their customers. I've seen this feedback in Wiley forums, with some of the comments dating back a few years. While this fact doesn't reflect well on their customer service, most of the errors were minor.
Wiley CMA Discount & Wiley CMAexcel Coupon Codes
I do receive very generous discounts from Wiley, so my Wiley CMA discounts should help make your purchase more affordable. To review all the Wiley CMAexcel discounts available, check out my CMA Review Discount page.
You can purchase Wiley CMA Part 1 and Wiley CMA Part 2 separately; however, the discounts are best when you purchase both parts together.
My Bloggers Who Used Wiley CMA Review
Susan (U.S.)
Wiley CMAexcel
Passed Part 1 on the first try
Yen (Vietnam)
Wiley CMA Learning System
Passed Part 1 and 2 on the first try
Hari (U.S./India)
Priscilla S Payne Award
winner, Jan/Feb 2017
Conclusion: Wiley CMAexcel Is Great for Most Candidates
Wiley CMA 2022 is great if you:
Need to pass the CMA exam on the first attempt and are comfortable paying a premium in order to achieve this goal.
Will benefit from the Wiley CMA video lectures.
Appreciate state-of-the-art online learning tools and features.
However, if you aren't convinced that Wiley is for you, check out this review of Wiley CMA vs. Becker CMA, another big name in the exam prep industry.
Get all the available Wiley CMAexcel discounts here!
SaveSave