HOCK International CMA is a popular CMA course among international CMA candidates. But why do international CMA candidates trust it so much? And is it also good for candidates in the United States? We answer these questions, and more, so you can determine if HOCK CMA 2023 is the right course for you!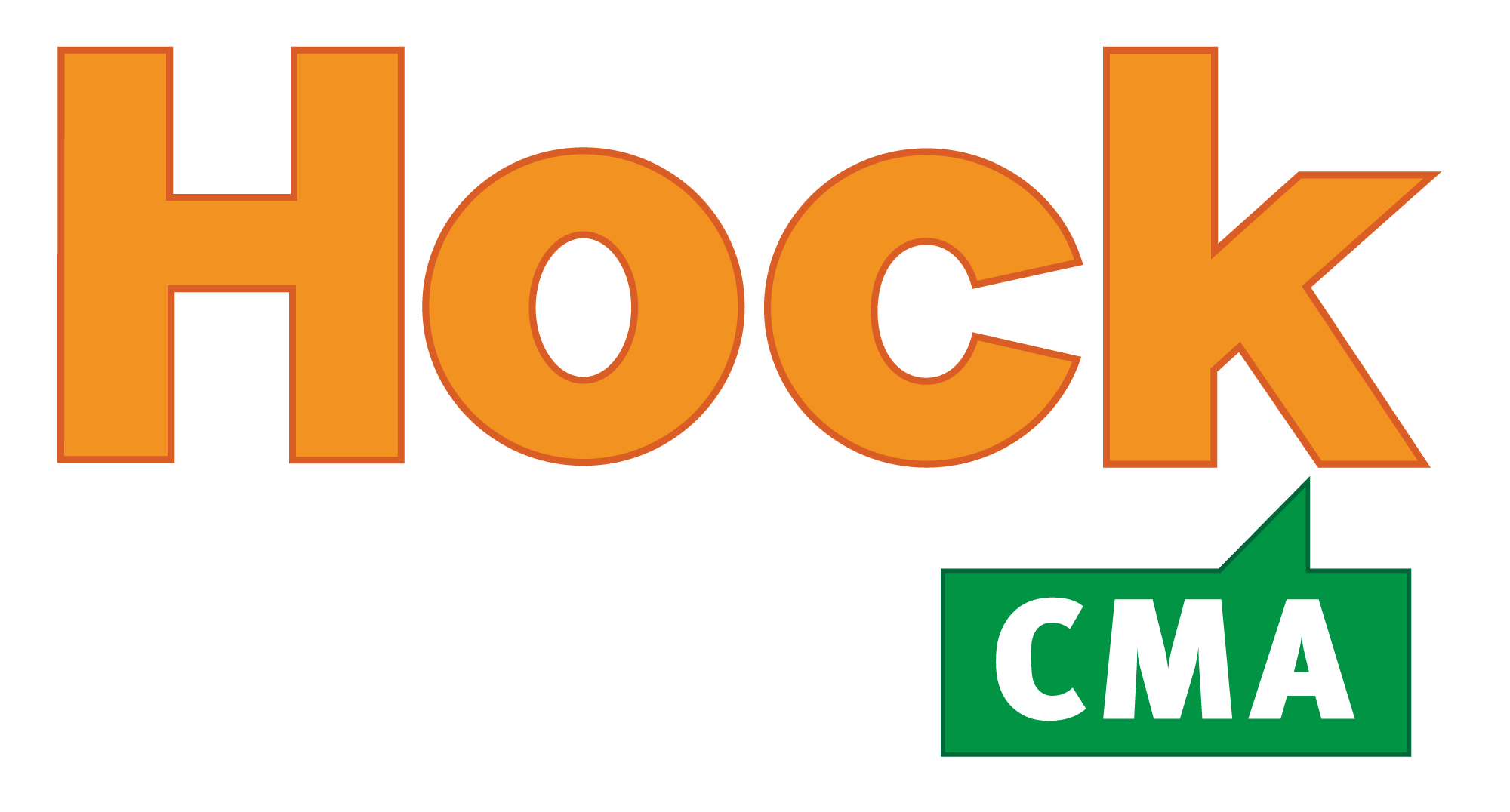 HOCK International History
In 2000, Brian Hock, CMA, CIA, created Hock Training in Moscow, Russia. He did this in order to supply candidates with an interactive classroom-style course. Based on the success of Hock Training, Hock created a U.S.-based company called HOCK International in 2003.
Contents of HOCK CMA Prep
For CMA review, HOCK offers several options:
Note: HOCK used to have a few other options called the CMA Crash Course and MCQ Practice, as well as the HOCK CMA Live Step-by-Step Course. However, HOCK has discontinued these products.
Please also note that the HOCK CMA Review Complete course is also the only one to include the "You Pass or We Pay" guarantee. Plus, it's the only HOCK package that includes HOCK's new "Live Short Courses," which is a $900 value. For these reasons, it wins our highest recommendation!
HOCK Course Features
When you purchase the HOCK CMA Review Complete course, you'll receive:
1,260 textbook pages: You can select either HOCK CMA textbook PDF or hardcopy books, though you'll need to pay an extra fee if you want the printed HOCK CMA manuals.
62 hours of videos: Brian Hock will lead you through the materials by following a classroom-style format.
4,008 multiple-choice questions: The test bank provides answer explanations for all answer choices.
83 essays: Each essay includes detailed answer explanations, and some of the essays also include video walkthroughs.
656 flashcards: The CMA flashcards from HOCK International come in a PowerPoint file.
4 mock exams: The mock exams introduce you to the real exam before you take it. Additionally, they include brand-new questions and essays not found elsewhere in the course.
PassMap Interactive Study Plan: This automated exam planner identifies the due dates for all your assignments.
HOCK Live Short Courses: Although HOCK's Live Short Courses normally cost $12-$24, they are included with your purchase of HOCK CMA Review Complete.
"You Pass or We Pay" Guarantee: HOCK is the only CMA review provider to pay for a candidate's second exam attempt, so long as you adequately completed the course and still failed on your first attempt.
Because HOCK is the only course with a guarantee that provides a financial commitment, not just a refund, we know that HOCK really stands behind its products. Additionally, all HOCK CMA packages include access until you pass, so your course won't expire.
Strengths of HOCK CMA Materials
1. The Course Delivers a Classroom-Style Learning Environment
HOCK presents all of its 62 video hours in a classroom-style format. As a result, we like how this course has maintained its classroom roots even though candidates can now access the lectures online.
What's more, the lectures cover the most critical topics by showing Brian Hock demonstrating the important points. Hock also explains example problems and complex calculations in the video lectures. With HOCK CMA, you study with Brian Hock himself.
If you are a visual learner or feel more comfortable having a professor lead you through the course materials, you will likely enjoy the HOCK CMA videos. And if you learn best through video lectures, you will also develop a deeper level of understanding than if you only read a textbook.
Additionally, the HOCK CMA exam review lectures include Closed Captioning (CC). We love this feature because:
Subtitles help candidates understand the material better because they are reading and listening to it
Closed Captions also help with focus because candidates are listening, watching, and reading, which keeps candidates highly engaged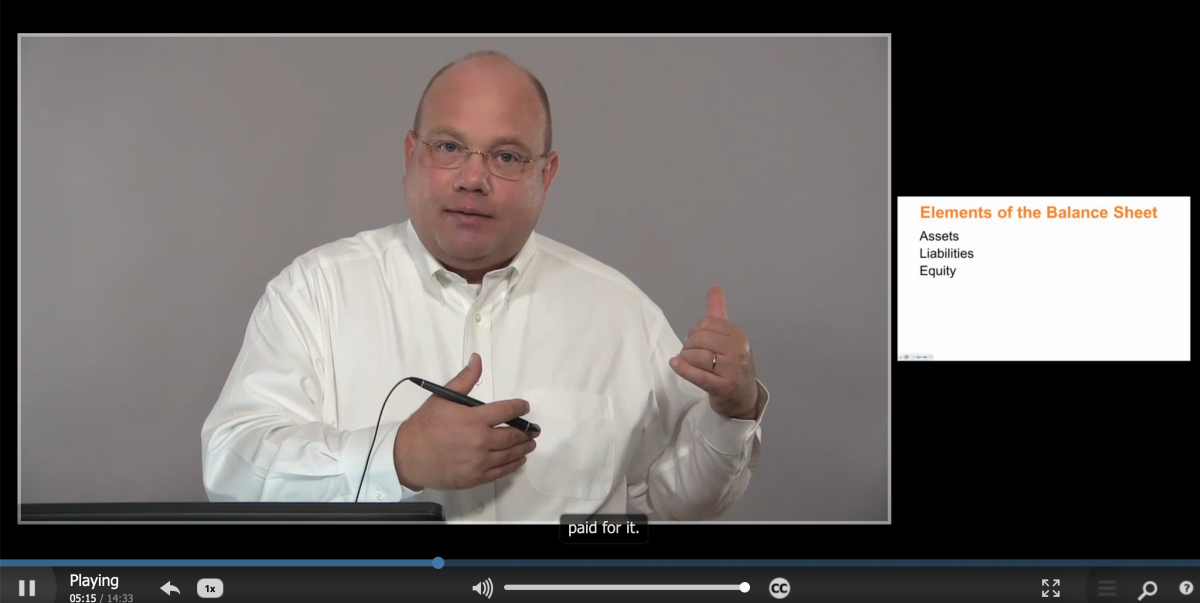 2. HOCK Provides More In-Depth Explanations
HOCK CMA's notes are in-depth, clear, and user-friendly. Thus, candidates with little to no accounting background can benefit from studying with these notes.
Also, HOCK's CMA candidates have mentioned that studying with textbooks is easy because HOCK prints the textbook pages on paper that is perfect for highlighting. Moreover, the books afford candidates space to take notes while listening to the video lectures.
Finally, HOCK also supplies detailed answer explanations for both the correct and incorrect answer choices. In fact, HOCK CMA Prep is only one of two courses (along with Gleim) to provide this level of explanation.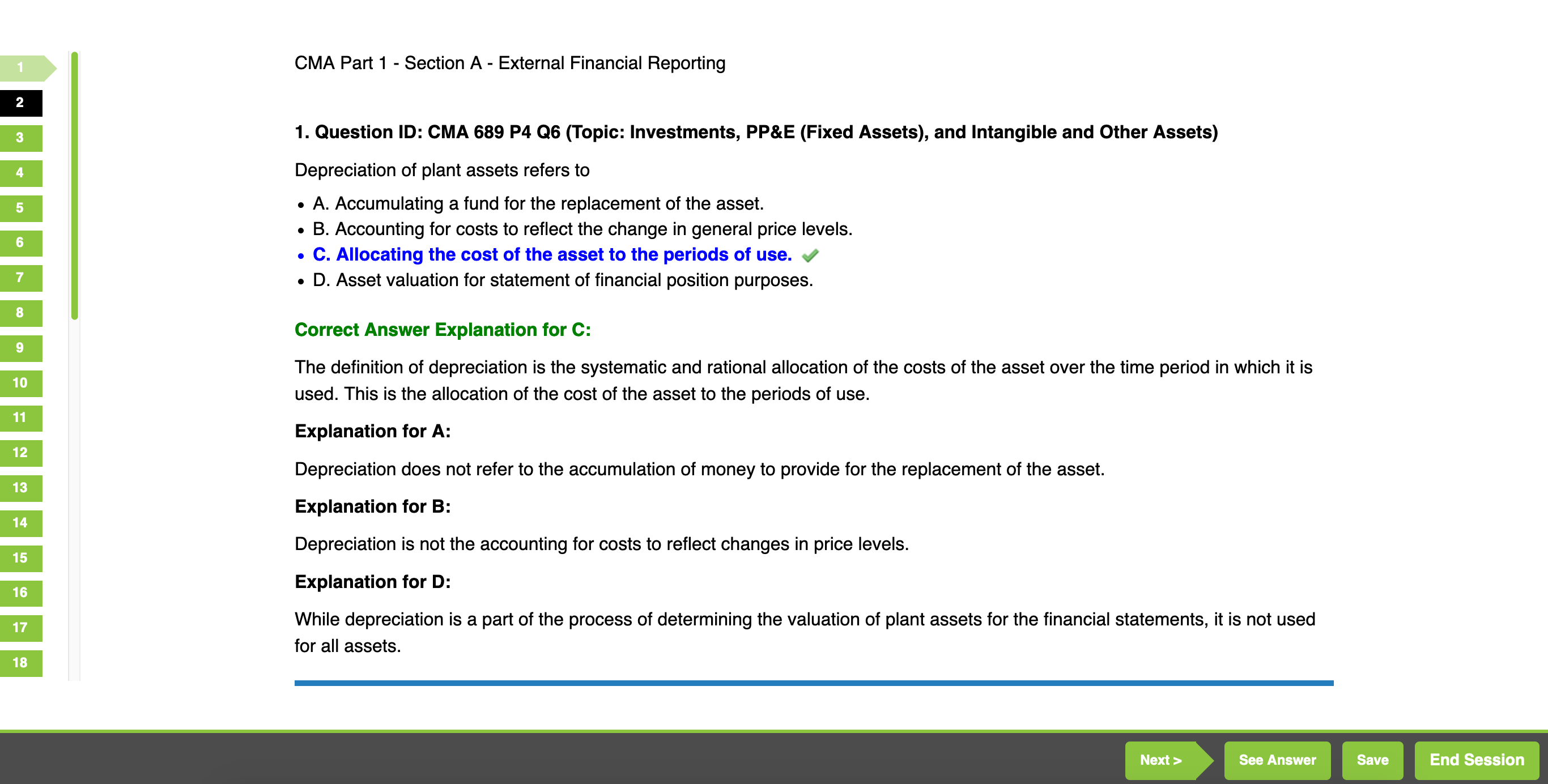 3. The HOCK Guarantees Are Industry-Leading
In the process of passing the CMA exam, many candidates find that they really need an access-until-you-pass policy for their review course. And luckily, HOCK contains such a policy. With access until you pass, your course won't expire. And for this reason, you also won't have to pay any costly reactivation or update fees.
Also, HOCK is the only CMA review provider to offer a "You Pass or We Pay" guarantee. With this ground-breaking guarantee, if you fail the exam on your first attempt, HOCK will pay the registration fee for your next exam attempt. In order to qualify for this guarantee, you must meet the following simple criteria:
Complete 95% of all the video lectures (this equates to about 59 lecture hours)
Score 75% or higher on the online section reviews (you can take these more than once to achieve a score of 75%+)
Earn a score of 75% or better on the mock exam (like the online section reviews, you can re-take the mock exam as many times as necessary to achieve a score of 75%+)
Finally, you can only qualify for the "You Pass or We Pay" guarantee if you have the HOCK CMA Review Complete Course package.
4. The Teacher Support Guarantee Adds an Extra Layer of Assistance
With HOCK International CMA, you can directly ask your instructors' questions. Only the Review Complete and Review Standard packages come with this option, but it's well worth the price. As with the updated materials, you'll have access to Teacher Support until you pass, so there's no need to try to cram in questions early on.
Less important but still helpful are HOCK's unlimited offers of technical and exam support. Even if you only purchase the question bank or the video lectures, HOCK will help you access them properly on any device. Additionally, with the two full review courses, HOCK mentors can help you register for the exams themselves.
5. HOCK Offers Interest-Free Financing
HOCK used to be unusual in that it was the only CMA review provider to offer financing for its products. Now, though, many other test prep companies have partnered with Affirm or other lending companies to offer payment plans. However, HOCK's in-house financing is the only one that doesn't require a credit check and isn't limited to U.S. customers.
Plus, the HOCK financing is completely interest-free, which is rare as well. Personally, I would lean toward using the financing as you won't be charged interest, and no credit check is required. And with financing, you will have more funds free to pay for the actual CMA exam expenses!
6. Exam Emulation
The HOCK CMA platform mirrors the Prometric testing environment. This will help you become familiar with the functionality of the CMA exam before the big day. It's important not to waste precious time during your actual exam learning the exam interface. Luckily, since HOCK emulates the real exam, you don't have to; rather, you'll know how each tool, button, and screen works before you even enter a testing center.
7. Free CMA Webinars, Live Short Courses, and Deep Dive Courses
In the past, HOCK used to have a final review that you could purchase called the CMA Crash Course + MCA Practice. However, HOCK has discontinued that course. But now, HOCK CMA offers three new HOCK Events that you should know about. Basically, these learning events are held over Zoom, but participants have access to the recording after class. They are beneficial as supplements to your other CMA prep materials because they give you opportunities to practice MCQs and essays as you interact with HOCK's CMA experts and fellow class participants.
First, HOCK has free webinars that you can download on the HOCK website. These on-demand offerings cover broad topics on the CMA exam and accounting career advice.
Second, HOCK has live short courses that cover specific CMA exam content. For example, HOCK had a short course about Activity Based Costing that ran for 2 hours. The live short courses cost $12-$24, depending on how many courses you take and whether or not you're a HOCK student. However, they are free with the purchase of HOCK CMA Review Complete.
Finally, HOCK also offers Deep Dive Courses, too. The price depends on the course, but you'll yet a thorough review of specific topics. Furthermore, you can check on upcoming Deep Dive Courses on Hock's website.
Limitations of HOCK CMA Review
1. HOCK CMA Test Bank May Not Tough Enough for Some Candidates

Some candidates find that the HOCK practice questions are not tricky enough when compared to those of Gleim CMA Review. Specifically, they have complained that HOCK has fewer complex MCQs that span long and technical scenarios. However, I don't think this is necessarily a bad thing. And I have many readers who don't like questions that are so complex that they have a hard time following the fact pattern. Based on the actual CMA exam, it doesn't appear necessary to practice using questions with extraordinarily long fact patterns.
While HOCK International CMA has added more questions to its test bank in recent years, it still provides far fewer essay questions than some other CMA exam prep providers. And because candidates often have issues with the CMA exam essays, your test bank should also include a fair number of essays with which to practice. HOCK's CMA course includes 83 essays, and this may be enough to conquer these types of questions. Of course, it really depends on how many essays you feel you want to practice. Personally, I learn best through MCQs, but I know that every candidate is different.
We do like the fact that HOCK offers a good amount of MCQs in its bank, and we do find the answer explanations to be quite helpful and comprehensive.
My Blogger Who Used HOCK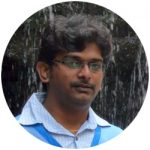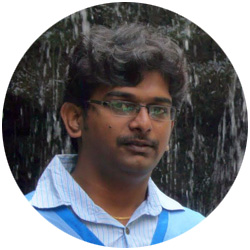 My CMA blogger Vinoth resides in India, and he successfully used HOCK CMA Prep to pass the CMA exam. Prior to sitting for the CMA exam, Vinoth had already earned an MBA and had over a decade of finance experience. He pursued the CMA designation because he wanted to set himself apart from others, and he knew the U.S. CMA was the global designation that would enable him to do just that. Now, Vinoth is a CMA and works in a management position at a multinational oil company.
Vinoth used my CMA comparison chart to select HOCK. And in the end, Vinoth stood by his decision because he felt that HOCK covered "the content from the beginning until the end." Additionally, Vinoth used Gleim CMA's test bank to help him account for the fact that HOCK had fewer questions than Gleim.
My CMA Review Recommendations
HOCK CMA Exam Prep is perfect for those who have absolutely no accounting background whatsoever. So I do highly recommend the HOCK CMA course overall based on the large volume of MCQs, helpful videos, the "You Pass or We Pay" Guarantee, and other factors that set HOCK CMA apart from the other courses.
However, because the HOCK CMA course is good for some candidates but not all, you may want to consider the alternatives.
HOCK International CMA vs. Gleim CMA Review
To compare HOCK vs. Gleim CMA, look at the most important aspects of both first. Both HOCK International CMA and Gleim CMA Review provide candidates with access until you pass and industry-leading guarantees.
However, Gleim CMA Review is one of the best CMA review courses available. And when I poll my readers about their chosen CMA review course, Gleim CMA Review is also a popular response. Overall, I'm not surprised by these facts because Gleim created the very first CMA course in 1980 and continues to produce high-quality exam prep.
However, in comparing Gleim vs HOCK CMA, I want to point out that Gleim does not have a "You Pass or We Pay" guarantee. You can receive a refund on Gleim if you complete its review but fail the exam. However, they won't pay for your next attempt. So even though Gleim has a great guarantee, it's still not as generous or exciting as HOCK's.
Lastly, HOCK is less expensive than Gleim, so if you have a strict budget, HOCK may be best suited for your needs (and wallet)!
HOCK CMA vs. Wiley CMAexcel
Wiley CMAexcel is another very good course option to consider for a few reasons. First, Wiley offers a large amount of video lecture hours. Second, the Wiley CMA test bank is almost as good as the Gleim CMA test bank, although it does not include as many essay questions.
However, Wiley CMAexcel has its issues as well. For example, Wiley doesn't include as many guarantees as HOCK or Gleim. Instead, Wiley only offers access until you pass and a 10-day refund policy. Consequently, both Gleim and HOCK CMA provide far better monetary guarantees than Wiley CMAexcel.
Moreover, Wiley CMA is the most expensive CMA review course available. Even with a Wiley CMA discount, you'll still pay more than you would for either Gleim or HOCK.
And yet, Wiley CMAexcel includes many features, so that is likely why there is such a large price gap when compared to similar options. However, CMA candidates on a budget still might want to consider HOCK instead.
Becker CMA vs. HOCK CMA
And finally, let's compare HOCK CMA and Becker CMA. Becker is a well-known name in the exam prep industry that has been around for more than 60 years. Both CMA reviews include plenty of engaging videos, access until you pass, live online classes, and enough high-quality practice questions and other learning tools to help you pass the CMA exam. Plus, both companies work to keep their study materials relevant and up-to-date. In fact, Becker CMA recently underwent a complete overhaul of its CMA courses. And now, the Becker CMA courses are better than ever.
However, these two great courses differ in some ways, too. For example, HOCK CMA doesn't use adaptive software in its courses. Becker, though, uses Adapt2U Technology from Sana Labs. Basically, this technology tracks your performance as you work through sample questions. To start, it actually starts to learn what CMA Exam topics you've conquered and what you haven't. And then, the platform gives you an indicator of how close you could be to passing the CMA Exam.
Additionally, neither Becker nor HOCK offers audio lectures.
And finally, Becker CMA and HOCK CMA have different approaches to personalized academic support. HOCK users can post a question to the HOCK Student Forum, where an accounting expert will respond with a detailed answer.
Also, as a HOCK CMA customer, you'll receive unlimited email access to the HOCK CMA team, allowing you to reach out whenever you need help.
Becker, however, takes support one step further with live virtual one-on-one tutoring.
So depending on how you learn, HOCK CMA or Becker CMA could both work for you. Check out this in-depth comparison of HOCK CMA vs. Becker CMA.
HOCK CMA Discounts & HOCK International CMA Cost
Brian Hock has offered a very generous HOCK CMA Review discount just for my readers.
And this discount brings the cost of HOCK CMA Review Complete down significantly, further boosting the savings you'll enjoy by choosing HOCK (and all without sacrificing quality).
Save on Hock CMA!
Therefore, the price for the HOCK International CMA review is as follows:
The HOCK CMA Review Complete costs $1,529, but the price drops with my discount.
The CMA Review Standard costs $729 before discounts.
And finally, the HOCK CMA Videos cost $679, the HOCK Test Bank is $529, and the HOCK textbooks are $319. So as you can see, the best value is the HOCK CMA Review Complete because it contains the most learning tool combined with a great pass guarantee.
Given my discount and the numerous features included with HOCK Review Complete, it receives my highest recommendation. I know that it has all the tools you'll need to pass the CMA exam, plus it includes the industry-leading "You Pass or We Pay" Guarantee.
Conclusions about HOCK CMA Prep
HOCK CMA is a very good course, especially for non-accounting majors that need thorough instructions for each concept.
Additionally, we know that HOCK is very confident about its product given its guarantee, so we have no hesitation in recommending the HOCK CMA course to all CMA candidates.
Still not sure about HOCK? Check out our comparison of the best CMA review courses.
HOCK's Study Materials
With the mission to produce high-quality exam prep worldwide, HOCK International currently provides prep materials for these exams:
Further Reading