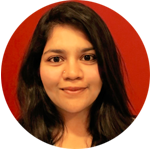 Saher is a 21-year-old Indian residing in Dubai. She took Part 1 and 2 back-to-back after passing her CFA level 1 in June.

Being a graduate trying to accomplish the mission of tapping her first job, I found myself with tons of time on my hands and nothing to do. I completed my CFA level 1 in June, and level 2 was a year away. Taking the CMA exam was my way to keep busy, and at the same time, build up the credentials on my CV.
Unfortunately, for me, I found myself registering for the examination in September, meaning I had to take the exam before the end of the testing window in October.
I did attempt both part 1 and part 2 in October 2016 and successfully passed with a 410 on Part 1 and 400 on Part 2.
What Helped Me Pass the Exam?
If you are a fresh graduate with a Finance and Accounting background, you'll find yourself simply revising most of the content in both parts.
Scheduling the Exam
Many advised me to take the Part 2 exam first, because Part 2 is considered to be easier than Part 1. Let me further elaborate — the exam questions and difficulty of both papers are absolutely the same. It is the content of the parts that differ in difficulty. Part 2 covers concepts that are easier for us to identify with, while Part 1 has a more complex syllabus.
Study Routine
Since I was unemployed, I had a good amount of time to spare to prepare for the examination. Surprisingly, I didn't find myself sitting for extremely long hours to prepare for this exam.
I studied for 4 to 5 hours a day on weekdays, and only 2 to 3 hours on weekends.
What I've Learned in the Process
Step 1
Be absolutely familiar with basic terms, concepts, and definitions. The knowledge of the basics is what they want to test.
Step 2
Do not mug. Understand the formulas involved and their mechanisms. If you understand the formula, you shouldn't have problems articulating the definition, too.
Step 3
Whether you use Becker, Gleim, or any CMA prep material, make sure to take complete advantage of the practice questions. Attempt all questions and practice tests/exams. Keep a target of 80-100 questions in the last 2 weeks.
Step 4
Flash cards are a blessing. For the last 3 to 4 days, prepare a set of flash cards for Part 1 and Part 2 with important concepts and the associated formulas. This will keep you up to date.
Step 5
Don't be afraid of the essay section. The essay section was very intimidating for me. If you take the CMA exam for the first time, you will feel the same. You are not expected to write long stories or theories. Again, they want to test your knowledge of the basic concepts.
Note from Stephanie
It is impressive how one can pass the CMA exam within the same testing window. Now, you did it in the same month! I am sure many of my readers can't wait to get your study tips.
Being a fresh graduate is certainly a big advantage as you said. But I am sure it's more than that — I can see how thorough you attempted to go through the concepts, the practice questions, and the mock exam. This should also be a big reason of your success.
If you are young and free like Saher, and are thinking whether the CMA exam is a good idea, check out this page I wrote for student candidates.