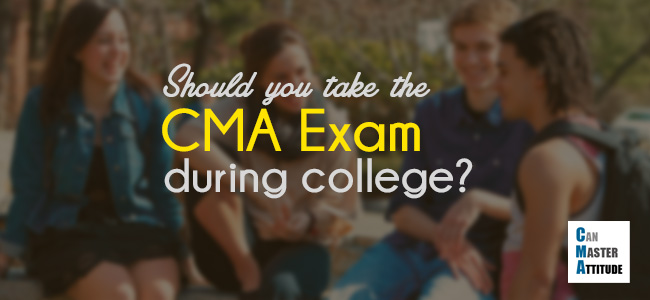 If you are a CMA student thinking about taking the exam early, you likely have a few questions. Is taking the test early worth it? Only you can know for certain if it's right for you but I hope to be able to provide enough information in this post to help you make an informed decision on this topic.
I've got more questions lately from students who are interested in getting the CMA certification, and specifically on whether it makes sense to take the CMA exam as student candidates. Here are my thoughts together with sharing from fellow young candidates.
When Should You Take the CMA Exam?
The magic question for many students is, when should you take the CMA exam? If you meet the IMA requirements, you can take the CMA exam any time, provided you have registered, met the education requirements, paid your IMA membership fees, and joined the CMA certificate program.
Once you have joined the certificate program, you have 12 months from this date to start taking the CMA exam (it has two parts, taken separately), and you must complete the CMA program within three years from this date. So while you can technically take the exam any time you choose, once you join the CMA certificate program, there is a timeline on when you need to take the actual exam.
If you're considering taking the and you are currently still in school, then it's important to weigh all the pros and cons. You can wait until you are finished with college to register for and take the exam. However, some people choose to take it while they are still students. This is allowed and there are some benefits.
Should students sit for the CMA exam?
Can Students Take the CMA Exam?
To answer this question, see the video below. I also recap the video in text for you below.
Please find below the text version for your reference.
The Advantage of Taking the CMA Exam Early
According to data from IMA, 23.9% of CMA candidates globally are students. (source: SF Magazine, August 2015). This means they are taking the exam early before they have graduated from their study program. Is this a good plan? Why do people choose to take this exam early? Let's explore some of the reasons students choose this path to their CMA.
1. Stronger Ability to Memorize and Retain Information
It isn't surprising that your ability to memorize and retain information is much better at a younger age. Most (but not all students) are young, as many people enter college right out of high school and at the start of their careers. If this is the case for you, it may be easier for you to learn and hold onto information you learn.
As we graduate, our book-smartness starts to depreciate, due to age as well as the fact that we have lots of things to take care of in our daily lives. Imagine the extra things you need to handle like a spouse, kids, loans, mortgage, household chores, bosses, colleagues, clients, and work projects. You won't have many brain cells left for studying. This is why it's much easier for students to take the exam while they are still fresh and free of these responsibilities.
2. It's Easier to Find Mentors at School
Hallie D'Agostino, a student who took the CMA exam during college, told us how her mentor, Professor Wendy Tietz, was instrumental in helping her get through her studies. Can you think of how a great mentor might be useful to you through the process?
It is often easier to find mentors at the college environment, versus the commercial world where your future boss may or may not be as supportive. At the college level, many people are going through the same thing, or have just gone through the same thing, and they are willing to help you get a leg up in your own start to your career.
3. A Chance for the IMA CMA Scholarship
Another advantage of taking the CMA exam as students is the eligibility for the IMA CMA scholarship, which allows students to take the exam at no cost to them.
The tip in getting this scholarship is to take initiatives in IMA sponsored events at school, such as launching the IMA Student Chapter and taking part in the student case competition. If you are able to seek help from a mentor and build a long-lasting relationship during the process, that would be a great bonus as well.
4. Lower Membership and Exam Fees
Even if you don't get the scholarship, the IMA membership fee and exam fees are much lower for students. As long as you take at least 6 credit hours of courses in the last semester, you are qualified. Note that this discount will end once you graduate.
5. It May Even Help in Job Search
You will not obtain the CMA certification right after graduation, but you could reap the benefit simply but passing the exams. Check out this recent example from Daniel O'Laughlin:
I accepted a position with RSM LLP's business valuation practice. RSM is the leading provider of accounting, tax, and business consulting to the middle market. The fact that I passed the CMA exam while finishing the University of Denver's 3/2 accountancy program undoubtedly paved the way to an offer for a consulting position in an esteemed firm right out of college, an achievement I take a lot of pride in." – Daniel (SF Magazine, Apr 2018)
Tips: Make sure you mention the passing of the CMA exam in your resume and be prepared to talk about the process and impact during career interviews.
6. Be the Next Hari!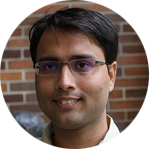 Last but not least, you'll have a chance to win the Priscilla C Payne award given only to student candidates. Again, you can only qualify for this aware if you are still a student. This award is given to the candidate who achieves the highest score as a student in each teaching period.
One of our readers, Hari, received this prestigious award in the Jan/Feb 2017 window. Check out his story and sharing here. It's really an awesome and inspiring story, especially for any student candidates who are thinking about taking the exam early.
How to Qualify for the CMA as a Student
If you've made the decision you want to take the CMA exam and get your certification, but you're still a student, how do you qualify with the IMA? If you are currently enrolled in an institution of learning and have not yet graduated, you just need to prove to the IMA that you're a student. You need to be registered for at least 6 credits per semester during an academic year. Then you will send confirmation of your degree over to the IMA within 7 years of passing the CMA exam.
You could also qualify if you already hold a professional certification. The IMA reveals which certifications fulfill the CMA education requirement, so just check the list and see if you qualify under this method instead. Then you need to have your organization send a letter confirming your status to the ICMA.
Next, before we dive into more about how the CMA exam can help you, and how to get started if you've decided you want to take it while still a student, let's look at some possible limitations. It's always smart to investigate all sides before making a big decision such as this.
Possible Limitation of Taking the CMA Exam Early
Some candidates decide not to take the exam early, and one of the main reasons is that they don't know if the CMA certification is going to be useful in their careers. If you have not completely mapped out what direction you want to go with your career yet, it may seem hard to justify all the work and study that goes into preparing for the CMA exam, in the event that you may not need that certification at all.
It is understandably hard for a student (without real working experience) to be sure which career path to take. They might be very interested in a subject but then when it comes to work, it could be a completely different experience. Not everyone has to have it all figured out or know exactly what career path they want to pursue while still working on their degree. If this is you, that's not a problem.
However, for those of you who aren't sure yet, delaying the decision a bit is a wise move. If you know you want to be CMA certified already, then go for it!
Does the CMA Exam Help You Enter the Workforce?
The benefit is obvious if you choose to get into management accounting right after graduation. The exam syllabus goes deep on costing analysis, internal controls, corporate finance, and financial management, which are all interesting and practical for junior financial and business analysts. You will use this information on a regular basis for your new job. If you come straight out of college, into your CMA certification and into a job, it's going to give you a leg up in the workforce.
It will also give you a possible preference over certain job positions and promotions when they become available. Statistics have shown that people a CMA certification can gain higher employment than those without doing the same jobs.
Even if you choose audit in public accounting firm, your additional knowledge in management accounting makes you a better auditor, such as having a better understanding of clients' accounting processes through an internal perspective.
All in all, the CMA program helps bridge the gap between college and the professional world. This is just one more bonus or benefit to come to students who decide to take the exam early. Now, let's take a look at how you start, should you decide that this is for you.
How Do I Start?
The process is the same for all candidates (except with lower fees). You can start with this step-by-step guide here. This will help you to find out how to become a CMA. It's a complete 13-step guide and it's important you don't skip any of the steps.
They were designed to show you exactly what you need to do to take the CMA exam and pass. When you do it correctly from the start, you can pass on your first try and be on your way to a rewarding career as a CMA. The same steps will apply to you, even if you are applying as a student.
Here is a highlight of the basics: 
Identify the Benefits of CMA Certification
Your first step is to determine the benefits of obtaining this certification. We've talked about many of them here in this post. The benefits for students may vary from those for people already in the workforce. You need to determine if they are right for you before making your decision.
Compare to Other Accounting Certifications
Next, most candidates will do a comparison with other accounting certifications to ensure this is really the one they want. If you are still a student, you may want to devote some time to this research in order to be sure you are choosing the certification that matches the career path you plan to take after graduation.
Fulfill the CMA Education Requirements
Once you've done the above steps and decided this certification is for you, then you also need to ensure you meet the education requirements. You can do this while you are still a student, but you will need to show proof of your education.
Pay the IMA Membership Fee
Membership to the IMA is required and remember, if you're still a student, you get a discount. The fee is only $39 for a student or $78 for a two-year student. This is another perk of taking it while you're still in school.
Join the CMA Certificate Program
You also have to join the CMA certificate program. It's not as simple as just registering to take the exam, like with some certifications. This extra step makes you part of the program, similar to joining a club. You then have 12 months to start taking the CMA exam and up to three years to complete the program. Again, the process is the same for students and you can save some by being a student, an IMA member, and by using discount codes from our site.
Register for the 2-Part CMA Exam
After enrolling in the CMA program, you may register for the exam. The CMA exam consists of 2 parts:
There are specific annual testing windows and you have to register within these windows. You may want to look in advance and see how these testing windows line up with your school schedule.
Prepare for and Pass the CMA Exam
Finally, you can begin to prepare for and pass the CMA exam. If you're planning to take it while you are still a student, much of the information will still be fresh to you. However, studying in a way that mimics the questions you will actually get on the exam will be most helpful. Mock exams and practice tests are the way to go to ensure pass each part of the CMA exam on your first try.
Do you still have questions? Any follow-up questions are most welcome. It is our goal here to help candidates just like you navigate their way to the careers they choose.
For Your Further Reading
How Can I Be More Helpful?
Check out my free one-week mini-course so I can walk you through the application procedure and CMA exam prep tips in an organized manner: