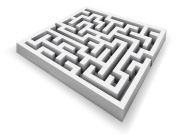 I received quite a lot of queries on the level of CMA exam difficulty. Instead of giving you a subjective answer, let's analyze based on the following objective measures. I present my analysis in the following video.
The following is the transccript of the video.
CMA Exam Difficulty Based on Curriculum

The CMA exam is a 2-part exam. The first part covers financial accounting; planning, budgeting, and forecasting; performance management, cost management; and internal controls. The second part covers financial statement analysis, corporate finance, decision analysis and risk management, investment decisions and professional ethics.
When compared to the CPA exam, for example, the scope is narrower. The CPA exam tests all of the above (with varying degree of detail), together with auditing, business law and taxation. There are four parts in the CPA exam instead of two.
When compared to the CFA exam, the CMA exam does not go into such detail. The questions could be lengthy and complex, but they are not designed to test very advanced knowledge in exam topics.
Conclusion: Given its niche position within accounting qualification, the CMA exam covers fewer topics. it also doesn't go into the detail as required by some accounting and finance qualifications.
CMA Exam Difficulty Based on Pass Rates
We may then conclude the pass rate of the CMA is higher? This is not true. According to the latest results, the pass rates of Part 1 and Part 2 was 35% and 50% respectively. In comparison, the overall CPA exam pass rate was 49.9%.
One important reason of the low rate is the lower eligibility requirement. To sit for the CMA exam, a candidate is only required to have a bachelor degree. It can be from any discipline and from any country.
For CPA exam, the candidate has to accumulate accounting credit hours equivalent to an accounting major, obtain 150 credit hours of education overall (5 years worth of education), and graduate with a 4-year bachelor degree. Therefore, the candidate pool has a much stronger background in accounting, which helps in maintaining a good overall pass rate.
With this analysis, it is inconclusive whether CMA exam is more difficult in this aspect.
CMA Exam Difficulty Based on Readers' Opinion
This is a somewhat subjective but very useful way to understand the level of CMA exam difficulty. I've asked a few readers who have taken both exams.
Most of them agree that the CPA exam covers a much wider topic. This makes CPA exam harder to handle, but difficulty is similar when compared to the CMA exam. Here is a typical feedback:
How hard is the CMA exam compared to CPA? Well, I thought the material was as challenging, but because there are only 2 parts rather than 4, there is less study time overall. I put in as many hours for each section of the CMA as I did for the CPA. I hope it pays off… There is some overlap between the two exams. Part 1 of the CMA Exam has material that is covered in BEC and Part 2 has stuff from FAR. That's an over simplification because really there are things from all sections of the CPA Exam scattered throughout the CMA Exam. Of course there are subject areas tested on the CMA Exam that are not tested on the CPA Exam. If you can stomach the additional studying for a few more months (and if you have the money!) I definitely recommend doing them back to back while all the CPA info is fresh."
Check Out My Bloggers' Struggle in their CMA Journeys
Are You Ready to Tackle the Beast?
It's hard to quantify the difficulty of professional exams, but what we can do is to better prepare ourselves and aim to pass on our first try.
Here is my ultimate guide on your CMA exam prep, with 50 tips to help you achieve this goal.

You may also want to sign up for my CMA exam mini course which is completely free. You can learn more about this e-course here.
Join us if you want to get tips on how to plan,
study and pass your CMA exam… on your first attempt!